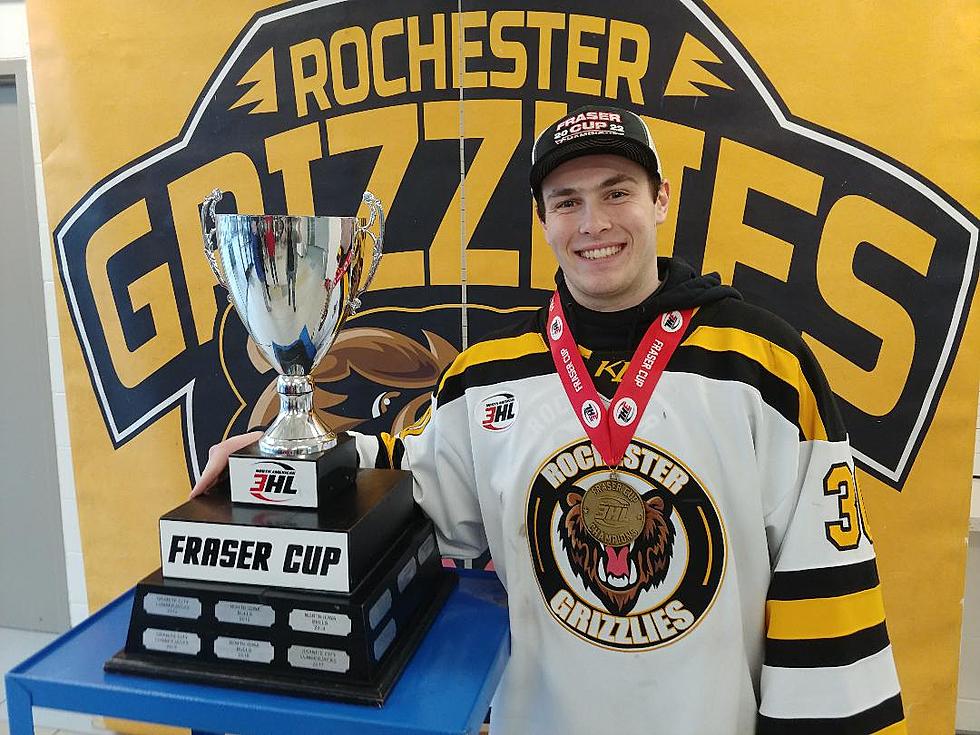 Owatonna Grad Backstops Rochester Team to National Championship
Roy Koenig/TSM
Opportunities to win a title don't come along often, let alone a national championship. And they don't happen without a little adversity. The Rochester Grizzlies of the North American 3 Hockey League won the Fraser Cup championship Sunday, March 27. The team won three straight games after losing the opener at the tournament held in St. Louis.
Owatonna High School graduate Zach Wiese turned in a shutout performance in goal in the title-clinching game, "Feels great. Definitely never thought I'd be a national champion...Team just really came together. We lost the first game Wednesday night. Wasn't the best game. But all the boys just came back and said, 'Hey! We really got to tighten down if we want this.' And everyone wanted it really bad. And that's what we did. The team played really great in front of me."
Wiese is enjoying the junior-hockey experience, "I love it here in Rochester. The coaches are amazing. This is the fourth year that the team has been around and we're already a national champion, which is crazy. Coaches do a good job of bringing good guys in, good team-bonding guys."
The Grizzlies hosted a community celebration Wednesday. Wiese had several family members join the festivities. He says the community support can be felt, "I'd like to think they love it. When we were down in St. Louis, we definitely had the most fans down there. They had all the air horns and cowbells down there cheering us on. It just felt like a home game."
Rochester, in just its fourth year as an organization, also advanced to the Fraser Cup Tournament last winter. The team has won the Central Division three years running. Wiese was primarily a backup last season.
Grizzlies coach Chris Ratzloff, "It really is an amazing feat" as he considered that only five players on the current roster played in the title game a year ago, "Zach was there last year, backing up and doing a good job backing up for Shane (Soderwall). And this year he got his chance. He took the net and he pulled it through for us."
"I like that he's always ready. And he bails us out when we give him hard situations. I think this year when he went and skated with the (Austin, MN) Bruins for about a month, practiced with them, and got to play one game with them. I think he came back a whole different guy. He came back and he was challenging pucks. He wasn't sitting back in the net, just very aggressive, just really turned his game around."
Ratzloff enjoyed the community celebration this week at the Rec Center, "It's exciting that we can all get together. We had a good first year. Second year was pretty good...Hopefully, the excitement of winning a championship will get those fans back (after COVID restrictions the last couple of seasons)."
Wiese added, "It still doesn't feel real to me right now. It's just a crazy experience, what happened. It will probably take a while for it to set in. But right now it's just living good."
RANKED: Here Are the 63 Smartest Dog Breeds
Does your loyal pup's breed make the list? Read on to see if you'll be bragging to the neighbors about your dog's intellectual prowess the next time you take your fur baby out for a walk. Don't worry: Even if your dog's breed doesn't land on the list, that doesn't mean he's not a good boy--some traits simply can't be measured.