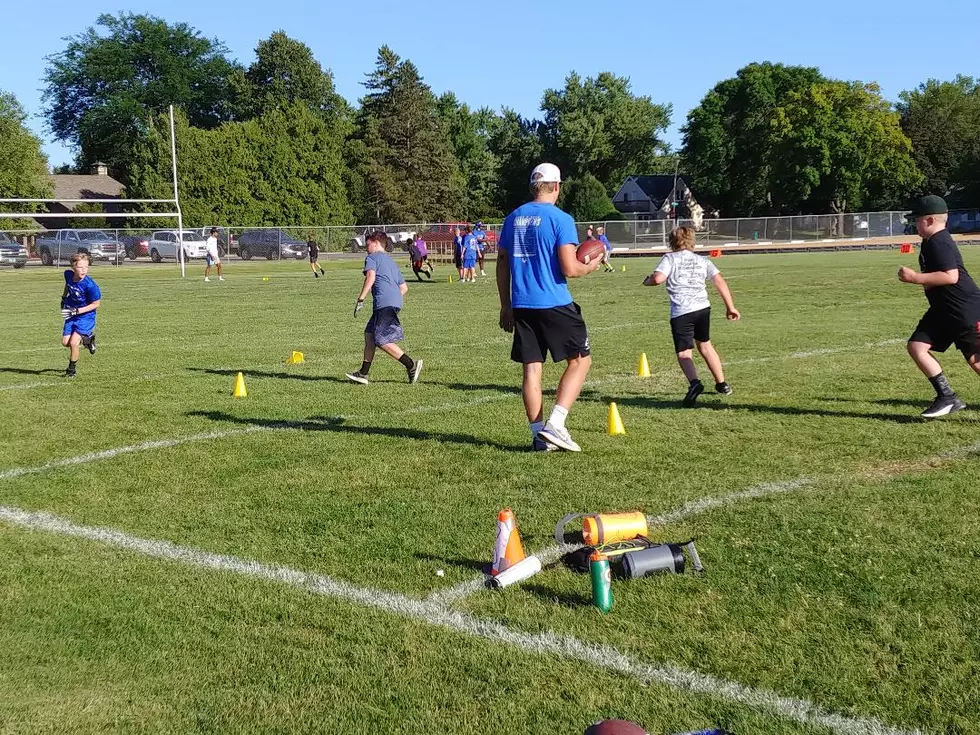 Owatonna Football Camp Adapts to Continue Tradition
Roy Koenig/TSM
Enter your number to get our free mobile app
For the better part of three decades, the Owatonna Huskies Youth Football Camp has been a tradition. Boys have gone from being participants to varsity players to college athletes to coaches on the Owatonna staff to leaders at the camp they first attended. In fact several might have children who now take part.
But this year the viability of the camp was in question due to the pandemic. Youth camp director Matt Skala said, "To be honest with you it was in limbo back and forth. We were really 50-50 all summer. But it's come together really nicely."
He says several measures were taken, "We had to limit it to 200 campers which was a little disappointing from the standpoint we had to say, 'No,' to some people...We're utilizing all four football fields, limiting 50 per field. Kids are in predetermined pods. We're not rotating kids as much...We've adjusted the games and the drills...We're using a lot less equipment."
He also said kids have two check-in points during the nightly screening process, part of the health protocol implemented this year. Skala said the online registration filled up quickly and he was excited to see the interest in still holding it.
He says they are still able to cover the basics they want to teach the players, who are entering third through tenth grade, "Football skills are football skills. We're not wearing pads or anything like that or getting physical, but we're still able to teach the game and have a lot of fun. Added in some new games this year...for example bringing back the old school 'Punt, Pass, and Kick,' emphasis on activity and fun."
Skala is proud of the way people give back to the program, "This doesn't surprise you. We have such a great group of people here in Owatonna and always have. Our entire varsity staff, all the way down to middle school, and a lot of former players, and our current players. I was worried about that. Asking people to come on out here and coach camp. And I had an overwhelming response that people were still able to do it,so very appreciative of that."
The camp began Monday, August 10 and wraps up Thursday, August 13.
The high school team held a team camp earlier in August. Head varsity coach Jeff Williams shared some thoughts about the Minnesota State High School League's decision to move prep football to spring. He also said he was excited about the players that are coming back from the 2019 section championship squad.
TACKLE THESE: Check Out the Best Uniforms In Each NFL Team's History