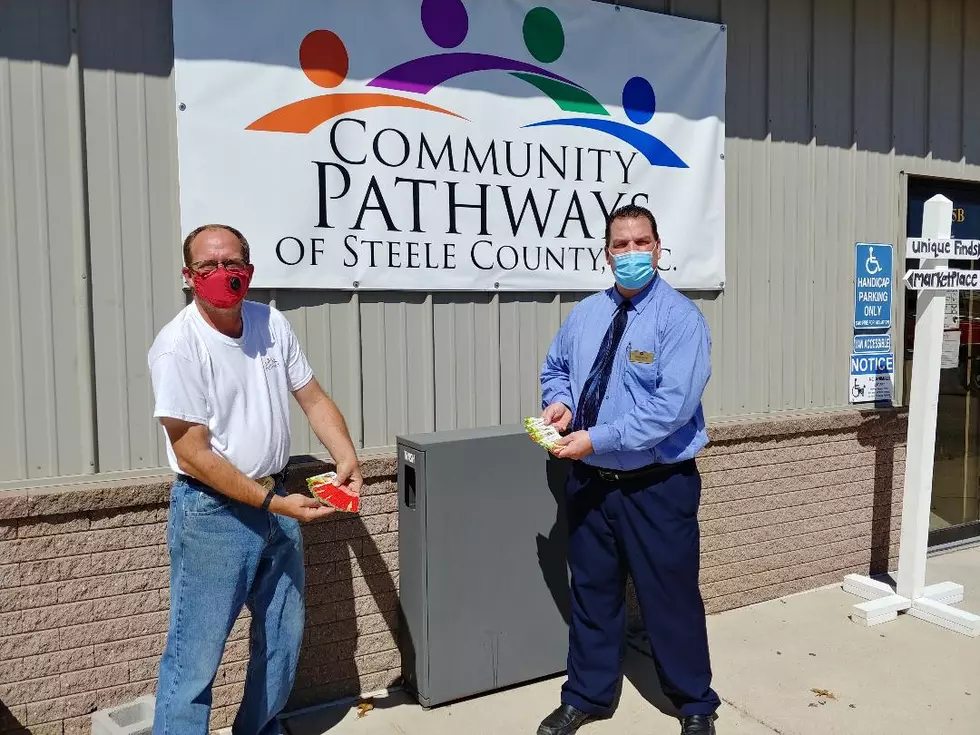 Cash Wise Continues Pipeline to Community Pathways
Roy Koenig/TSM
Cash Wise Foods of Owatonna made its third large donation of food cards to Community Pathways of Steele County. Troy Bice, Marketplace Delivery Coordinator gladly accepted the cards for distribution to families in need in the county.
Enter your number to get our free mobile app
Bice was thrilled, "These will be great. This is something they can have out there with my program. Something we don't have in the store (food shelf) for them, we can give them a card." The donation amounts to $1,500 in food cards.
He has seen an increase of families needing supplies delivered to them during the pandemic, "Especially the ones that are at risk, have switched over to the mobile program so that we can still get them what they need. We bring it right up to their doorstep...Last check back in June, I had about a 32-percent increase. And it's increased by a lot since then...Cash Wise has done a really good job. When we've needed something, We've called them and they've stepped up and helped taken care of us."
Ramm said this was the third round of donating food cards, "We're going to continue the 'round-up' at the store right now with rounding up your order...I think it's a win-win for the community and all." Other donations and contributions have included paper bags and "a peanut butter transaction. We're going to continue to help the food bank through this time of need right now."
Ramm expects to make another donation this year, "I think that $1,500 every time is going to help out the area...We're getting a lot of good 'wins' with our clientele that's coming in. We're getting a good round of people that are taking advantage of that and rounding up."
Bice added that the Marketplace and Community Pathways is accepting donations from the public as well, "We are doing clothing donations on Monday mornings from 9 until noon. And on the grocery side, we are always looking for more dry goods. And we can take them anytime."
READ MORE: 10 free apps to help you get fit in our new normal
AWWW: Check Out These Cute Dogs (And a Couple of Cats)