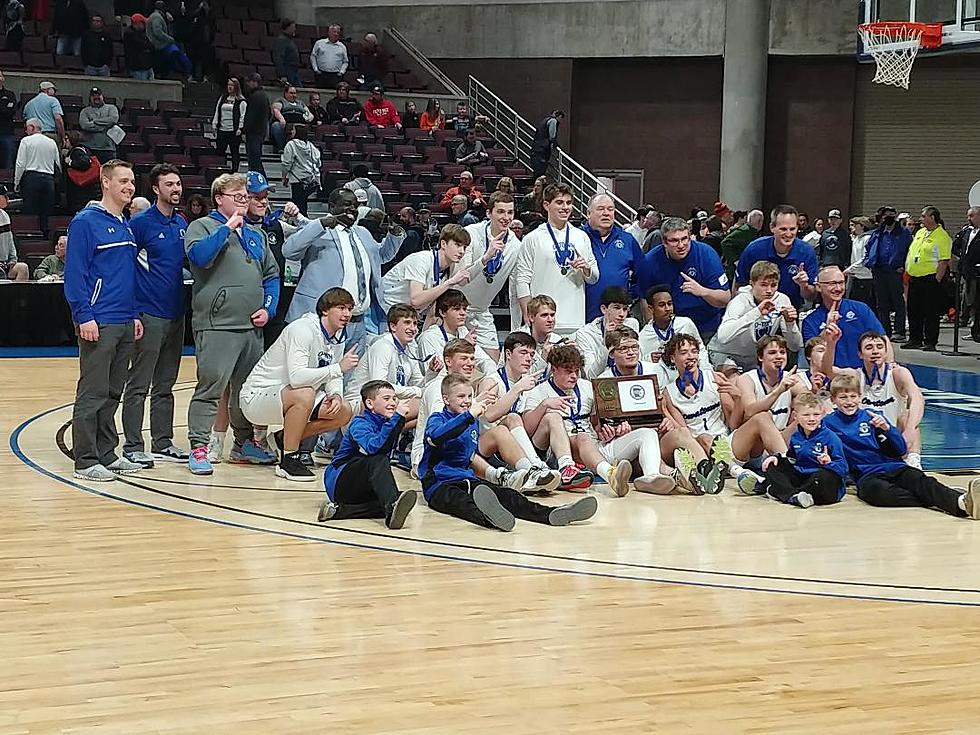 Owatonna Basketball Celebrates Record-Breaking Season
Roy Koenig/TSM
The 2021-22 Owatonna boys basketball season will be remembered for a long time. And not only because of their accomplishments filling the record books. The team featured a group of ten close-knit seniors who reached their childhood dreams of playing at a 'real' state tournament. The support shown by the community was overwhelming and left an indelible mark on the team.
The Huskies celebrated their record-breaking season with a banquet Monday night. OHS won 28 games, the most ever for a single season. They completed a 22-0 Big Nine Conference run. The Section 1-4A title was their second in a row.
This season the Huskies (28-4) got to play at Target Center in the state tournament after being forced to play in a high school gym in front of a limited crowd the previous season due to pandemic restrictions. The "white-out" at Mayo Civic Center and "sea of blue" at Target Center left a strong feeling on the players and coaches.
OHS coach Josh Williams spoke of his ten points of what he was thankful for on the season.
the opportunity to coach
his fellow coaches and colleagues
the families
fans in the stands/pep bands back in the gym
the team staying healthy
all the youth coaches along the way
community support (biggest crowds at OHS in 15 years)
success/records/titles
ten seniors
the fun they had as a team
Williams added he was most proud of how the team worked together and grew during the season, the way players accepted their roles on the squad, and how much improvement the team showed from the start to the end of the season.
TEAM ACCOMPLISHMENTS
Unbeaten Big Nine title (22-0)
No. 2 seed at state tournament
3.65 team GPA
Four players named First-Team All-Conference
Coach Williams highlighted each senior.
Tyrel Creger
Evan Dushek
Connor Ginskey
Avery Hartman
Jack Helget
Noah Hodgman
Noah Kubicek
Drew Randall
Brayden Williams
Nick Williams
MOST VALUABLE PLAYERS
Tyrel Creger
Two-time All-Big Nine selection
4th in career assists (255)
532 career points
80 career steals
Brayden Williams
Three-time All-Big Nine selection
3rd all-time leading scorer (1,538 points)
1st in career steals (204)
2nd in career assists (369)
2nd in career three-pointers made (221)
Evan Dushek
Three-time All-Big Nine selection
All-time leading scorer (1,645 points)
2nd in career rebounds (826)
3rd in career blocks (95)
Defensive Most Valuable Players - Blake Burmeister/Collin Vick
Most Improved - Avery Hartman
Blue Collor Award - Nick Williams
Coaches Award - Noah Kubicek
Teammate of the Year - Ty Creger
Coach K Award - Brayden Williams
BIG NINE SCHOLAR ATHLETES
Connor Ginskey (Also won the state 'AAA' award)
Jack Helget
Noah Hodgman
Noah Kubicek
Brayden Williams
Nick Williams
BIG NINE ALL-CONFERENCE
Ty Creger
Evan Dushek
Brayden Williams
Blake Burmeister
ACADEMIC ALL-STATE
Evan Dushek
Brayden Williams
SECTION 1-4A / BIG NINE COACH OF THE YEAR
MBCA ASSISTANT COACH OF THE YEAR
INDIVIDUAL AWARDS
Best field goal shooting (58%) - Evan Dushek, Collin Vick
Best 3-point shooting (51%) - Blake Burmeister
Best free throw shooting (74%) - Brayden Williams
Rebound leader - Evan Dushek (313)
Assist leader - Brayden Williams (213)
Steals leader - Brayden Williams (116)
Others on the varsity roster
Shariff Abdullahi
Blake Burmeister
Mikah Elstad
Nils Gantert
Marcus Graham
Trevor Hiatt
Jason Klecker
Trevor Schirmer
Jerome Stansky
CJ Theis
Collin Vick
Ayden Walter
Andrew Bong, manager
Jackson DeGrood, manager
Jose Rosa, manager
Charlie Hartman, ball boy
Ben Herzog, ball boy
Max Langlois, ball boy
Bo Standke, ball boy
Team records set during the 2021-22 season
Most wins in a season (28)
Most assists (567)
Most steals (298)
Assist/turnover ratio 17/9
Highest scoring average
Most three-pointers attempted/made
Field goal percentage (51%) *not verified as a record*
Program won-loss records for 2021-22
Varsity, 28-4
Junior varsity, 28-6
B-squad, 24-2
9th grade, 45-11 (two teams)
Coaching staff
Josh Williams, varsity head coach
Brad Schuster, varsity assistant
Pat Webb, varsity assistant, JV head coach
James Dahlgren, varsity assistant
Daniel Dut, cultural connection coach
Greg Sullivan, b-squad head coach
Greg Kruschke, b-squad assistant
Van Gallatin, 9th-grade coach
Logan Busho, 9th-grade assistant
The banquet was held at Trinity Lutheran Church and catered by Torey's Restaurant.
Faribault-Owatonna Area Townsquare Townie Awards 2022
Townsquare Faribault-Owatonna 2022 Townie Awards highlight the most unique local businesses, people, places, and things around the Faribault and Owatonna Area.
Top 32 Things that Stress Out People While They are Driving
You hop in your car and are ready to go but then panic sets in because _______.
There are so many answers that can go in that blank. In fact, you may have had one of those stresses just a little bit ago in your car. Look below to see some of the top things that stress people out while they are driving in Minnesota, Iowa, Illinois, and Wisconsin.