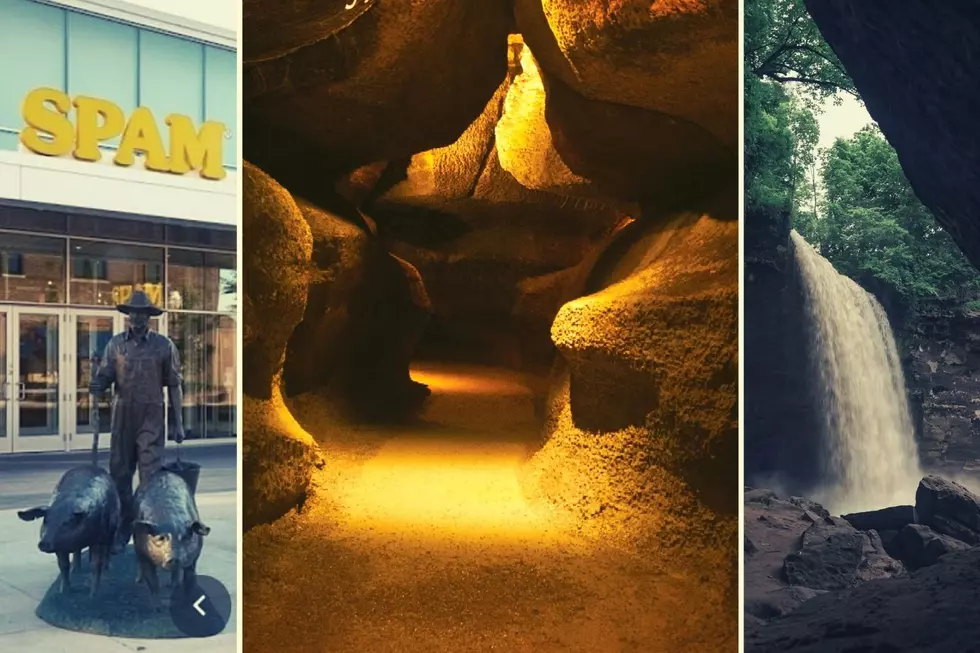 Minnesota's Top 3 Unique Attractions
Google Maps/weston m on Unsplash/Niagaracave.com
Summer is kicking off, and with the price of gas right now, maybe a long family road trip is out of the question. The good news is you can find some of Minnesota's most unique attractions right here in Southeast Minnesota.
The folks at Pro Mover Reviews put together a list of the most unique must-visit attractions in the U.S., and in Minnesota, a pair of natural wonders and a museum dedicated to canned meat made the list.
Keep scrolling to see and read about the most unique attractions in Minnesota.
---
A little jaunt westward will land you at Minneopa Falls near Mankato. Pro Movers says, "These eight-foot-wide falls plummet forty feet into the water below. Well-designed surrounding trails and bridges allow you to catch some truly stunning views and photos of this famous waterway."
---
Reverse field and head southeast to Harmony to explore Niagara Cave, where, "Brave adventurers can head a mile underground through narrow grottos, stunning limestone formations, and a range of natural streams and waterfalls." The cave is open through October 31.
---
Jump on Highway 218 South to Austin, home of the Spam Museum. Shouldn't this be a required visit for true Minnesotans? Pro Movers states, "The stylish exhibit mirrors a vintage shopping center and walk you around the world to see how spam has made an impact since its creation in the mid-20th Century." Also, it's free.
---
If you have a little extra time, Wisconsin has the Mars Cheese Castle in Kenosha, the Apostle Island Sea Caves along the northern coast and the National Mustard Museum, which should be paired with your stop at the Spam Museum, in Middleton.
Best Minnesota State Parks To Avoid Big Crowds
While iconic state parks like Itasca, Gooseberry, and Fort Snelling draw massive numbers of visitors each year, there are a lot of awesome state parks and recreation areas around Minnesota that offer fantastic outdoor or camping experiences without the high number of visitors. Give these a look!
Meet Nan! The newest polar bear at Como Park Zoo and Conservatory
Give a great big Minnesota welcome to Nan! She is one of Minnesota's newest residents and is a polar bear at Como Park Zoo and Conservatory.
Rent this Adorable, Vintage 1984 Volkswagen Camper Van in Minnesota
There's a website called Outdoorsy where you can rent other people's campers. I particularly love vans-turned-campers and found an amazing, vintage Volkswagen camper van that you can rent from Minneapolis, Minnesota. But don't worry, you don't have to stay in Minneapolis, you can drive the camper van up to 140 miles per day for free with the cost to rent per night.