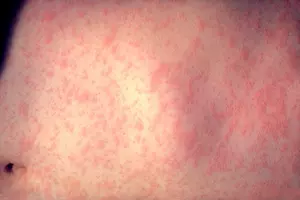 Minnesota Measles Outbreak Continues
Getty Images
St. Paul, MN (KROC-AM News) - Minnesota health officials will have to wait a bit longer before declaring an end to the state's worst measles outbreak in over 25 years.
There had been speculation last week that the Minnesota Department of Health would soon declare the outbreak has ended, but officials have now confirmed an additional case of the potentially deadly viral infection. It involves an unvaccinated, white adult, living in Hennepin County who was likely exposed to measles at public locations visited by the previous last identified case.
Officials say the new measles patient visited a number of public sites in Hennepin, Ramsey and Carver Counties and the State Health Department is currently working with health officials in those counties to follow up on as many exposures as possible.
The new case raises the total number of people sickened in the outbreak to 72. The Health Department says there will have to be another 42 days without any new cases for a declaration the outbreak is officially over.