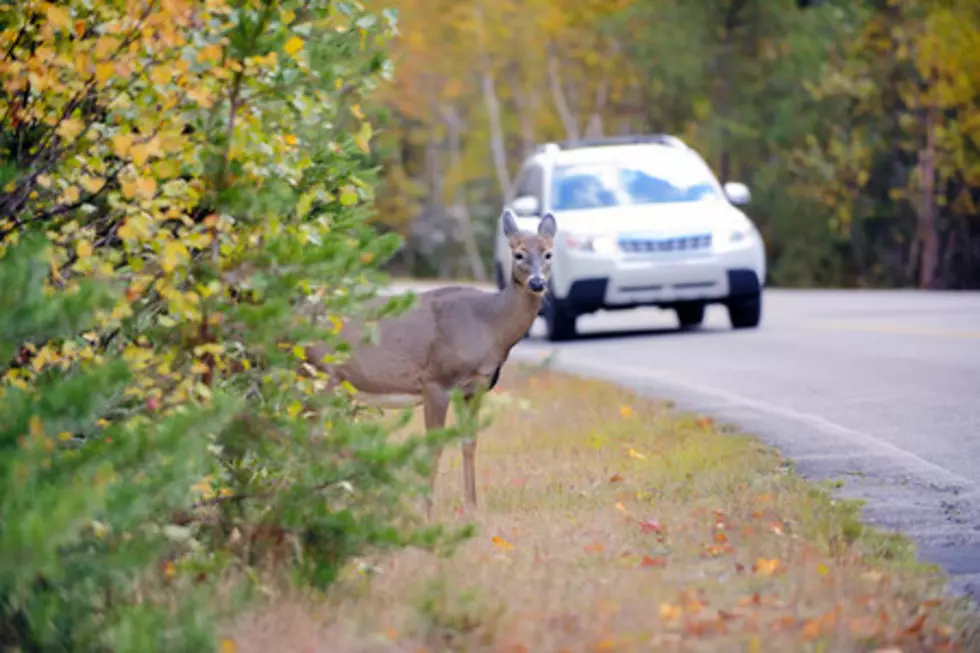 Minnesota Is One Of The States You Are Most Likely To Have An Animal Collision In
ThinkStock
Minnesota was recently named as one of the states with a 'high risk' chance at an animal collision while driving.
State Farm asked the question "Where are animal collisions most likely?" and then they went through and determined which states had the highest chance at an animal collision while driving. The company then ranked the states from 1 to 50.
In this year's study, Minnesota barely got into the Top 10, ranking at number 10 with a 1 in 64 chance at having a collision with an animal. West Virginia was number one with a 1 in 37 chance of it happening. Below is the full Top 10. Do any of the rankings surprise you?
States With Highest Odds Of Collision with Animals
1. West Virginia (1 in 37)
2. Montana (1 in 47)
3. Pennsylvania (1 in 51)
4. South Dakota (1 in 54)
5. Michigan (1 in 54)
6. Wisconsin (1 in 57)
7. Iowa (1 in 58)
8. Mississippi (1 in 59)
9. Wyoming (1 in 64)
10. Minnesota (1 in 64)
South Dakota, Wisconsin, and Iowa all were ahead of Minnesota in the rankings. North Dakota has a 1 in 73 chance, which ranks 16th.
When Are Animal Collisions Most Likely?
The three months that drivers are most likely to have an animal collision, in order, are November, October, and December.
According to the annual State Farm study, new data shows that a U.S. Driver on average has a 1 in 116 chance of a collision with an animal.
"As dusk falls and visibility becomes more difficult, two deer bounded onto the busy road. It's not an uncommon sight for many drivers, especially in October, November and December. New data shows U.S. drivers on the average have a 1 in 116 chance of a collision with an animal, according to the State Farm® annual study. The company estimates there were over 1.9 million animal collision insurance claims in the U.S. between July 1, 2019 and June 30, 2020."
There Have Been Over 7,000 Deer Crashes In Minnesota Since 2015
The Minnesota State Patrol said that from 2015 to 2019, there have been 7,247 deer crashes reported, which resulted in 20 death in Minnesota. The crashes also resulted in 121 serious injuries, of which 105 were motorcyclists.
It is always a good reminder to watch for deer and other critters while driving on Minnesota roadways, especially when the fall rolls around. Did you know there are animals that you are not allowed to have as pets in Rochester? Check which ones you can't below!
Animals You Aren't Allowed to Have as a Pet in Rochester, Minnesota
Below are the animals that we are not allowed to own as pets here in Rochester, Minnesota according to the City of Rochester Code of Ordinances under
Sec. 3-1-4. - Prohibited wild animal
.