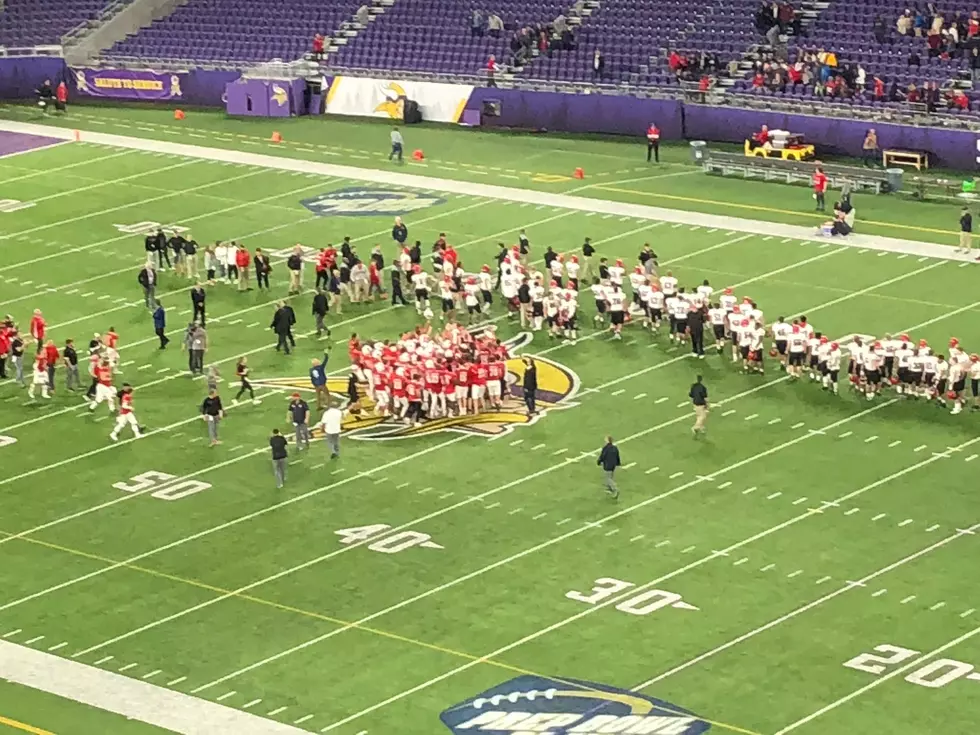 Minnesota High School All-Star Football Game Postponed
MSHSL Class 6A State Championship between Lakeville North and Eden Prairie. Photo by Gordy Kosfeld
The Minnesota Football Coaches Association recently announced the 2020 Minnesota Football Showcase (48th Annual MFCA All-Star Football Game) scheduled for December 5, 2020 has been moved to June 2021.
A news release states the "exact date and game location will be announced at a later date."
The Minnesota Football Showcase is sponsored by the Minnesota Vikings and the Minnesota Football Coaches Association (MFCA).
You can probably guess why the move was made.  Concerns over COVID-19 are cited and keeping players, coaches, officials and fans safe.
The 2019 game was played at U.S. Bank Stadium in Minneapolis on Devember 7, 2019 with the South All-Stars winning 13-3.  The South leads the overall series 16-10-1 through 27 games.
The first All-Star football game was played in 1945 according to the MFCA news release.  It's been a annual event since 1974.
The MFCA points out future Minnesota Vikings Adam Thielen (2008), CJ Ham (2011) each participated.
The MFCA says, "Through the years, over 4,600 players and 489 coaches have participated in this game,  A total of 95 participants from the All-Star Football Game have played or coached in the National Football League."
The 2019 South All-Stars Head Coach was Brad Wendland of Waseca.  Goodhue Head Coach Tony Poncelat was an assistant and became one of 21 people to play (1989) and coach in the game.
The smallest school represented last year was Southland-Adams (enrollment 123).
The Owatonna Huskies have had a representative on all four of the games played at U.S. Bank Stadium.
LOOK: 50 Black actors who made entertainment history