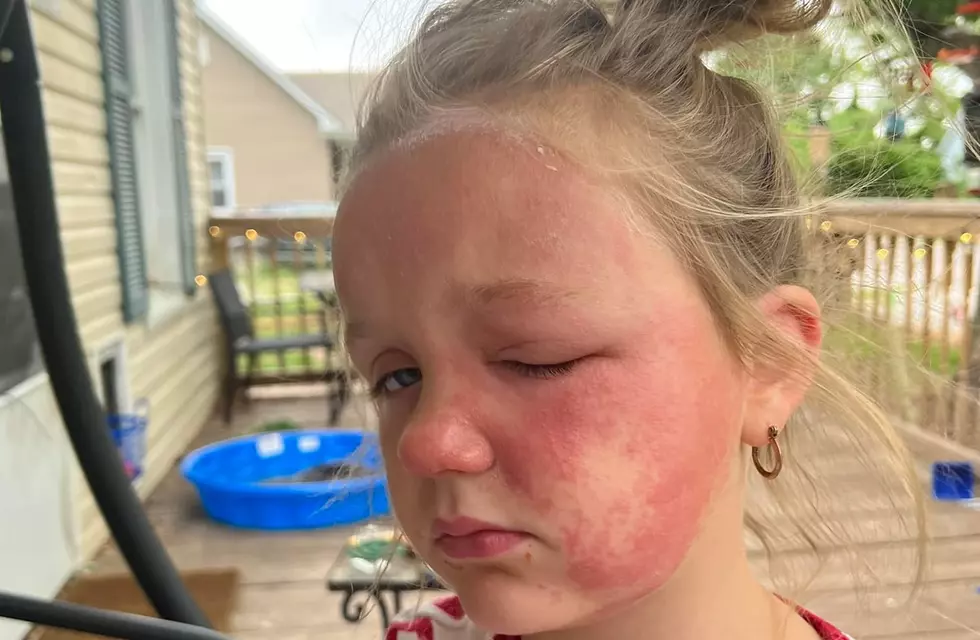 Midwest Mom Issues Warning About Very Dangerous Wild Plant [PHOTOS]
Chavana Neuweg
Early this week a young girl who lives just over the Mississippi River from southeast Iowa, had a terrible reaction to a wild plant. After determining what had caused the girl to break out in a rash with swelling and even respiratory problems, her mom wants to get the word out to other families.
It happened on Monday, May 23. Chavana Neuweg didn't think too much of it at first when her daughter developed a rash. The 6-year-old girl has bad allergies so they did what they normally do. Oatmeal bath, cold compress, and Benadryl. However, the problems only worsened.
Tuesday morning, the girl was "having trouble breathing, acting lethargic, and just completely miserable." Her parents took her to the doctor and she was treated for poisoning with prednisone. Unfortunately, that didn't work either.
The family went out trying to locate the cause of their daughter's distress and were shocked at what they found. Using the "PictureThis" app, which says it can "identify plants with 98% accuracy," they determined the culprit. Poison hemlock.
Need proof that this is a plant not to be messed with? According to Iowa State University Extension, Poison hemlock "contains the toxin coniine which disrupts the central nervous system... Poison hemlock was commonly used to poison condemned prisoners in ancient Greece, and is believed to be the poison used to kill Socrates." Chavana's daughter had smelled the flower of the plant, causing all the problems she encountered.
Before I get to more on exactly how to identify Poison hemlock, I'm happy to report that as of midday Thursday, Chavana's daughter was showing improvement. She says there was, "less swelling and redness. It's more blisters and scabs now and she has some respiratory/breathing stuff going on, which is to be expected." I'm so glad to be able to report that she's taking positive steps.
Below is a photo of Poison hemlock.
The photo below shows the "flowers" of Poison hemlock. You may be thinking, 'it looks exactly like Queen Anne's Lace, or Wild Carrot.' Here are a couple of key differences pointed out by Iowa State University Extension: "leaves of wild carrot are pubescent, linear in shape, and more finely divided than poison hemlock. Poison hemlock is a much larger plant than wild carrot.
Gardening Know How says, "Many people have died eating what they thought was the carrot-like root of Queen Anne's lace plant. For this reason, it is vitally important to know the differences between these two plants, though it's probably safer to avoid eating it altogether. Fortunately, there is a simple way to tell the difference. Both poison hemlock and its cousin, fool's parsley (Aethusa cynapium) smell disgusting, while Queen Anne's lace smells just like a carrot. In addition, the stem of the wild carrot is hairy while the stem of poison hemlock is smooth."
Obviously, I'd recommend against smelling poison hemlock up close, because of what happened to Chavana's daughter. Another way to tell the two plants apart: The stems of Poison hemlock have purple spots, which are visible in the photo below.
The Neuweg family spray painted all of the Poison hemlock (photo below) that their kids might come across so they'd know not to go anywhere near it. They also doused it with weed killer.
While you're out enjoying the spring and summer months ahead, remember to keep everyone away from this nasty weed. It's just one way you can assure the warm months of 2022 are happy ones for your family. Thank you to Chavana for issuing the warning and allowing me to share it with you.
12 Awesome Midwest Treehouses You Can Rent This Summer
If you're looking for a fun Midwest getaway this summer, consider staying in a treehouse! Here are some of the coolest treehouses you can book on Airbnb!
10 Cute Cabins for Rent in Eastern/Central Iowa
Looking for a little weekend getaway? Here are some cute cabins in Central/Eastern Iowa that are available to rent on Airbnb!
30 Cool Outdoor Patios to Dine On This Summer Around the Corridor
Now that spring is here, patio season is right around the corner! With the help of Eastern Iowans in the
Deetz - Let's Support Local!
Facebook group, I put together a list of 30 awesome patios in the area where you can dine and/or drink when the weather gets warmer. Here are some of the popular places!