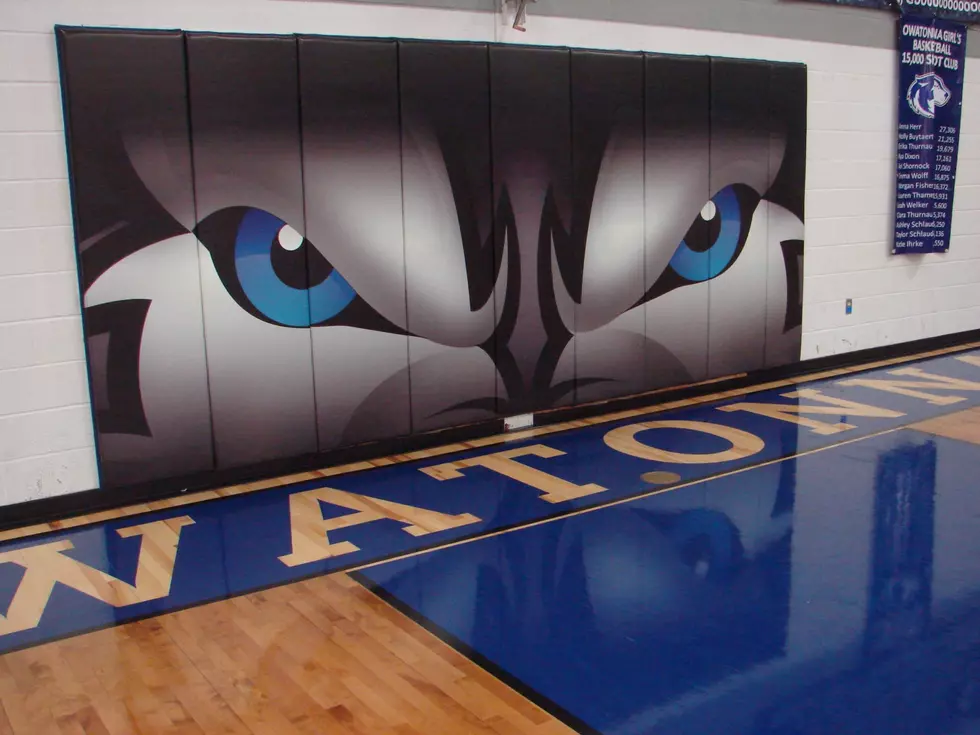 Kubista Scores 37 in Owatonna Basketball Victory
Roy Koenig/Townsquare Media
Dalton Kubista had another big night in Owatonna's 71-68 win over Winona on Saturday night. He scored 37 as the Huskies won the makeup game at OHS.
The Owatonna junior had just scored 29 in Friday's 79-66 come-from-behind win over Rochester Mayo. Jason Williamson scored 12 on Saturday and Andrew Jackson added 10. The Huskies forced about 20 turnovers and collected more than a dozen offensive rebounds. Winona was led by Oscar Hedin, who scored 35.
Owatonna (5-3, 4-2 Big Nine) plays at Red Wing (3-7, 2-5) Tuesday on Kat Kountry 105FM. The Huskies won at Red Wing last season. The Wingers went on to share the Big Nine title with Rochester JM, but graduated heavily from that club. John Marshall and Austin currently share the conference lead at 5-0.
The OHS girls lost at Winona on Saturday 69-52. That moves the Winhawks into first place in the Big Nine at 7-1, a half game in front of Northfield. Owatonna (7-3, 6-2) was led by Sydney Schultz's 20 points and 15 rebounds. OHS shot only 30 percent, according to the Winona Daily News and committed 19 turnovers. Owatonna hosts Red Wing (7-4, 5-3) Tuesday.
Scoreboard, Saturday, January 7
Boys basketball
Owatonna 71, Winona 68
NRHEG 58, Hayfield 50 (Panthers improve to 11-0.)
Marshall 57, Mankato West 51
Girls basketball
Winona 69, Owatonna 52
Blooming Prairie 51, Cleveland 36, at Target Center
Hayfield 50, NRHEG 41
Farmington 56, Rochester Mayo 38
Goodhue 54, Lyle/Pacelli 49, overtime
Boys hockey
Owatonna 3, Rochester JM 2
Austin 7, Winona 1
Eveleth-Gilbert 4, Rochester Mayo 3
Hibbing-Chisholm 4, Albert Lea 1
North Branch 5, Dodge County 1
Rochester Century 9, Faribault 2
St. Louis Park 7, Mankato East 2
Girls hockey
Owatonna 4, Rochester JM 1
Austin 9, Winona 2
Fairmont 3, Albert Lea 2
Marshall 7, Mankato West 3
Northfield 6, Rochester Mayo 1