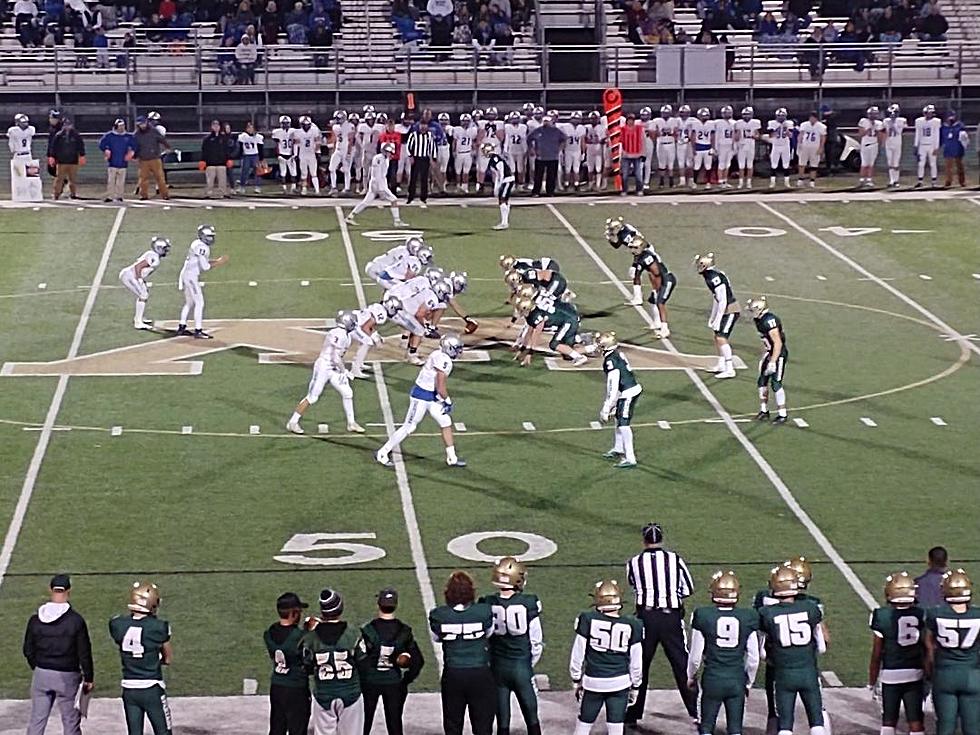 Instant Classic; Mayo Ends Owatonna's Football Reign in Dramatic Fashion
Roy Koenig/TSM
The game had the feel that the last team with the ball would win. Every drive of the second half ended with points until the very end. Each time Owatonna or Mayo scored after halftime they took the lead. And the Huskies had the ball and drove inside the Mayo 20 in the closing minutes of the Section 1-5A final Saturday night after a pass interference call on a fourth down play.
However, consecutive plays with a loss of yards, and an incomplete pass, left the Huskies in fourth and long with time winding down. A deep pass into the end zone was intercepted by the Spartans to preserve a wild 38-33 lead and secure the title.
[Flashback to 2020] Mayo was driving deep into Owatonna territory in the section championship game trailing by two. On a fourth-down play the Huskies forced a fumble and held on for a 30-28 victory.
[Back to the present] Mayo's win gives them a trip to the state tournament for the first time since 1997. It also ends Owatonna's five-year reign as section champs that includes state titles in 2017 and 2018. The Spartans have had a memorable fall sports season with the girls tennis and boys soccer teams also reaching state and the volleyball team reaching the section finals.
Mayo struck first Saturday, converting an Owatonna fumble into a 42-yard drive for a 7-0 lead. The Huskies responded in explosive fashion. Dylan Maas took a handoff on the next play and sprinted 69 yards for a touchdown to even the game at 7-7. On the next drive Maas dashed 60 yards for a score and a 13-7 lead.
Owatonna's scoring run continued with a Drew Henson 38-yard field goal and a Jacob Ginskey pass to Maas for a TD and a 23-7 lead with less than five-and-a-half minutes to go before halftime.
But Mayo found a way to score on a pair of 53-yard touchdown passes to pull within 23-20 at the half.
OHS opened with the ball in the second half, but a completed pass was fumbled and returned for a touchdown and Mayo went ahead 26-23. [Lead change No. 1 of the second half]
Two minutes later the Huskies finished off a 60-yard drive with Maas fourth TD of the night, a 19-yard run to put OHS up 30-26. [Lead change No. 2]
Mayo went 58 yards in seven plays. Noah Smith scoring for a 32-20 Mayo advantage with 3:31 to go in the third quarter. [Lead change No. 3]
The Huskies scored on a Henson 39-yard field goal for a 33-32 lead with 9:15 left in the game. [Lead change No. 4]
Mayo's go-ahead drive went 80 yards and featured a very confusing exchange on a close-call pass interference call. It took some time for the officials to announce the infraction, which could have gone either way, on Owatonna. More confusion followed in trying to play the yard sticks and determine which down it was.
That drive also featured one of the more incredible catches I have ever seen as Mayo senior receiver Cayden Holcomb made a leaping, lunging one-handed grab of a ball that looked to be out of reach. He limped off the field after the 40-yard play but was back on the field by the time the Spartans scored on a 31-yard run. The two-point try failed after a pair of penalties on Mayo. That left them with a precarious five-point, 38-33 lead.
The end zone interception with a minute to go allowed that lead to stand up. The Spartans (9-1) play Mahtomedi Saturday, November 13 at Woodbury High School at 12 pm in the Class 5A quarterfinals.
Owatonna (6-4) had seniors Lane Wagner, Dylan Maas, Nick Williams, Max Dixon, Luke Wottreng, Kaven Tourabpour, Taylore Bogen, Grant Achterkirch, Cael Dowling, Caleb Vereide, Eli Knutson, Ryley Glassmaker, Isaac Peterson, Alec Jarvis, Aiden Stowe, Eli Spurgeon, and Reid Stauffer.
Enter your number to get our free mobile app
EPIC: 12 Adventures All Minnesotans Must Take Before They Die
LOOK UP: These Are the the 10 Tallest Buildings in Southern Minnesota