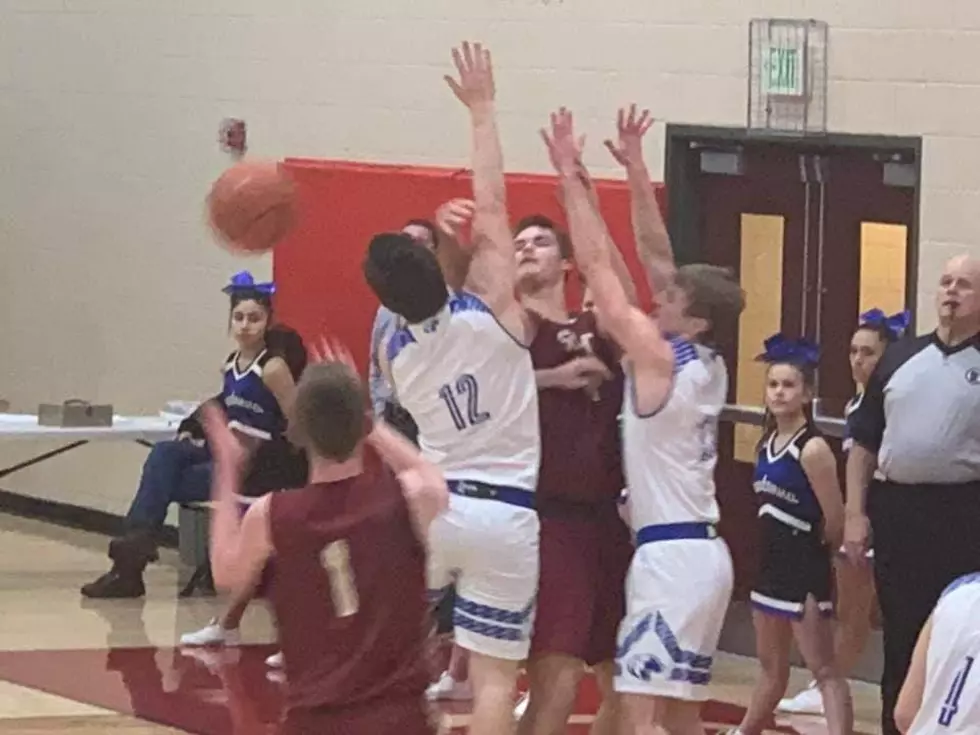 Huskies Keep up With Cougars for Awhile
Todd Walkingstick
The Owatonna High School boys basketball team went toe-to-toe with Lakeville South in Saturday night's Section 1AAAA semifinal, for awhile at least. The Huskies were down just 36-34 at the half. The top-seeded Cougars started to hit some three-point shots early in the second half and ultimately won 80-66.
Lakeville South had an immense size advantage inside with 6-foot-9, 300-plus pound junior Riley Mahlman, a University of Wisconsin football recruit. He grabbed 15 rebounds, while holding the Huskies 6-foot-7 sophomore Evan Dushek to just four or five boards. Dushek did lead Owatonna with 22 points, but also had to sit some of the first half due to two fouls in the first four minutes.
Before the game, Owatonna coach Josh Williams said, "He's going to Wisconsin for football as an offensive tackle. So it kind of gives you an idea on his size...He'll be the biggest kid Evan's played against this year. Just provides them a good low post option"
Regarding South's leading scorer, Reid Patterson, Williams said, "I know he's a collegiate basketball-level player, Division III, Division II type kid. He can really shoot it."
OHS sophomore Brayden Williams scored 21. Seniors for Owatonna (17-11) include Isaac Oppegard, Carson DeKam, and Sol Havelka.
The Cougars will play Rochester Mayo in the section final Friday, March 13 at Mayo Civic Center Arena at 6 pm. The Spartans topped Rochester Century 74-57 Saturday. The late game Friday is Austin against Albert Lea for the 1AAA title. Over in Section 2AAA, Big Nine champ Mankato East plays Marshall Thursday, March 12 at Gustavus College in St. Peter at 7 pm.
The state high school boys basketball tournament is March 18-21 with coverage on The Mighty 920 KDHL and the KDHL app.