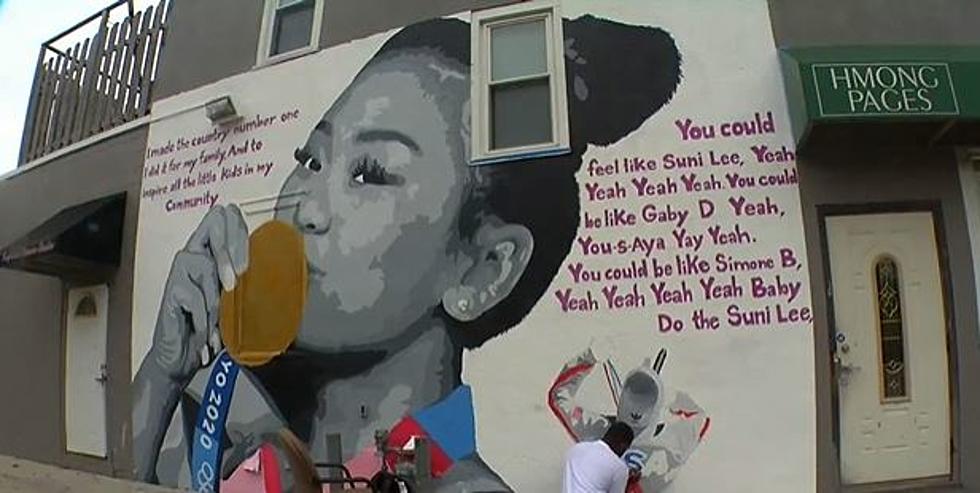 Huge Mural Celebrating Suni Lee Unveiled in St. Paul, Minnesota
Joe Mazan, KSTP
Suni Lee has shot up in popularity this year because of her amazing performance in the Tokyo Olympics, earning the all-around gymnastics gold medal. She made Minnesotans proud but also Hmong-Americans proud, as she's the first Hmong-American gold medalist! In honor of her accomplishments, a huge mural of Suni has been unveiled in St. Paul.
Suni's grandparents are the ones who commissioned the mural, according to the Star Tribune. Suni's grandma, Choua Lee, told the Star Tribune that they wanted "'to honor Suni Lee for her accomplishments, but at the same time, this mural represents the achievement and success of the Hmong community here in the Twin Cities.'" The artist who painted the mural is Mwene Kajunju (aka MK) who is from St. Paul.
The mural is a black and white painting of Suni kissing her gold medal. Along with the portrait, there's a quote from Suni that says "I made the country number one. I did it for my family and to inspire all the little kids in my community." There's also a quote from a rap that was written about Suni. The song is fittingly called "Suni Lee" and the rapper's name is Lil Crush, who is also a Minnesotan.
If you want to find the mural, it's on a building that's owned by Suni's family. It's at the intersection of South Robert Street and Sidney Street East.
Also, have you been watching Suni on 'Dancing with the Stars'? I've seen every episode so far and she's doing great! It's so fun getting to watch a fellow Minnesotan compete on a show I love.
How Many of These Minnesota 'Jeopardy!' Questions Can You Answer Correctly?
Minnesota has been featured on 'Jeopardy!' many times in its history. How many of these Minnesota questions can you answer correctly?