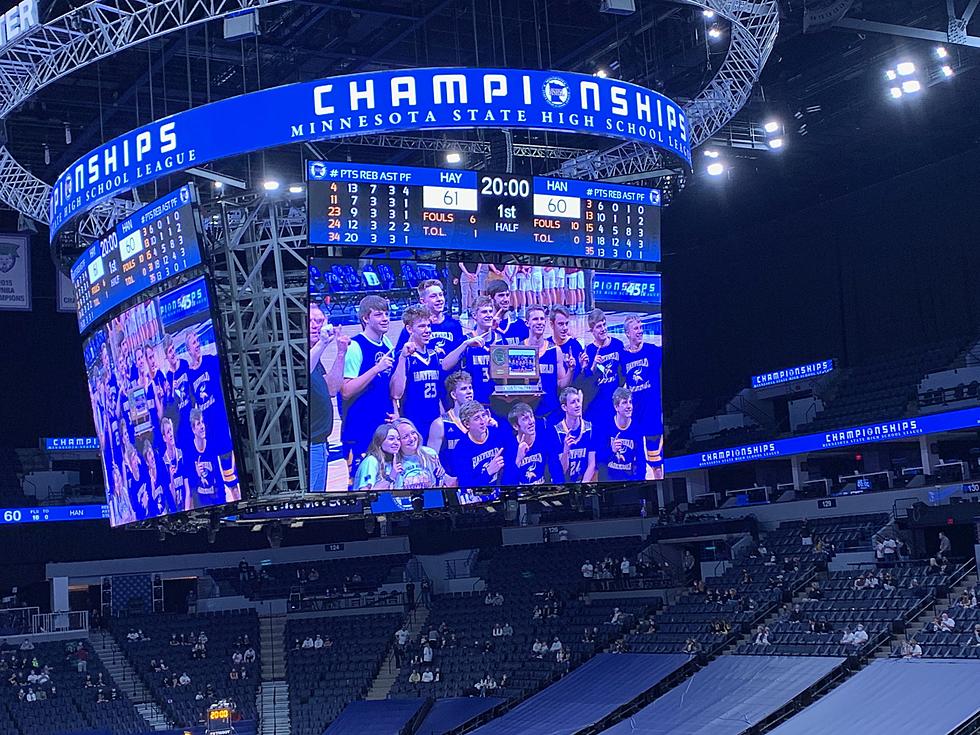 Hayfield Baseball One Win from State
Hayfield MSHSL Class A State Boys Basketball Champions. Photo by Gordy Kosfeld
The Hayfield Vikings clobbered Lyle-Pacelli 13-3 in six innings Monday to advance to the Section 1A title game Thursday at Riverland College in Austin.
Lyle-Pacelli then defeated Southland 7-5 to advance to Thursday's title competition.
Hayfield has to win one game, Lyle-Pacelli two games to advance to the MSHSL State Tournament next week.
The Vikings have steamrolled through this section allowing just the 3 runs Monday in the entire tournament.  Staying in the winner's bracket all the way is certainly the way you want to go.
Hayfield has scored double digit runs in all their playoff games but one with 47 runs through 4 games.
The Vikings are 21-0 and need just one win Thursday to adevance to state tournament play.  Remember the boys basketball team won a state title!
In 17 of their 21 games they have scored double digit runs.  In 15 games they have allowed 1 or 0 runs
Going into Monday's game Hayfield pitching had a Earned Run Average of 1.27.  In 127 innings pitched the staff had allowed 35 total runs, 23 earned with 192 strikeouts, 70 walks, 52 hits allowed.
The team batting average going into the Monday victory was .400.  On base percentage .531.  The Vikings had 230 hits including 59 extra base hits.  40 doubles, 7 triples, 12 home runs with 261 runs scored.
Hayfield had taken 126 walks while striking out 80 times.  They have 34 hit batters, 82 stolen bases in 90 attempts.
Many of the same names you heard during the MSHSL State Boys Basketball Tournament title run on KDHL are on the team.
Easton Fritcher the double-double man for the hoops team leads the Vikings with a .567 batting average and .688 on-base percentage.  18 of his 38 hits going into Monday's contest were extra base hits.
Fritcher had 7 home runs, 4 triples, 7 doubles with 47 RBI.  He leads the team with 15 stolen bases.  In 95 plate appearances he had only struck out 4 times this season.
Karver Heydt was hitting .547 with a .618 on-base percentage.  13 of his 35 hits were extra baggers.  8 doubles, 1 triple, 4 home runs.  Heydt has 34 RBI, 7 stolen bases.
Ethan Slaathaug the outstanding point guard for the State Champion Hayfield basketball team is hitting .456 with an on-base percentage of .569.  26 hits, 19 RBI.  Slaathaug is second on the team in stolen bases with 11.
Check this out!
KEEP READING: Here are 50 of the most famous sports goofs
Can you add any that were missed on this list?
NEXT UP: 10 Famous People from Minnesota