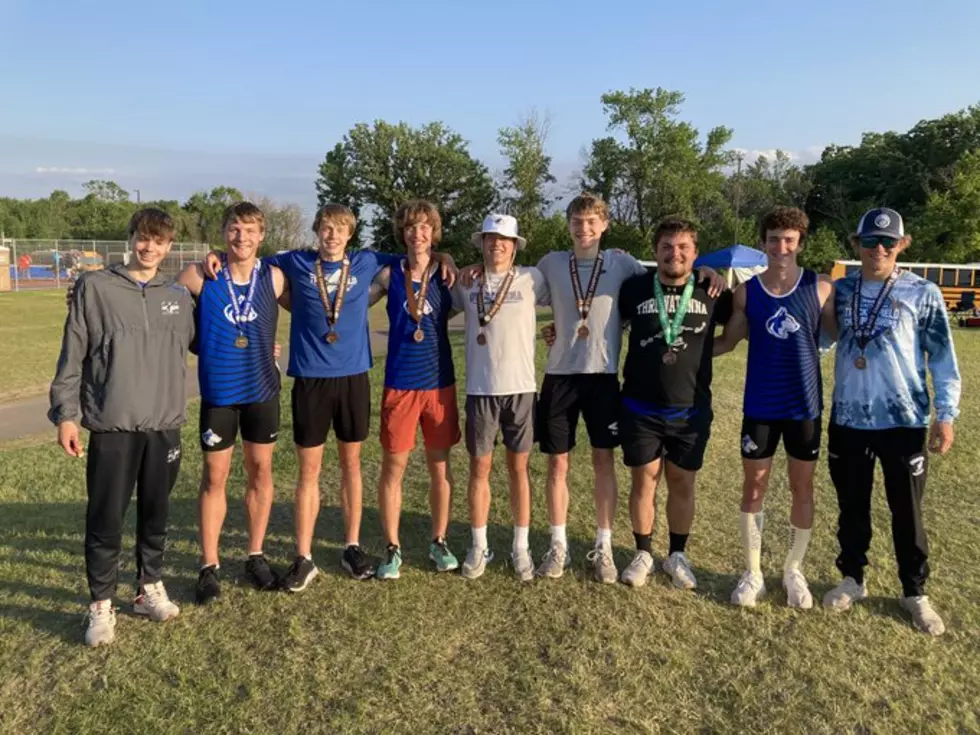 Gold Rush: Owatonna, Triton, BP Athletes Take Home Track Titles
@OwatonnaBoysTra
Hopefully, there is no fear of heights for the Owatonna, Triton, and Blooming Prairie athletes that competed at the recent state track and field meet. As many of them had to climb way to the top of the medal stand. Each school had a champion at the Minnesota State High School League meet at St. Michael-Albertville High School. In fact, Triton's Owen Petesohn won two events, while single-handedly lifting the Cobras into a top ten finish in the Class A team standings.
All nine of Owatonna's boys made it to the podium, led by a state championship performance by Justin Gleason in the long jump. He set a school record in the process. As a team, the Huskies finished in a tie for fifth place in the Class AAA standings.
"We felt very good about all nine guys that qualified for state made the podium and either threw or jumped their best. Just a fantastic day," said coach Kevin Stelter.
"I think he came in seeded third," said Stelter about Gleason. "He was there last year as a sophomore and finished fourth. He'd been sitting in the high 22's all season. Finally hit the 23-foot jump [23 feet, 1.75 inches] to win that by an inch." Gleason also holds the school record in the triple jump and just missed qualifying for that with a third-place finish at sections.
Justin's father Joey is an assistant coach with the Huskies, "Just a great father-son bonding experience there," added Stelter. And his mother Debby is the head girls' track coach at OHS.
OHS athletes at the state track and field meet:
Justin Gleason, jr, long jump, 23-feet, 1.75 inches - STATE CHAMP
Ryan Gregory, sr, 300 hurdles, 38.33 (school record), 3rd place and 110 hurdles, 4th place
Carter Johnson, jr, 110 hurdles, 5th place
Eli Spurgeon, sr, discus, 5th place and shot put, 9th place
Tanner Stendel, sr, long jump, 8th place
4x800 relay (Jacob Ginskey, so, David Smith, jr, Noah Kubicek, sr, Connor Ginskey, sr) 9th place with a school-record time of 8:07.25
4x100 (Janessa Moore, sr, Laken Meier, so, Lauren Waypa, jr, Ava Wolfe, sr)
Other local results:
Owen Petersohn, sr, Triton, 110 hurdles, :15.23 and 300 hurdles, :39.97 - DOUBLE STATE CHAMPION
Anna Forsberg, so, Blooming Prairie, high jump, 5-feet, 6-inches - STATE CHAMP
Henry Grayson, sr, Medford, 400, :49.52 (school record), 2nd place
Jackie Cole, so, Medford, long jump, 4th place
Quinnn VanMaldeghem, 800, 13th place
Surprisingly Glamorous Tent for Rent in Minnesotan's Backyard
There are lots of homes, cabins, and guest houses you can rent on Airbnb, but there are also tents and campers. This tent, in particular, is surprisingly glamorous and also in the host's backyard in Anoka, Minnesota.
The Best Movies of 2022 So Far
Of all the titles released so far this year, here are the ones you have to see.