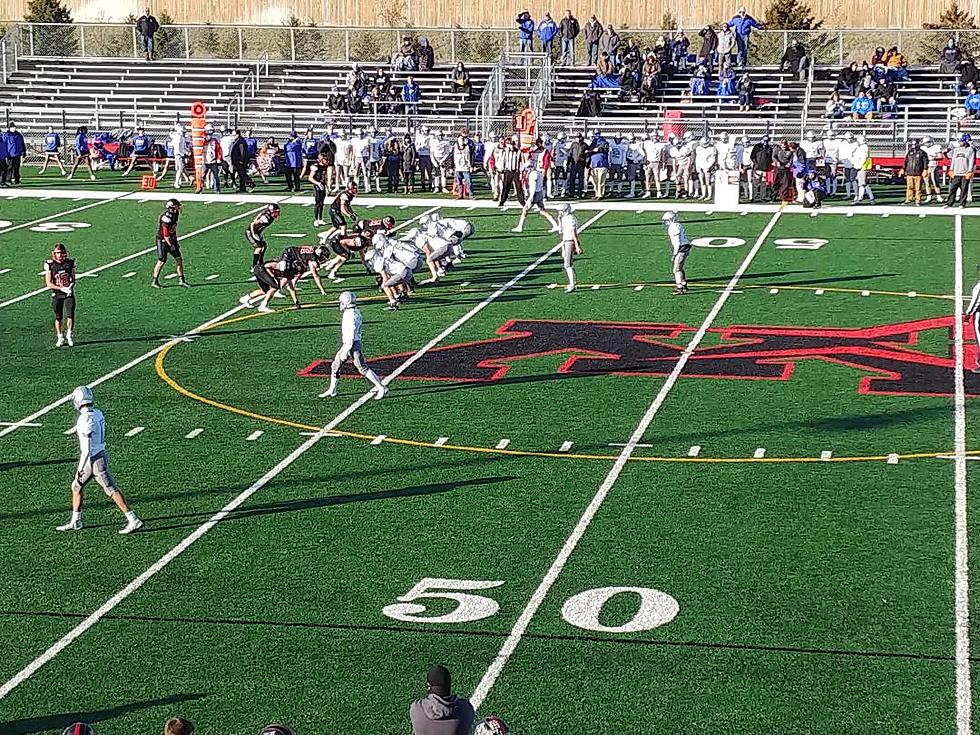 Football Preview: Mankato West at Owatonna
Roy Koenig/TSM
Owatonna football is back home Friday night, facing a red-hot Mankato West club that is 4-0 and has won each game by at least three touchdowns. The Huskies are coming off a 7-6 loss at Monticello that ended a 20-game regular season winning streak. One of those victories came against West at Owatonna's homecoming game in 2019.
The Big Southeast District, Red Division title is on the line. Listen on AM 1390 KRFO, on the free app, or through krforadio.com. Brad Fischer will join Roy Koenig with the call from the OHS stadium field.
Enter your number to get our free mobile app
The only common opponent for the teams is Rochester Mayo. West pulled away from the Spartans last Saturday 41-17. OHS topped Mayo 35-28 in week one with a fourth quarter comeback.
West's other wins have come over New Prague (53-14), Mankato East (20-0), and Northfield (49-9). Owatonna beat John Marshall (40-0) and Century (42-0) in between their opening win over Mayo and last Friday's setback at Monticello.
Owatonna coach Jeff Williams: "They're really good. If you look at their roster, the one thing that strikes you is how young they are. They do have a couple of seniors, Wyatt Block, who is their best linebacker...They have a kid who transferred over, I think during his freshman year from Century, Owen Johnson, who plays safety for them and also plays running back, and he's a senior. But the bulk of their club really is juniors."
After visiting with West coach J.J. Helget, Williams says their group of juniors has really matured over the last couple of years. West started six sophomores in 2019.
The Scarlets are rushing for 210 yards a game and throwing for 190 for a total of 400 yards of offense per outing. That's slightly higher than Owatonna's numbers of 190 yards by land and 151 by air for a total of 341 per game.
Both defenses are sticky against the run. West is allowing 66 yards per game on the ground. OHS is a stellar 38 yards allowed per game. West has allowed 160 yards passing and Owatonna just 75 passing per game.
The Scarlets junior quarterback Zander Dittbenner is 43-for-67 for 759 yards with 11 touchdowns and just one interception. Owatonna senior Brayden Truelson is 49-for-84 for 603 yards with five scores and four picks.
Mankato West has a pair of running backs with similar numbers. Johnson has 40 carries for 305 yards. Block has 44 carries for 337 yards. Each has five touchdowns and averages about 7.5 yards per carry.
Owatonna's Tanner Hall has 75 carries for 408 yards (an average of 5.4 per give) and four touchdowns.
Helget says, "Who's going to take advantage of the mistakes. Last year, we were sitting with a ten-point lead with ten minutes left. Classic Owatonna. We kick off. They get a big return. And just pushed the momentum." Then-OHS senior Keenan Young had the big return that set the Huskies up at the Scarlet 25. Hall scored a touchdown a couple plays later to pull OHS within 20-17.
Owatonna's defense got the ball to their offense two more times, the second opportunity led to a four-play, 47-yard drive with Hall scoring from ten yards out with 1:09 to play to get the 24-20 victory.
Defensively this year, West is led by junior linebacker Ryan Haley (40 total tackles, 12 tackles for a loss, and two sacks) and lineman Gannon Rosenfeld (27 tackles, 12 TFL, four sacks).
Owatonna will be without sack leader Matt Seykora (three sacks, a forced fumble, and a fumble recovery) after he suffered a lower leg injury at Monticello. Grant Achterkirch leads OHS with 33 tackles. Zach Stansky has 25 tackles and an interception. Connor Budach has 18 tackles, a sack, and an interception. Payton Beyer has two picks.
MASK UP! Trending Mask Designs For Sale Benefiting a Good Cause