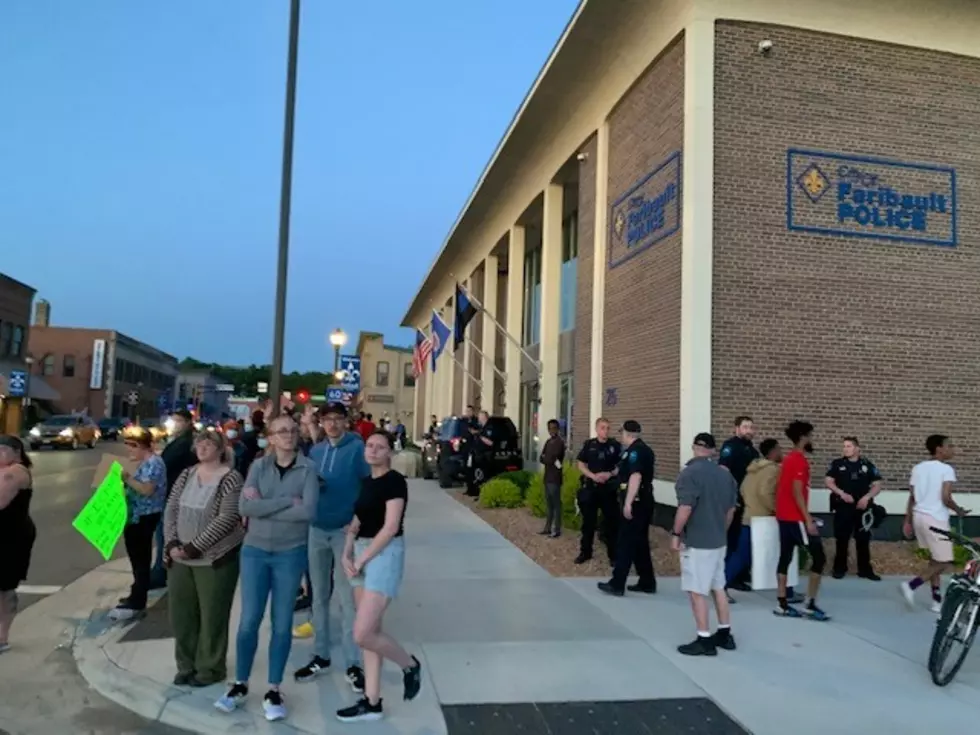 Floyd Protests Come to Faribault
Faribault Protesters and Faribault Police Outside Police Station. Photo by Gordy Kosfeld
A crowd of protesters continues to grow outside the Faribault Police Station tonight.  Faribault Police told KDHL they started with a handful of people and two hours later the number swelled to approximately 50 to 75.
There were young people on each corner from the police station.  Traffic through the area appeared to grow also with many people rolling down their windows as they drove by chanting, "We want justice" and "Black lives matter."
Faribault Police Chief Andy Bohlen and a number of officers stood along the Highway 60 side of the building.  More officers were stationed on the west side of the building.
Other signs held by protesters read "Chauvin Murderer,"  "Racism isn't born it's taught," "No Justice, No Peace, Arrest All 4 Police !"  "George Floyd's Life Matters,"  "Justice will not be served until those who are unaffected are as OUTRAGED as those who are,"  "I can't breathe,"Babysit the Police,"  "Prosecute the Police,"  "Justice 4 Floyd."
It appeared an even number of men and women were active in the sign holding and chants.  Traffic did slow down as it went by partly because the people were right on the edge of the sidewalk just a step away from being in the street.
One of the officers said as long as the people held their signs with messages and chanted everything would be okay.  They indicated no vandalism would be tolerated.
More people were arriving as I left the area to come home and prepare this information for our website.
I asked one of the protesters why they were involved and he said, "Frankly there isn't anything else to do.  Might as well do something constructive.  Letting police know they can't get away with murder is a message that needs to be heard."
The sites of more violent protests are less than an hour away from the more peaceful demonstrations in Faribault.
CHECK IT OUT: 13 Life-Changing Products Invented in Minnesota