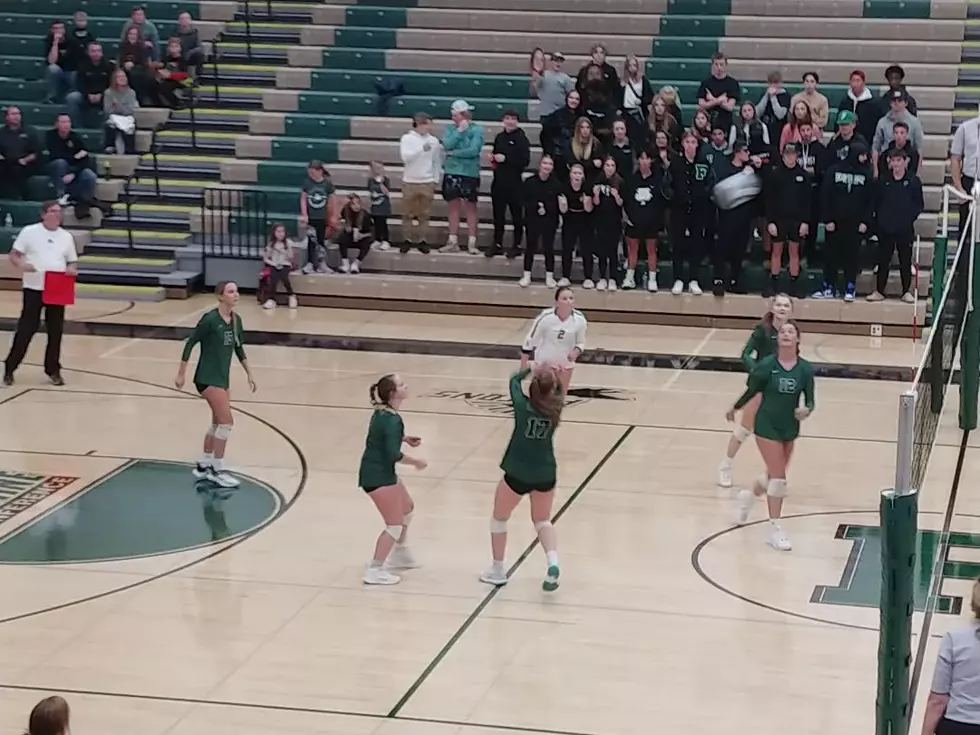 Faribault Falcons Volleyball Advances to Section Semifinals
Faribault Falcons Section 1AAA Volleyball. Photo by Townsquare Media
The Section 1AAA #4 seed Faribault Falcons swept #5 Red Wing 25-17, 25-23, 25-17 tonight to advance to Semifinals action Tuesday in Kasson.
An awesome block led the way for the Falcons with 11 total in the three set match.  They also had 9 ace serves and some very efficient hitting.
Senior Addison Dietsch tallied 9 kills while hitting .421.  Senior Rachel Soukup had 9 kills with a .304 hitting percentage and sophomore Jocelyn Herda led in total kills with 11 while hitting .250.
The team hitting percentage for the night was .229.
Soukup finished with 6 blocks.  Libero, senior Clara Malecha led the defense with 24 digs.
The seniors came out very focused because it was the last match they would play for Faribault High School in Nomeland Gym.
Senior setters Isabella Bokman and Isabel Herda combined for 30 assists (Bokman 17, Herda 13). Bokman also collected 13 digs.
The one negative for Faribault was 8 service errors that have to be shored up before Tuesday, November 1, 2022 when they invade KoMet Country.
The KoMets swept Austin 25-22, 25-17, 25-8.
#2 seed Stewartville was nearly sent to a fifth set after winning the first two 25-15, 25-17 the Winona Winhawks won the third 25-20 before falling 26-24 in the fourth set.
The Byron Bears dispatched Albert Lea in straight sets 25-21, 25-21, 25-14.
Byron goes to Stewartville Tuesday at 7:00 p.m.
The winners of those matches meet for the Section championship on Saturday, November 5, 2022 at 2:00 p.m.
In Section 1AAAA everything also went according to seeding.  Top seed Northfield breezed over Rochester John Marshall thanks to a unheard of team hitting percentage of .589.
46 kills led by Sydney Jaynes hitting .900 with 18 kills and 13 digs.  Hannah Koester banged 8 kills while hitting .533.  Lucy Larson had 4 ace serves and 17 digs.
Teagan Timperly hit .500 with 7 kills and 18 assists.  Teagan Jaynes had 23 assists.  The Raiders team finished with 12 ace serves in the sweep at home.
Northfield now hosts Rochester Mayo after the Spartans swept Rochester Century by scores of 25-20, 25-20, 25-22.  The match will be Tuesday, November 1, 2022 at 7:00 p.m.
#2 seed and Class AAAA top rated Lakeville North swept Owatonna 25-10, 25-13, 25-10 and Lakeville South downed Farmington in 5 sets.  The Cougars won the first set 25-12 before the Tigers won back to back overtime sets 32-30, 27-25.  Lakeville South then captured wins of 25-23, 15-13.
Lakeville South will be at Lakeville North Tuesday, November 1, 2022 at 7:00 p.m.
<p style="text-align: center;"><strong>Check out our <a href="https://krforadio.com/mn-sports-scores">NEW Minnesota High School Sports Scoreboard</a>! You can quickly and easily check <a href="https://krforadio.com/mn-sports-scores">mn sports scores</a> sorted by school, sport, conference, or football district.</strong></p>
<h3 style="text-align: center;">For the best experience, download our <a href="/app" target="_blank">Free App </a>to check Minnesota State High School Sports Scores on the Go📲</h3> <a href="http://krforadio.com/mn-sports-scores"><img class="aligncenter size-630scaled wp-image-301626" src="//townsquare.media/site/717/files/2022/08/attachment-Scoreboard-Feat-2-e1661534206566.png?w=630&amp;h=305&amp;zc=1&amp;s=0&amp;a=t&amp;q=89" alt="mn sports scores" width="630" height="305" /></a>
Best and Worst Colors to Wear to a Job Interview