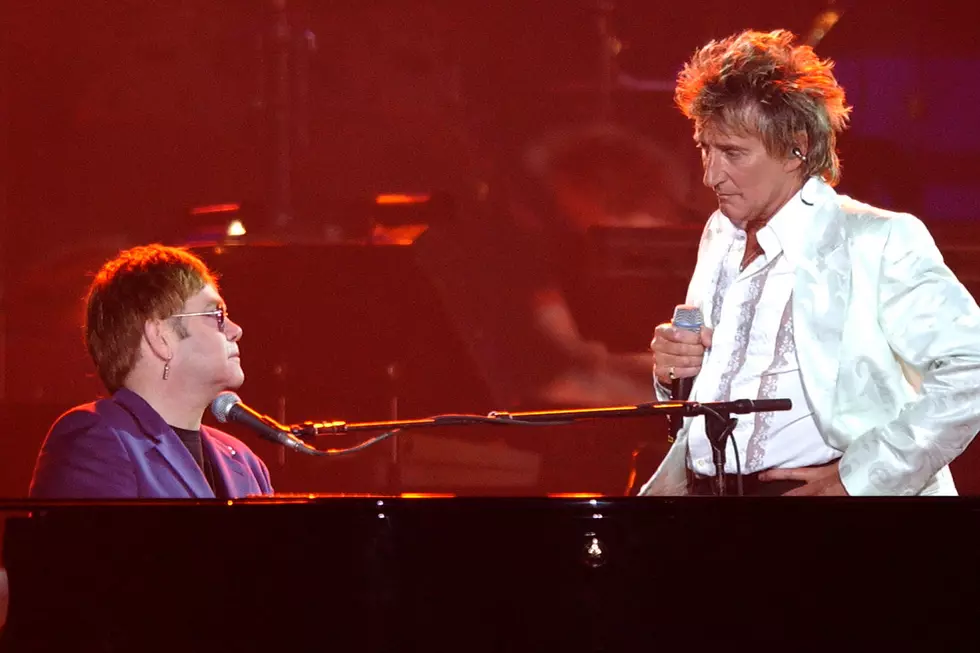 Elton John Recalls Shooting Down Rod Stewart Blimp
Robert Mora, Getty Images
Elton John recalled the time he had a promotional blimp featuring Rod Stewart's face shot down over London.
He said it was a peak moment in the friendly rivalry the pair has shared since the '70s, when he started calling Stewart "Phyllis" and Stewart called him "Sharon."
"For a man with a well-documented, lifelong obsession with leggy blondes, Rod Stewart has a surprisingly camp sense of humor," John wrote in his new memoir Me (via the Daily Mail).
"I just adore him. … Even today, if Rod's got an album out that's selling better than mine, I know it's only a matter of time before he emails me: 'Hello, Sharon, just writing to say I'm sorry that your record's not even in the Top 100, dear. What a pity when mine's doing so well. Love, Phyllis.'"
He recalled when Stewart played Earls Court and "the promoters advertised the gig by flying a blimp with his face on it over the venue. I was staying in London and could see it from my hotel room. It was too good an opportunity to miss. So I called my management, who hired someone to shoot it down. Apparently it landed on top of a double-decker bus and was last seen heading towards Putney. An hour later, the phone went. It was Rod, spluttering, 'Where's my fucking balloon gone? It was you, wasn't it? You cow! You bitch!'"
John explained that Stewart got back at him a year later in the same city. "When I was playing Olympia, the promoters hung a huge banner across the street," he said. "It was mysteriously cut down immediately after it was put up. I learned this had happened from Rod, who seemed curiously well-informed. 'Such a shame about your banner, love. I heard it wasn't even up five minutes. I bet you didn't even get to see it.'"
He said he continued to feud with Stewart when he came out of rehab in the '80s, even though he was told not to work. "Spoiling things for Rod has never felt like work, more a thoroughly enjoyable hobby," he explained.
Elton John Albums Ranked