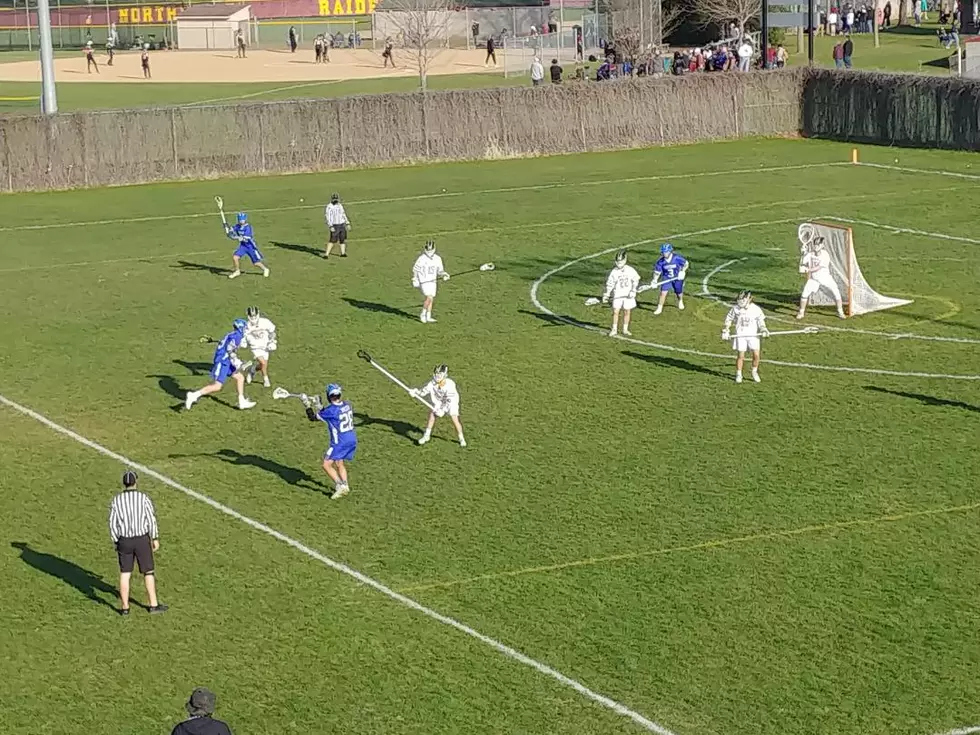 Dramatic, Late Saves Preserve One-Goal Owatonna Lacrosse Win
Roy Koenig/TSM
Owatonna's defense was strong all game against Northfield in a boys lacrosse game Thursday night. With Northfield within a goal late in the fourth quarter, junior goalie for the Huskies Korban Stricklin was called upon to make a pair of monster saves to preserve a 10-9 victory.
The Raiders had a good open look from their right wing by Isak Johnson that Korban stopped. The Raiders best chance came as Matthew Bell sprinted straight up the middle, caught a pass from behind the net and took a shot at point-blank range that Stricklin caught.
The Huskies trailed 2-1 late in the first quarter but scored four straight goals to start the second and never trailed. OHS pushed its lead out to 8-4 early in the third. The Raiders responded with four of the next five goals to make it 9-8.
Owatonna's Caleb Belting scored his third goal of the contest with 3:06 to go in the third off a feed from Zack Kirsch to lead 10-8. Spencer Klotz scored with 7:38 remaining and Northfield dominated control down the stretch, but the Huskies (2-0) held on for the 10-9 win. Stricklin had 19 saves. Preston Meier scored three goals and provided a pair of assists. The Huskies host Apple Valley Saturday, April 24 at 2 pm.
The Owatonna girls lacrosse squad beat Northfield 12-1 at OHS Thursday. Annika Moran scored six goals giving her 12 two games into the season. Audrey Simon added three and Elizabeth Harder scored twice. The Huskies play at Century Monday on Kat Kountry 105.
OHS baseball won their fifth in a row, topping Red Wing 7-0. Matt Seykora tossed the complete game. Nick Williams and Brayden Truelson had big hits. The Huskies play at Northfield Tuesday, April 27 on Kat Kountry 105.
Huskies softball beat Red Wing 12-6 at Morehouse Park Thursday. The Huskies scored five in the home half of the fifth inning after the Wingers pulled even at 5-5. Izzy Radel hit an inside-the-park-homerun, two doubles and drove in four runs. The Huskies host Century at 1 pm Saturday in a makeup game.
Owatonna boys tennis saw their five-match winning streak to start the season end with a 5-2 loss to Rochester Century. OHS boys golf lost to Holy Angels.
Tune in for the High School Coaches Show Saturday mornings at 9 am on AM 1390 KRFO and 94.7 FM. Hear coaches from Owatonna, Blooming Prairie, NRHEG, Medford and Triton.
Enter your number to get our free mobile app
Money. Money. Money. Play WIN CASH with this radio station for a chance at $10,000.
AMAZING: See Inside Former Minnesota Wild Eric Staal's Gorgeous Edina Home
Remember The Twins Free Agent Signees?
Top 5 Worst Minnesota Vikings Quarterbacks