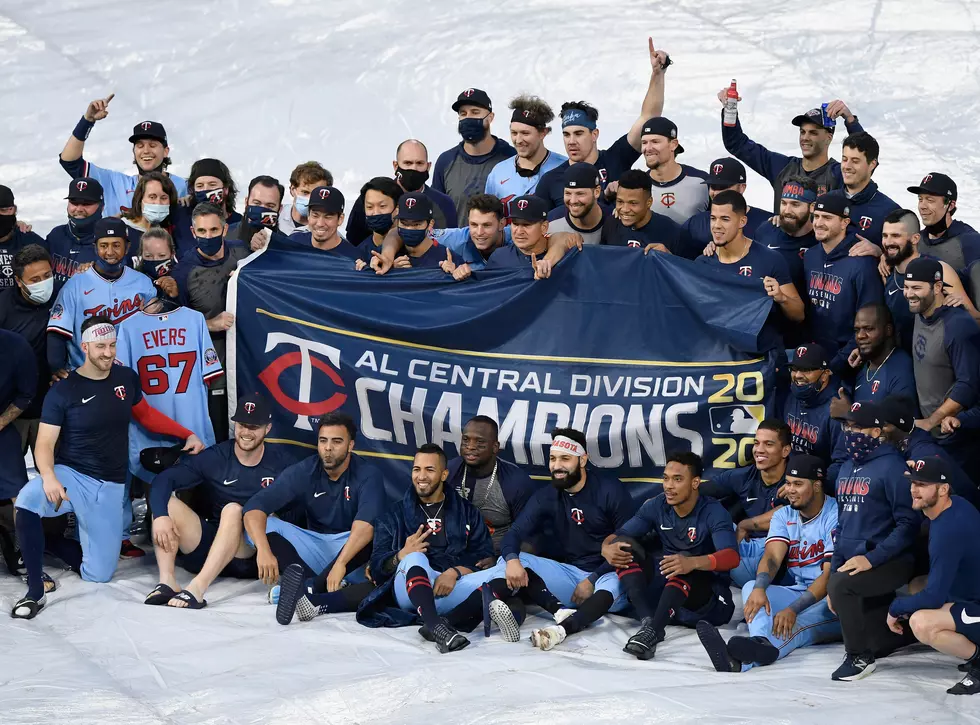 COVID Leaves MN Twins One of the Least Valuable Teams in MLB
Getty Images
A new ranking of the most valuable teams in Major League Baseball sees the Minnesota Twins in the bottom half of the list.
Looking back on an unprecedented MLB season plagued by COVID-19, Forbes has ranked all 30 Major League Baseball teams from most to least valuable. With no fans in the stadiums and a short 60-game season, the entire league lost an overall $1.8 billion in 2020 or 65% of revenue from the year before; in 2019 it had seen a profit of $1.5 billion. Forbes reports that the New York Mets -- which were purchased in October for $2.42 billion -- had an operating loss of $125 million last season. The Boston Red Sox posted an operating loss of $70 million in 2020, and the Atlanta Braves reportedly lost $67 million.
Looking at overall losses per team over the past year, Forbes has ranked the most valuable to least. They are:
1. New York Yankees ($5.25 billion)
2. Los Angeles Dodgers ($3.57 billion)
3. Boston Red Sox ($3.465 billion)
4. Chicago Cubs ($3.36 billion)
5. San Francisco Giants ($3.175 billion)
6. New York Mets ($2.45 billion)
7. St. Louis Cardinals ($2.245 billion)
8. Philadelphia Phillies ($2.05 billion)
9. Los Angeles Angels ($2.025 billion)
10. Washington Nationals ($1.925 billion)
11. Atlanta Braves ($1.875 billion)
12. Houston Astros ($1.87 billion)
13. Texas Rangers ($1.785 billion)
14. Chicago White Sox ($1.685 billion)
15. Toronto Blue Jays ($1.675 billion)
16. Seattle Mariners ($1.63 billion)
17. San Diego Padres ($1.5 billion)
18. Baltimore Orioles ($1.43 billion)
19. Minnesota Twins ($1.325 billion)
20. Arizona Diamondbacks ($1.32 billion)
21. Colorado Rockies ($1.3 billion)
22. Pittsburgh Pirates ($1.285 billion)
23. Detroit Tigers ($1.26 billion)
24. Milwaukee Brewers ($1.22 billion)
25. Cleveland Indians ($1.16 billion)
26. Oakland Athletics ($1.125 billion)
27. Cincinnati Reds ($1.085 billion)
28. Kansas City Royals ($1.06 billion)
29. Tampa Bay Rays ($1.055 billion)
30. Miami Marlins ($990 million)
The Minnesota Twins rank as the 19th most valuable (or 12th least valuable) team in the league with a value of just $1.325 billion. According to Forbes, the Minneapolis-based team lost $49 million in 2020. The only team to value less than $1 billion is the Miami Marlins. The New York Yankees, on the other hand, are one of three professional US sports teams worth at least $5 billion (the other two are the Dallas Cowboys at $5.7 billion, and the New York Knicks at $5 billion). See the full report by Forbes here.
The Twins 2021 season opens April 1 in Milwaukee; their first home opener is April 8 against the Seattle Mariners.
MN Twins On Cameo