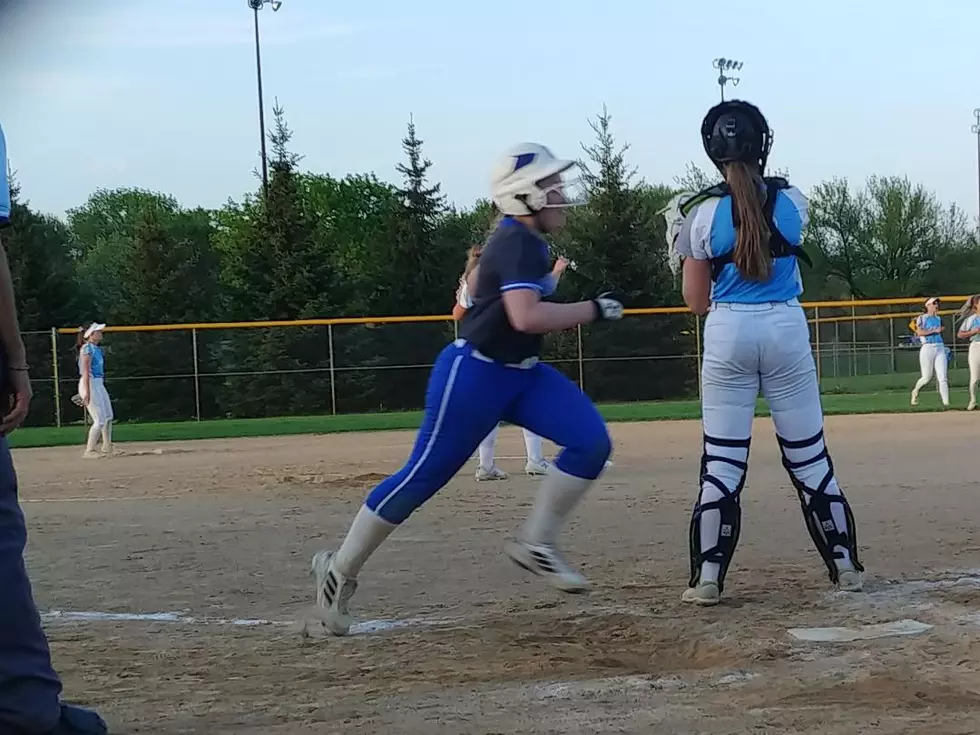 Clutch Hits, Long At-Bats Lead to Owatonna Softball Victory
Roy Koenig/TSM
Owatonna finally played their game against Bloomington Jefferson on Thursday after a weather delay on the original date in mid-April. The Huskies outlasted the Jaguars 7-4 with timely hitting and solid defense and pitching. Despite stormy conditions in Owatonna around game time, the sky was mainly sunny at Dred Scott Fields in Bloomington.
Jefferson struck first in the bottom of the first for a run. Owatonna responded with a three-run second for a lead they wouldn't surrender. Mehsa Krause singled to open the inning. Danika Ringhofer walked. Kendra Bogen smashed a two-out double and was awarded home after a Bloomington throw went out of play.
While leading 3-2 in the fourth, Bogen and Katelyn Bentz hit back-to-back, two-out RBI singles to boost the lead to 5-2. A two-run homer drew Jefferson within 5-4 after five innings. The Huskies got an RBI-single from Samantha Bogen in the sixth and an RBI-double off the bat of Parris Hovden in the seventh for the 7-4 final.
Huskies' coach Jeremy Moran said, "We came up with some big hits tonight.  Clutch two-out hits and I was really happy with our approach at the plate with two strikes.  We were fouling off several pitches and really battling their pitchers." Zoie Roush had an 11-pitch at-bat that ended with a single.
Moran added, "Good team win tonight!  Good energy and contributions from several players for the win."
OHS sophomore Kennedy Hodgman tossed the complete game, striking out six batters. A couple of nice defensive plays included a diving catch in right field by Krause on the first batter for the Jags. Bentz made a solid play on a ball deep in the hole at shortstop.
The non-conference game came about when Jefferson coach Rob Giesen needed to add a game and Moran jumped at the chance to play a Twin Cities team. The Huskies end their regular season at Mankato West Friday, May 20.
Section seedings come out this weekend. Moran says Owatonna is bunched together with several other teams vying for the third through sixth seed. Playoffs begin Tuesday, May 24.
38 of the Best Mom Quotes Ever From Kids in Minnesota, Iowa, Wisconsin, and Illinois
Every mom has that one phrase or saying that always comes out of their mouth at the perfect time. Maybe while a child is being stubborn and doesn't want to eat the vegetables on the plate. Or it could be that lovely reminder to put a coat on when it is below 20 degrees. It could even be that nice nudge to clean your room so you have more than just a path.
Moms are full of great tips, and advice, and we've heard a lot of great phrases from our moms...in the good times and the bad.
I asked kids in Minnesota, Iowa, Wisconsin, and Illinois to send me their favorite mom quotes...and we've got a great list! Did your mom say any of these famous quotes?