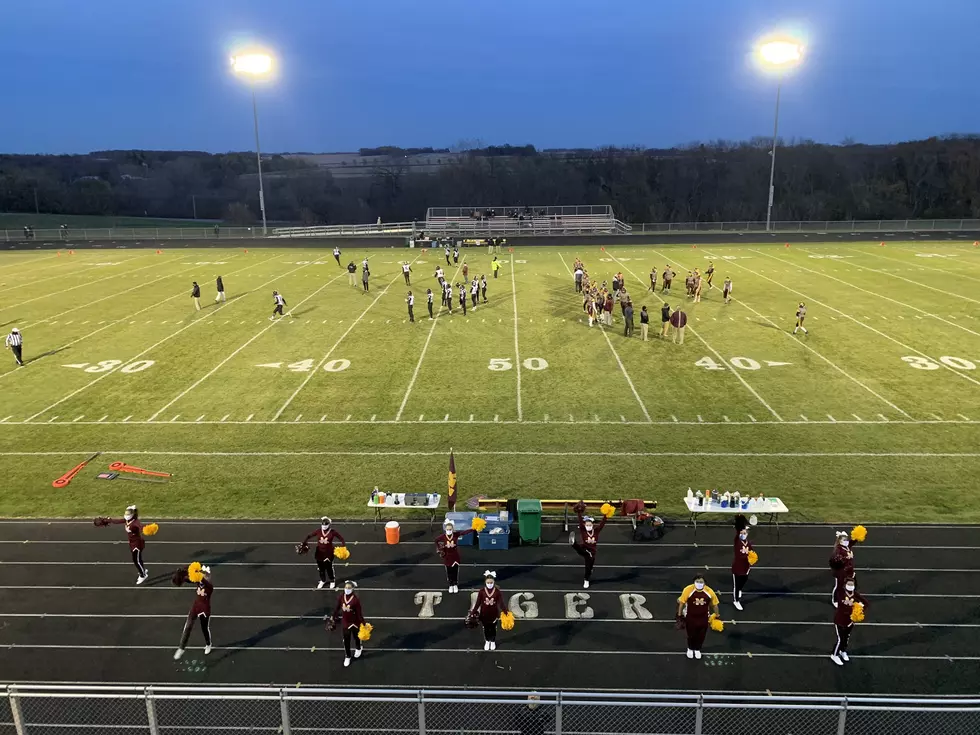 Blooming Prairie, Medford, Move Up Games; Triton Cancels
Jason Iacovino/Townsquare Media
Call it an audible, a scramble, or an all-out blitz. Football teams across Minnesota are moving their upcoming games from Saturday, November 21 to Friday, November 20 to beat the governor's time table for restricting, or 'pausing,' athletics. Blooming Prairie and Triton have changed their game day in order to play their section championship match-ups. Medford is changing the day and the opponent in what can now best be considered a third place game in Section 2AA.
Enter your number to get our free mobile app
For Medford, it creates a home game against St. Clair/Mankato Loyola as the No. 3 and No. 5 seeds, respectively, in Section 2AA. The Tigers were planning to go to second-seed Maple River on Saturday. Now the Eagles will go to top-seed Blue Earth Area to play for the championship.
The Tigers blanked NRHEG 21-0 Tuesday in the quarterfinals. The Spartans upset Norwood-Young America 28-24. Medford beat St. Clair/Loyola twice in 2019 including a 27-13 victory in Mankato in the section quarterfinals. Medford was the section runner-up last year.
Tiger players have a good attitude about the opportunity to play, based on comments quoted by the coaching staff during a huddle at Wednesday's practice.
Blooming Prairie will host Randolph Friday at 7 pm at McFarlin Field. The Rockets (No. 3 seed) beat second-seed Goodhue 22-20 Tuesday despite losing to them during the regular season in week 6. BP beat Randolph twice in 2019 on their way to the state title.
Triton and Chatfield were forced to cancel the Section 1AA championship game.
Updated schedule/results for playoff football
Friday, November 20
(Each game is for the championship unless noted otherwise.)
Section 1A
Randolph at Blooming Prairie, 7 pm on Kat Kountry 105FM
Section 1AA
Triton at Chatfield, 7 pm (cancelled)
Section 1AAA
Plainview-Elgin-Millville at Waseca
Section 1AAAA
Kasson-Mantorville 7, Byron 0
Section 1AAAAA
Owatonna 30, Rochester Mayo 28
Section 2A
New Ulm Cathedral at Faribault BA, on Power 96
Section 2AA
St. Clair/Mankato Loyola at Medford, 7 pm (third place) on AM 1390 KRFO
Maple River at Blue Earth Area
Section 2AAAAA
Chaska at Mankato West (semifinal)
Waconia at Chanhassen (semifinal)
(The schedule stays with the same pairings, but no title game.)
Section 4AAA
St. Croix Lutheran at Cannon Falls, 7 pm on The Might 920 KDHL
7 Vegetables You Can Sneak In Foods So Your Kids Will Eat Them