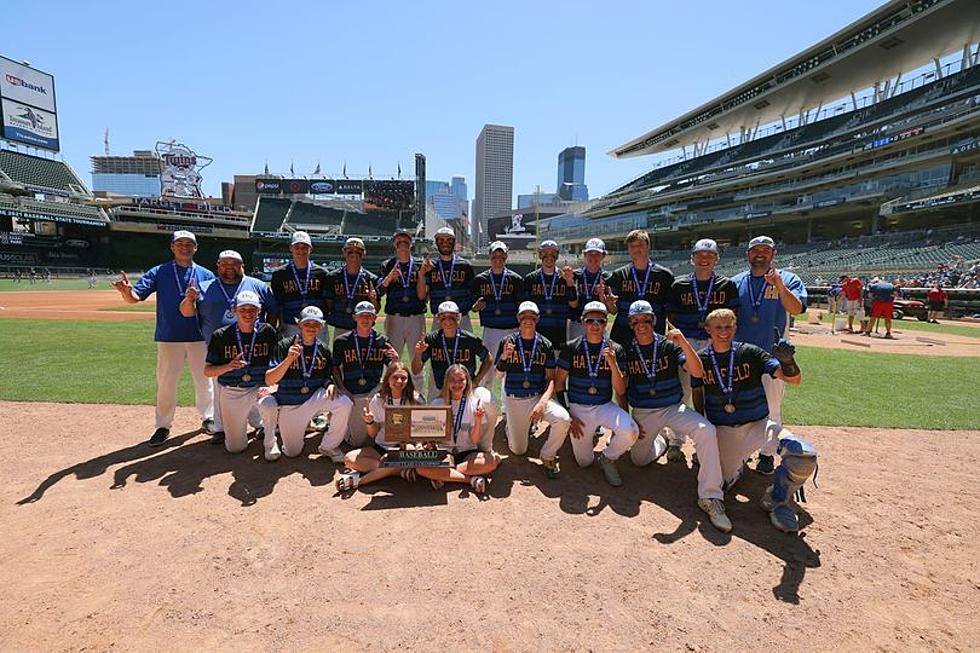 A Championship Trophy For Hayfield High School Baseball Team
Minnesota State High School League photo
baseball
Minneapolis (KROC AM News) - It will be a happy weekend in the small southeast Minnesota town of Hayfield. Its high school baseball team returned Friday from a historic trip to the state tournament with the Class A championship trophy.
Here's the summary of the title game from the Minnesota State High School League:
Senior infielder Erik Bungum was the offensive and defensive hero as Hayfield completed an undefeated season with a 7-4 victory over New York Mills in the Class A baseball championship game on Friday, June 18 at Target Field in Minneapolis. The Vikings (26-0), who rallied from an early four-run deficit, finished 2021 as Minnesota's only undefeated high school baseball team.
Senior infielder/pitcher Lucas Hansen and three hits in Hayfield's 10-hit attack. The Vikings, who scored 41 runs in the three tournament games, needed that offense after trailing early. Bungum and senior outfielder Ethan Slaathaug added two hits apiece. Dre Roberts, a senior righthander, went the first 5 1/3 innings to earn the victory. Junior Nolan Klocke handled the last 1 2/3 frames and escaped a bases-loaded sixth inning jam to earn the save.
It is the first baseball championship for Hayfield in two state tournament trips. In their other appearance, the Vikings won the consolation final in 2019.
New York Mills (25-3) finished as the Class A runner-up for the second time since 2019.
The Eagles got off to a strong start with a combined six singles and a walk for four runs in the second inning runs. Senior Abe Carlson had two hits and scored a run for the Eagles. But Hayfield responded with two runs in the third and took the lead for good when Bungum cleared the bases with a drive to deep left center field. The Vikings added a sixth inning run to wrap up the scoring.
Roberts reached the 115-pitch mark in the bottom of the inning and gave way to Klocke. The Eagles made things interesting as a walk and a pair of singles to load the bases with one out. Roberts lifted a fly to short left field that looked to be trouble until Bungum made a diving over the shoulder catch. Klocke than struck out the next batter to end the threat. The junior retired the side in order in the seventh to earn the save.
The team returned to a "welcome home" ceremony Friday afternoon.
The event was carried live on the Hayfield Community Schools Facebook page
Minnesota's 25 Smallest Towns According to the 2020 Census
According to the 2020 census, the smallest town in Minnesota has a population of 507 people. Check out the 25 smallest towns in Minnesota
according to our latest census
.