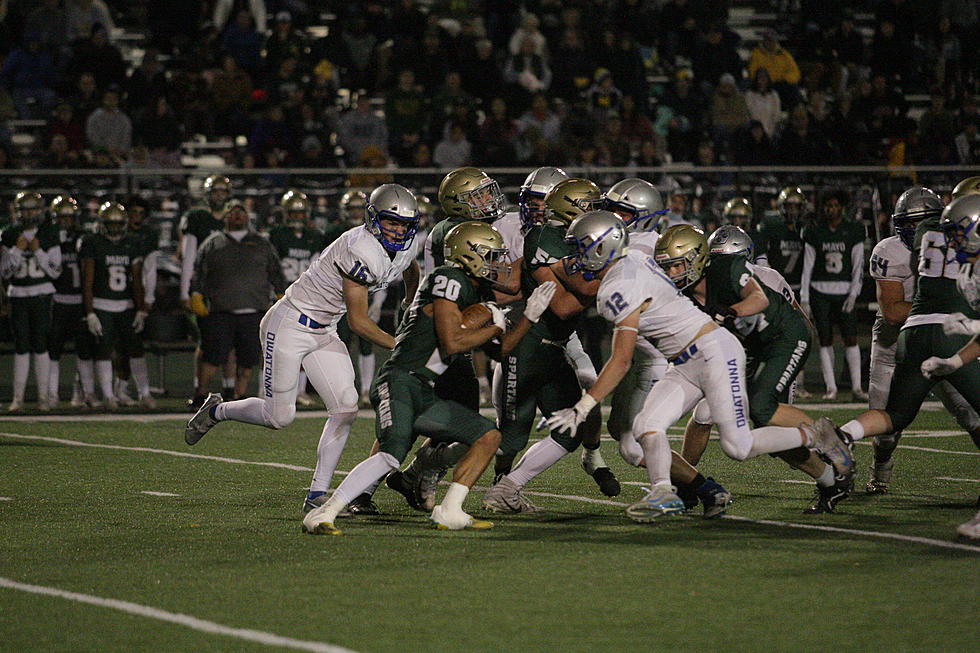 10 Owatonna Players Named All-District [Stats & Comments from Coach Williams]
courtesy of Gary Walter
Ten Owatonna High School football players are named to the Big Southeast All-District Team. Seniors Grant Achterkrich, Nick Williams, Eli Spurgeon and Caleb Vereide and juniors Collin Vick and Drew Henson made First-Team designation. Seniors Dylan Maas and Ryley Glassmaker and juniors Trever Schirmer and Drew Kretlow are honorable mention. Henson is the Big Southeast Special Teams Player of the Year.
The Huskies are coming off a section runner-up season following a thrilling championship game against Rochester Mayo. It was Owatonna's sixth straight appearance in the section final. Five consecutive titles included a pair of back-to-back state titles.
ALL BIG SOUTHEAST DISTRICT, FIRST TEAM
Grant Achterkirch, senior linebacker
Stats: Team-leading 145 defensive points, which includes 51 solo tackles, 24 assists, two fumble recoveries, two blocked kicks. As a running back, 25 carries for 145 yards and a touchdown, plus four receptions for 46 yards.
Coach Jeff Williams says, "Grant was the heart and soul of our defense the past two years. He led our team tackles both seasons and provided tremendous leadership as well. He has a great nose for the football, pursues quickly, and always comes with a punch."
Nick Williams, senior wide receiver
Stats: 37 catches for 599 yards and six touchdowns, ninth best single-season receiving yards in school history.
Coach Williams says, "Nick was our most reliable and explosive receiver this fall. He drew considerable attention from opposing defenses who often shadowed him with their best cover guy or provided help over the top. Nick possess great hands and the ability to be elusive in space."
Eli Spurgeon, senior lineman
Stats: 43.5 defensive points on 13 solo tackles, three assists, two blocked kicks, a pass break-up and a-half of a sack.
Williams says, "Eli was a force in the lines on both sides of the ball. He consistently shut down the opposition's running game and often demanded a double team. This freed up other defenders to make plays. Offensively, Eli was a bulldozer and provided running lanes to the back and time to throw for the quarterback."
Caleb Vereide, senior defensive back
Stats: 105 defensive points (2nd on the team) with 41 solo tackles and 15 assists, plus a fumble recovery and interception.
Williams says, "The strong corner position is one of the most demanding roles on our team. I requires the ability to cover the opposition's most elusive receivers while also being a primary run-stopped. Caleb really grew into the position this fall and excelled in both roles as the season progressed."
Collin Vick, junior defensive back
Stats: 27 solo tackles, one assist, two interceptions and a pass breakup.
Williams says, "Collin really rose to the occasion at free safety this fall. He led the team in interceptions and was outstanding in pass coverage all season. Collin was also not afraid to insert himself into the box and make tackles and became a real leader in our secondary."
Drew Henson, junior kicker [Big Southeast Special Teams Player of the Year]
Stats: 49 kickoffs with 28 touchbacks (56 yard average, second in school history), nine field goals on ten attempts with a long of 44 yards, 29-for-31 on PAT's.
Williams says, "Drew has worked tirelessly to become a great kicker. He has a naturally strong leg, and has couple that with outstanding accuracy and the ability to perform in pressure situations. He became a real weapon with his ability to put the ball in the end zone on kickoffs, and to turn stalled drives into three points."
BIG SOUTHEAST, HONORABLE MENTION
Dylan Maas, senior running back
Stats: 215 carries for 991 yards and nine touchdowns, 12 receptions for 102 yards and a touchdown.
Williams says, "Dylan was a workhorse for our offense and carried the bulk of our rushing load. He showed some real explosiveness throughout the season and that culminated in his final game in a blue jersey, rushing for 290 yards, catching three passes, and finding the end zone four times."
Ryley Glassmaker, senior defensive line
Stats: 14 solo tackles, eight assists, four sacks, a safety and a forced fumble.
Williams says, "Ryley is one of the fastest defensive linemen we have ever had. He was difficult to keep out of the offense's backfield because he was so quick off the ball."
Trever Schirmer, junior lineman
Stats: seven solo tackles, eight assists, four pass breakups.
Williams says, "Trever was a steady performer on both offense and defense. He anchored the left side of our offensive line and provided outstanding pass protection and opened holes for the run game. Defensively, he improved tremendously in his discipline and did not allow offensive tackles to climb to our linebackers."
Drew Kretlow, junior linebacker
Stats: 27 solo tackles, 11 assists, two fumble recoveries, one blocked kick, four sacks, 89 defensive points (3rd best on the team).
Williams says, "Drew grew a lot in the first two games playing without Grant next to him. He was forced to become the leader of the defense and step up as the primary run-stopper. He proved to be a solid linebacker against the run and was an impact player when he blitzed. He will be counted on the continue to develop and help anchor the Huskies' defense in 2022."
Enter your number to get our free mobile app
Recognizing Southeast Minnesota's Hometown Heroes
Scroll down and read about some of the amazing people in our SE Minnesota communities.
10 Most Affordable Places To Live In Minnesota
It comes as no surprise that the more money you save on living, the more money you have for adventures.
If you'd like to save some cash, live in one of these ten affordable Minnesota towns.
After you check out this list, find out where your town ranks
here
.
Huge list of movies that were made in Minnesota
Minnesota is known for having a whole bunch of mosquitos, a giant list of lakes, and of course Mayo Clinic. We've also had quite a few moments on the big screen! According to IMDB.com, see where film crews have been for a huge list of movies made in Minnesota.