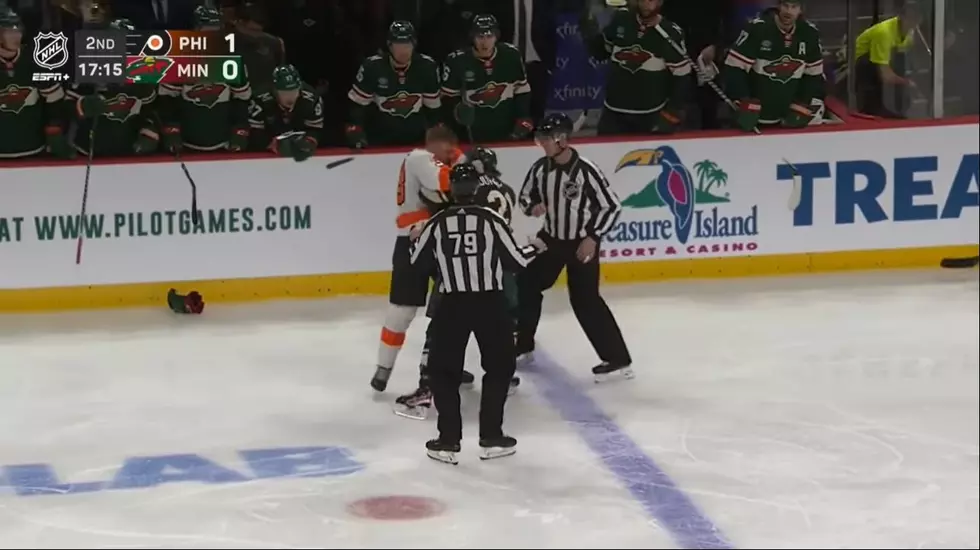 WATCH: Several Fights Breakout Between Minnesota Wild + Philadelphia Flyers
Sport Highlights everyday108 2 via YouTube
It was fight night in St. Paul as the Minnesota Wild took on the Philadelphia Flyers at the Xcel Energy Center on January 26th's game.
I grew up watching hockey fights as my dad absolutely loved them. He had so many VHS tapes of hockey fights that we would watch for hours. What a surprise fans got knowing that they now got hockey tickets and apparently boxing tickets too as multiple fights broke out.
First up was a heavyweight bout between two feared men in the NHL, Wild's Ryan Reaves, and Philly's Nicolas Deslauriers. These two big men stayed on their fight for a while and it was tough to see who took the win. I'm going to give to Reaves for throwing more hard rights. Delsauries is a former Wild player who got in a bloody fight last year against his current team.
Seconds after the first bout, Wild's left winger Mason Shaw took on Flyer's right winger Wade Allison.  This one was pretty quick with Allison using the boards to his advantage and pinning Shaw down on the ice.
Then, seconds after that fight another pair of gloves was dropped. Right winger Marcus Foligno from the Wild took on Zack MacEwen who plays center for Philly. This one had some haymakers as Foligno's helmet went flying. Foligno definitely took this one as MacEwen ended up on his knees.
All three fights took place in under 30 seconds of each other in the first period. Talk about exciting hockey. Then in the second period, we got our fourth fight. Wild's Brandon Duhaime who plays left wing went up against another center on Philly's roster, Patrick Brown.
The Wild ended up winning 3-2 in overtime on a wild St. Paul night. You can check all the fights together below:
Check out former Wild players Parise and Suter's homes below:
Like Like A Minnesota Hockey Player - Check Out Ryan Suter's Home For Sale
If Parise's house wasn't your style, check out this
10,824 sq ft. 7 bedroom, 7 bath home
on a 1.38 acre lot. At the pocket change price of $4,995,000, Suter's Edina home could be yours.
Like Like A Minnesota Hockey Player - Check Out Zach Parise's Home For Sale