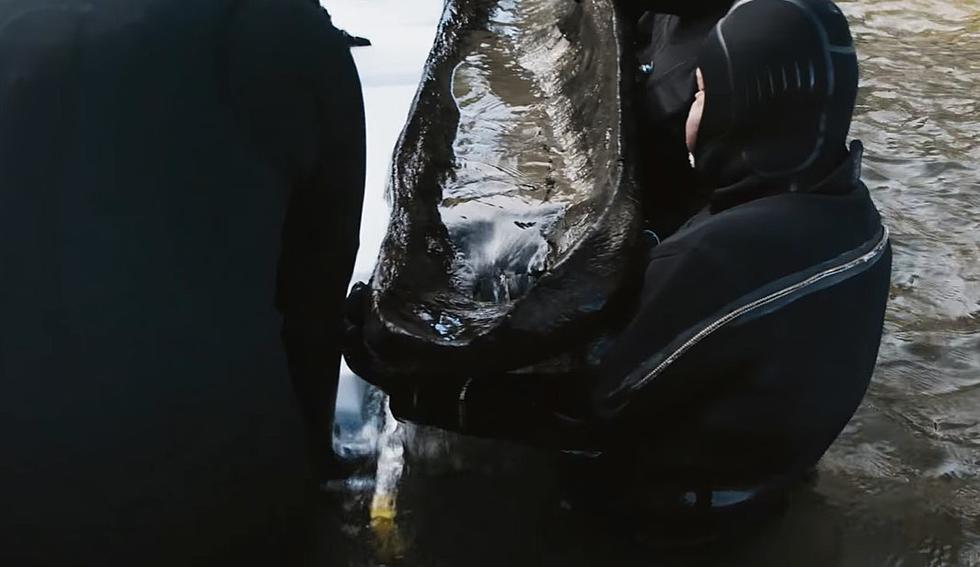 Video Shows Archaeologists Pulling 1,200-Year-Old Canoe From Wisconsin Lake
Wisconsin Historical Society Facebook
This is absolutely crazy! A team of archaeologists and divers recently brought up a 1,200-year-old canoe from the depths of a lake in Madison, Wisconsin. It happened back in November last year, but the video is now being released showing what it took to get the artifact to the surface in one piece, and how they are working to preserve the dugout canoe.
According to an article from CNN,  Tamara Thomsen was riding her underwater scooter in Lake Mendota in Dane County when she found what she originally thought was a log on the lake bed. After investigating further, she determined it actually was a dugout canoe. Thomsen is a maritime archaeologist with the Wisconsin Historical Society. She also owns a scuba diving company. She knew this was a big find, but didn't expect it to be that old.
They sent in a sample and it was determined with carbon dating that the canoe was from 800 A.D. That makes it the oldest intact vessel ever found in the State of Wisconsin. The local Ho-Chunk tribe says the lake at one point was a busy area of commerce and travel for the Native Americans. It makes sense that the canoe would be there.
In some cases, you leave artifacts intact where they are, but in this case, the Wisconsin Historical Society agreed that the canoe had to be removed and preserved since it now had been uncovered and would start to deteriorate. The cold water, away from light in 27 feet of water is why it likely remained intact.
The story got national attention, but there were no videos released of the operation until now. The Wisconsin Historical Society published a video of the process of how they got the canoe out of the water. Fortunately, it stayed in one piece and is now being preserved as the oldest vessel in Wisconsin.
Ten (Plus) Items Made In Wisconsin
A review of the top ten items made in Wisconsin - expanded just a little to fully-recognize one of the listings.
Professional Athletes Who Once Called Wisconsin Home
Pro Athletes From Wisconsin