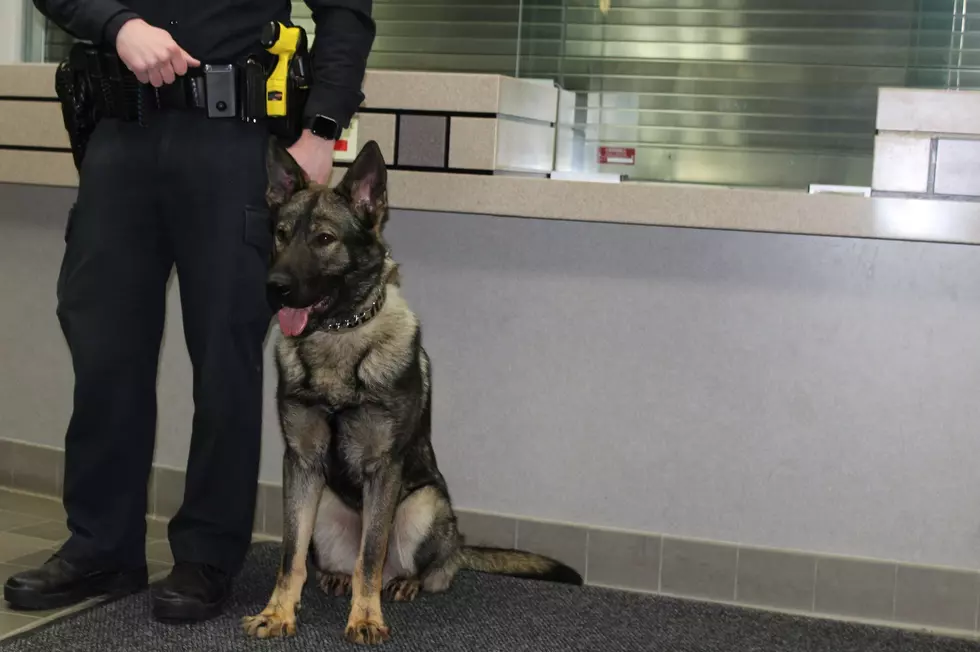 Vegas Comes to Owatonna [PICS]
Vegas Melissa Hall/Townsquare Media
Ok, so it's not "Vegas baby," but, Vegas the newest member of the Owatonna Police Department. Vegas, and his handler, Officer Casey Martin, recently completed their 10 week training program, and are now out on patrol.
Of course the process is not that easy to get a K9, as Officer Martin said. The dogs are hand-picked, from Eastern Europe, Slovakia in this case. Performance Kennels, run by a former police officer and K9 handler, located in Buffalo, MN is the kennel that flew to Slovakia, and hand-picked Vegas. Vegas is a dual-purpose dog, he is being used for narcotics detection and criminal apprehension. As part of the criminal apprehension he can also be used to assist with missing persons if needed.
Officer Martin did say that the training is not done, even though they went through a very intensive training course, and he works with Vegas every day. It can take a good year to year and a half of training in order to get the dog to where you need them to be, and a lot of that is building on the skills they have in several different environments. Vegas is required to be certified yearly for his dual purposes.
Vegas lives with Officer Martin, and is getting along with his two other dogs. He loves people, and wants to please. He is also very high-energy, so he needs to have the consistent training, both on and off duty. With age and experience he will start to calm down some Martin will work in training between calls when they are on duty. He stressed that they need to continue the training, and to make it like a game, that Vegas responds to positive reinforcement and treats. He is leaning his cues, like when they get into the squad, he knows it's work time. He also is learning his different collars, the police collar means it's time to go to work. The obedience collar, they are training, and there is also a vest that he can wear.
It has been 2 years since Owatonna had a K9, when Officer Petterson and Kash left the department in 2017. Martin is very excited to have Vegas, as he has always wanted to have a K9, and started his career with law enforcement with that intent. This is not his first dog though, he worked with a bomb-sniffing dog when he was an officer at MOA. That dog also came from Performance Kennels, so he was familiar with them before getting Vegas.