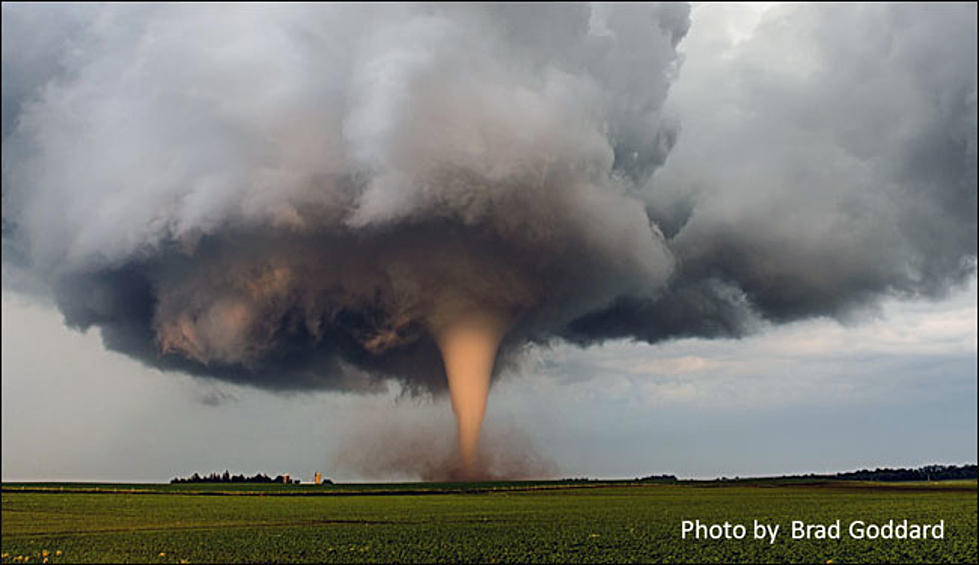 TORNADO WATCH for Southeastern Minnesota Wednesday
National Weather Service Tornado Photo. From National Weather Service
In a weather twist even unusual for Minnesota, a Tornado Watch is posted for portions of southern Minnesota through 8 pm on Wednesday, December 15. The watch area includes Steele, Waseca, Blue Earth, Faribault, Freeborn, Jackson, Martin and Watonwan Counties. Another TORNADO WATCH was issued shortly before 5:40 this evening and will be in effect until 11pm for the following counties in Minnesota:
ANOKA CARVER CHISAGO DAKOTA HENNEPIN RAMSEY SCOTT WASHINGTON LE SUEUR RICE IN SOUTHEAST MINNESOTA AND GOODHUE
Once again those counties listed above are in a TORNADO WATCH until 11pm or the notice is downgraded by the National Weather Service.
A tornado has never been reported in Minnesota during the month of December.
The Minnesota Department of Public Safety offers safety reminders.
In a home, get into the basement and under something heavy. Avoid windows.
If there is no basement, find a small central room or get under a stairwell.
In a store, listen to facility managers.
Get out of a mobile home and evacuate to the designated shelter. The department states, "even if the only alternative is to seek shelter out in the open."
In a vehicle, drive away from the storm in right angles. If no other options, get out of the vehicle and find shelter in a building or lay down in low ground.
Southern Minnesota is also under a High Wind Warning from 6 pm Wednesday, December 15 through 6 am Thursday, December 16. The National Weather Services states in their warning, "A very powerful low pressure system will track through later today [Wednesday, December 15] and this evening. Damaging winds with gusts of 60 to 65 mph are likely across all of the Upper Mississippi River Valley tonight. In addition, a line of severe thunderstorms will develop along a very fast moving cold front early this evening. This line of thunderstorms could contain gusts in excess of 80 mph and some embedded tornadoes across southern and eastern Minnesota into western Wisconsin."
Are You Prepared For A MN Winter? Keep These 10 Items in Your Car
The cold is here, and that means the snow isn't far behind. Are you ready to tackle Minnesota roads this winter? Do you have these ten items in your car?