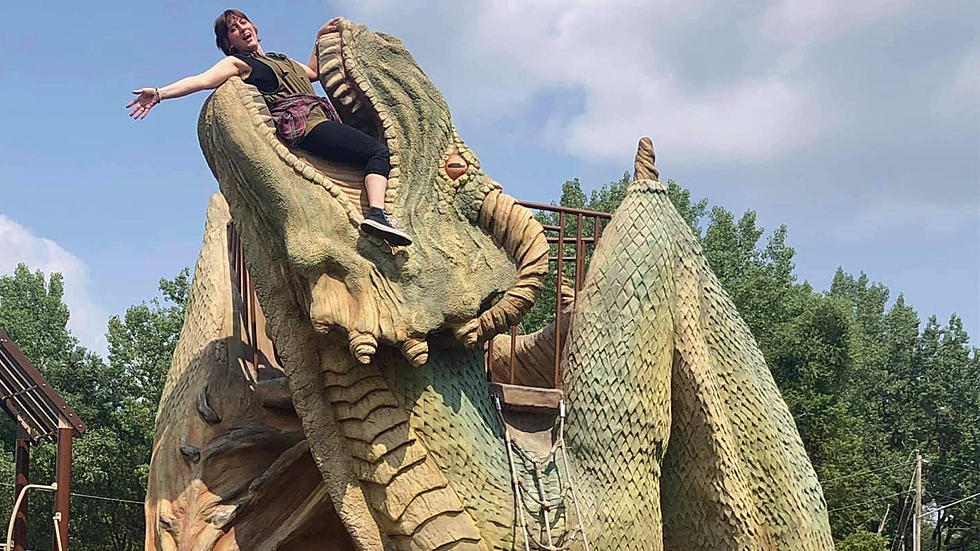 This Playground off I-35 on The Way to Duluth Has a Giant Dragon
Photo WinDee Dee
If you're looking for a pit stop on a road trip down or back from the Twin Cities, you'll have to stop and check out this one-of-a-kind playground featuring a giant dragon.
The giant dragon is located at Cedar Park in Forest Lake, just off Interstate 35 north of West Broadway Ave. on NW 7th St. If you're familiar with the area, it's located right behind Norman Quack's Chophouse.
The dragon was installed in the park in August 2015, and it looks like a great place to stop and grab some photos and maybe make a TikTok video, all while playing on what looks like an amazing park.
The custom-made playground dragon features a variety of fun stuff including a slide, a climbing net and a giant open mouth perfect for those photos. The dragon was made and installed by a local company called Themed Concepts.
According to Themed Concepts, the dragon was originally made for a trade show and found a permeant home at Cedar Park, the company says, "notice the texture on the scales, the air-brushed coloring, the detail on his face."
With lots of food options at that exit, this might be our new favorite stop on the way back from the Twin Cities. I love how the dragon is a tree near the bottom and morphs into the mighty dragon ready to devour anyone that dares play on it.
My First Impression of Duluth Pizza Ranch
If you haven't visited the Pizza Ranch in Duluth, here's what to expect.
Minnesota State Fair New Attractions & Exhibits for 2021
Let's take a look at what's new for the 2021 Great Minnesota Get-Together