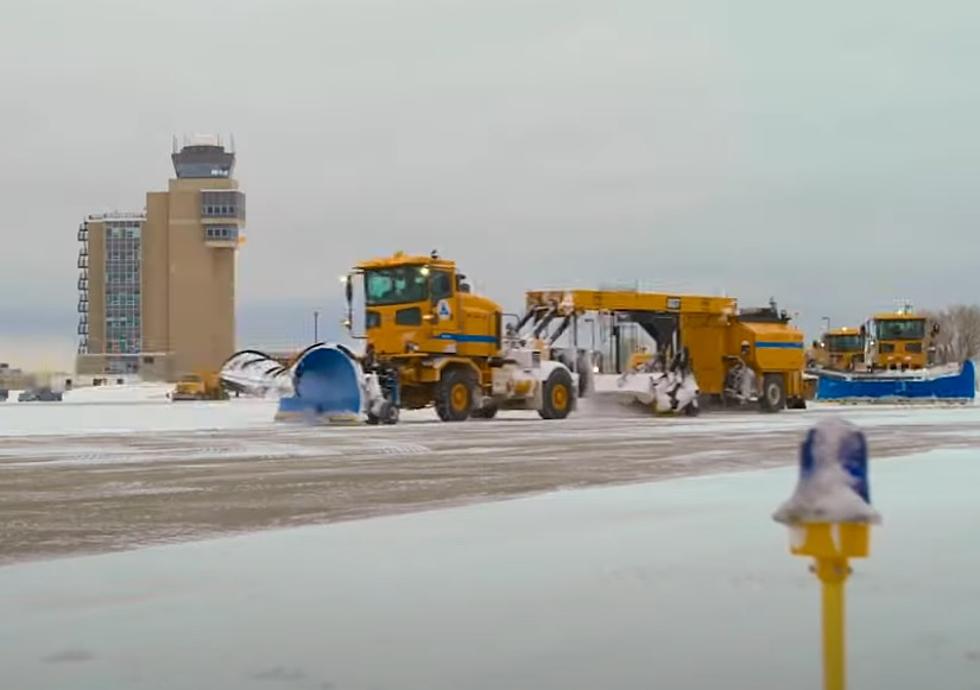 This Amazing Conga Line Clears Snow At Minnesota's Biggest Airport
YouTube
While you may have heard of a conga dance line, THIS conga line doesn't dance, but it DID help clear snow quickly here in Minnesota this week.
You've likely seen a line of four or five Minnesota Department of Transportation (MnDOT) snowplows in formation, clearing snow from a multi-line highway, like I-90 or I-35 here in southeast Minnesota, right?
While that's impressive, I'm guessing you haven't seen how the snow removal team at the Minneapolis St. Paul International Airport (MSP) clears snow from its runways... using something it calls a 'conga line.'
This special convoy of snow removal equipment was back in action several times at MSP earlier this week, as the dedicated team of over 100 snow and ice removal experts tried to keep at least one runway open during our latest winter storm here in the Land of 10,000 Lakes.
According to a release from MSP, the Field Maintenance Department of the Metropolitan Airports Commission (MAC) is the main part of their team that works along with the airlines, the FAA, and the MAC's Airside Operations Department to coordinate all the snow removal operations at Minnesota's biggest airport.
The MSP crew worked tirelessly Wednesday and Thursday to clear over 13 inches of snow from the 28-million square feet of pavement at MSP's airfield in Bloomington to keep it safe for airline operations. Even though there were nearly 500 flight cancellations Wednesday, MSP *still* has one of the best on-time performances in the country.
Once it starts snowing, like it did earlier this week, the MSP crew gets to work, using their special 'conga line' formation to keep runways clear. It consists of between 15 to 20 pieces of snow removal equipment, all working together to clear the snow. Most times, MSP says, they only have to shut down a runway for just 15 to 20 minutes-- a task that takes much longer at other airports.
It's really impressive to see. Check it out in the video below, and keep scrolling to check out a list of names Minnesotans suggested for this latest winter storm, as well as the 10 things we like to stock up on when it a snowstorm heads our way!
Listen to Curt St. John in the Morning
weekdays from 6 to 10 a.m. on Quick Country 96.5
Better Names Than "Olive" For Minnesota's Epic Winter Storm
February 22nd and 23rd in 2023 are dates to remember as the time Mother Nature got ticked off at Minnesota. I'm not sure what we did but kids were out of school for days, roads closed, driveways drifted over, and the
mad rush to grab last-minute items were the norm.
The name for the storm given by the National Weather Service was "Olive". I thought that name was a bit lame for a storm as massive as we saw so I asked around to see if anyone had a better idea for a name. And boy, they did!
Top 10 Items People in Minnesota Stock Up On When They Hear "Storm"
I am pretty sure that as soon as the word "storm" shows up in the forecast, people in Minnesota, Iowa, Illinois, and Wisconsin are just trained to hop in their cars and go to the store. Stocking up on supplies becomes our #1 priority and we shop like we have absolutely nothing in our house to eat. So, we will up our carts with all "the things" and hope we grabbed enough to make it through the storm.
FYI - we will make it through the storm, and some of us will do that with Double Stuffed Oreos. Some of us will not...because the store shelf was empty by the time we got there.
Below are a few of the top items that we grab at the last minute before the storm hits.