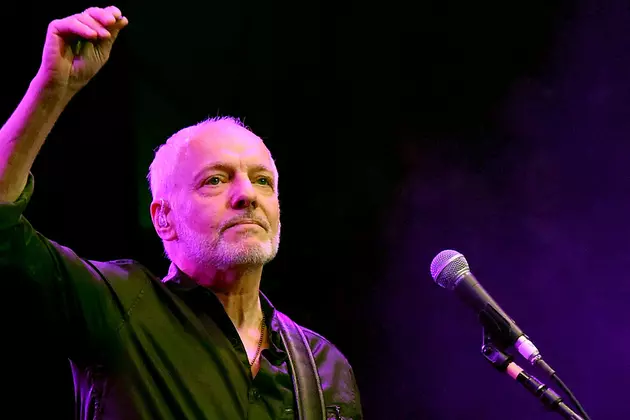 Peter Frampton Reportedly Stops Show After Video Incident [UPDATED]
Getty Images
Peter Frampton reportedly stopped a show after he became unhappy with the live video screen displaying shots of a fan waving some of his old album covers. He also reportedly tussled with a cameraman after he left the stage.
UPDATE: Peter Frampton posted a lengthy explanation of the incident on Facebook. "I was frustrated because I felt we had completely lost control of this special moment in the show," he writes. "I overreacted and tried to take the camera from the cameraman and left the stage to talk to the director. I reacted passionately because I care very much about giving you the best show we can possibly give every night. ... I sincerely apologize for my overreaction and look forward to seeing you all out on the road some time again soon."
The 67-year-old Frampton apparently became agitated with an audience member and the event video crew at the Treasure Island Casino in Red Wing, Minn., at his show there Sunday night.
The Star Tribune reports that when a women held up a copy of Frampton Comes Alive!, the scene was displayed on the onstage video screen, raising a cheer from the 8,000-strong crowd, which "prompted Frampton to lament that the interruption came during a guitar solo." Seconds later a similar situation occurred, this time with a copy of I'm in You .Frampton then reportedly "leaned his face into the camera and let out a two-word expletive."
He then left the stage with his band in tow. But they returned several minutes later and continued their show, with the video screens switched off. One eyewitness said there had been a "camera tug of war" with the video operator, which "went back and forth until Peter finally let go and walked offstage, followed by his band a few seconds later."
Frampton hasn't commented on the incident, but a Treasure Island spokesman told Kare11.com that the band's set wasn't any shorter than usual. "We talked to him backstage, and he didn't want the video boards on, so we turned them off," the spokesman said. "It was an interesting few minutes – and the show went on." Asked to speculate on why the artist had behaved in such a manner, the spokesman noted, "It kind of is what it is. It's rock 'n' roll, man."
This isn't the first time Frampton took issue with technology getting in the way of his performance. In 2014, he grabbed a phone from a fan at a show and threw it away. Pointing out that it had landed "safely on a seat" and was returned to its owner, he explained that he'd done it as a protest against live video clips being shared online. "When I go to do a show, it's my time," Frampton said. "It's all about me. You've come to see me. You haven't come to see me if you're in an armchair watching a video. It's very distracting."
Masterpieces: The Very Best Albums From More Than 100 Classic Rock Acts