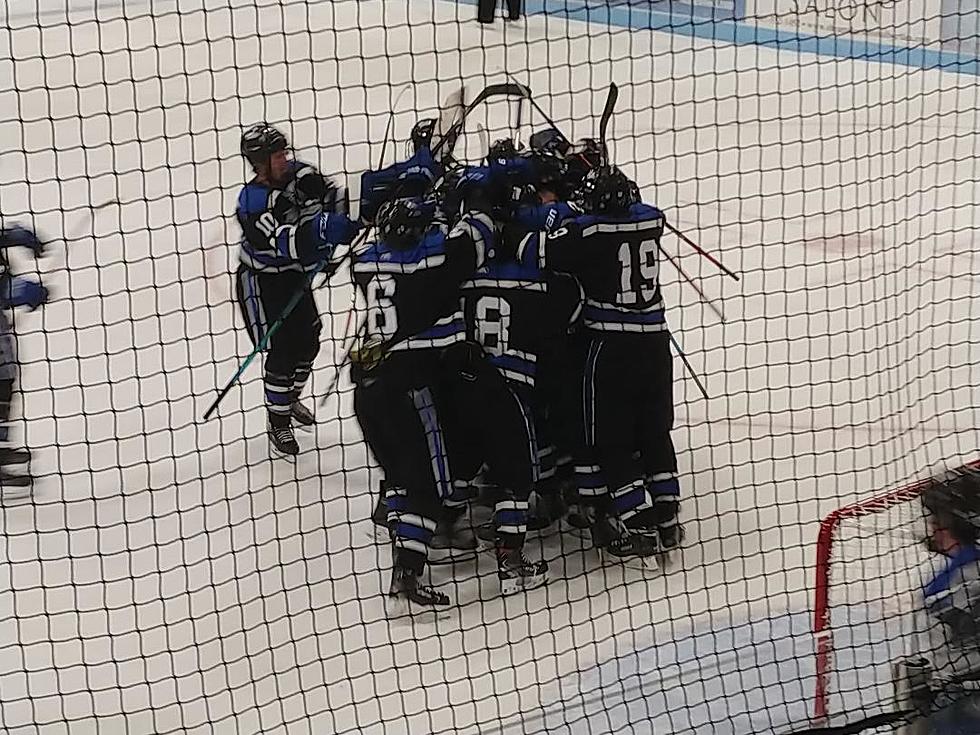 Owatonna Nets 'Old School' Victory [Prep Scoreboard, Thursday, Dec 16]
Roy Koenig/TSM
The Huskies delivered an "old school" performance in beating Albert Lea 3-1 Thursday for the first win of the season for the OHS boys hockey squad. Coach David Fromm liked seeing the blocked shots, second-chance goal, and "next player up" mentality the team took to earn the win.
Sophomore goalie Brennan Sletten stepped in with some players out ill to get his first varsity win. Senior Levi Kubicek scored a rebound goal midway through the first period to give Owatonna a lead that remained until the Tigers scored on a short handed breakaway marker early in the third period.
Later in the third, OHS senior Ashton Hoffman won control of a loose puck in his defensive zone and dashed forward on a 2-on-1 with Tanner Stendel. Hoffman faked a pass and fired the puck into the net for a 2-1 lead at 11:11.
Senior Joey Dub gave the Huskies some insurance 46 seconds later with a shot from the blue line through a screen for the final 3-1 margin. It was the fifth straight over Albert Lea for the Huskies. Owatonna (1-4) will host top-ten ranked Class A team Fergus Falls Saturday, December 18 at 2 pm at the Four Seasons Centre.
OHS girls hockey topped the Tigers 5-1 Thursday on Dudley Otto Rink. Ezra Oien had a hat trick. Izzy Radel and Molly Achterkirch also scored. The Huskies go to top-twenty rated Class AA Blake Saturday at 2 pm with coverage on AM 1390 KRFO / 94.7 FM and the app.
Owatonna wrestling ended splitting their matches at the Faribault triangular Thursday. After whipping Rochester JM 78-6, OHS lost 42-33 to Faribault. The Falcons earned pins in all seven of their match victories against the No. 11 rated Huskies. Owatonna, Faribault and Northfield shared the Big Nine title last season. OHS competes at the Minnesota Christmas Tournament Friday, December 17 and Saturday, December 18.
Prep scoreboard for Thursday, December 16
Boys basketball
Byron 77, Cannon Falls 59
Faribault BA 58, Leroy-Ostrander 50
Maple River 73, Kenyan Wanamingo 50
Rochester Lourdes 49, Zumbrota Mazeppa 42
WEM 40, TCU 38
Girls basketball
Mankato East 64, Northfield 18
Randolph 61, USC 30
Boys hockey
Owatonna 3, Albert Lea 1
Rochester Century 8, Mankato West 1
Lakeville North 5, Apple Valley 1
Wrestling
Owatonna 78, Rochester JM 6
Faribault 42, Owatonna 33
GMLOS 46, Triton 36
Kenyon Wanamingo 55, Triton 21
Enter your number to get our free mobile app
Enjoy 3 Million+ Holiday Lights Just a Short Drive From Southeast Minnesota
Nearly 160,000 people see the 3 million+ holiday lights at the Rotary Lights in La Crosse, Wisconsin. If you are looking to check out some of the best lights in the area, you'll want to put this one on your calendar.
Field Of Dreams Movie Site BAD Reviews