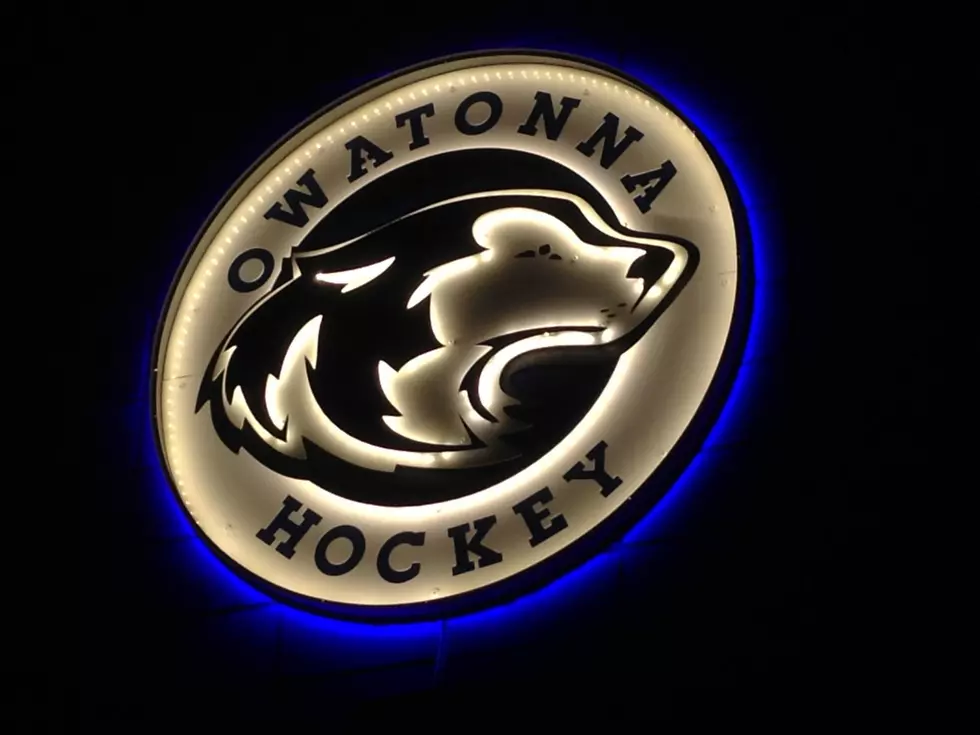 Owatonna Hockey Shuts Out Rochester [Prep Scores for Jan 20]
Roy Koenig/Townsquare Media
Owatonna hockey swept Rochester with a pair of shutouts Thursday. The OHS boys blanked John Marshall 6-0 on Dudley Otto Rink at the Four Seasons Centre. The Owatonna girls topped Century/JM 7-0 at the Rec Center in Rochester.
Preston Meier got the boys shutout. Caleb Veriede had two goals and two assists. Ashton Hoffman scored a goal and added two assists. Owen Beyer, Jack Sande and Ryan Gregory all scored for the Huskies, who outshot the Rockets 28-11. Owatonna plays at Red Wing Saturday, January 22 at 7:15 pm with coverage on Kat Kountry 105 FM.
The girls hockey squad won 7-0 over the Panthers. OHS wrestling had a successful Senior Night victory over Mankato East.
Prep scoreboard for Thursday, January 20, 2022
Boys basketball
Grand Meadow 61, Blooming Prairie 49
WEM 92, Medford 60
Girls basketball
Blooming Prairie 47, Grand Meadow 41
Hayfield 78, Medford 68
Wrestling
Westfield 48, NRHEG 30
Boys hockey
Dodge County 5, St. Cloud Cathedral 1
Schedule for Friday, January 21
Boys basketball
Blooming Prairie at JWP
Faribault BA at Medford
Randolph at NRHEG
Triton at USC
Girls basketball
JWP at Blooming Prairie
Medford at BA
NRHEG at Randolph
USC at Triton
Gymnastics
Owatonna vs JM/Mayo/Century, Gage Elementary, 6:30 pm
Schedule for Saturday, January 22
Basketball doubleheader
St. Charles at Triton, 2:30 pm girls, 4:00, boys
Boys basketball
Mankato East at Owatonna, 7:30 pm
Girls basketball
Owatonna at Mankato East, 1:30 pm
Hockey doubleheader
Dodge County at Luverne, 1 pm girls, 2:45 pm boys
Boys hockey
Owatonn at Red Wing, 7:15 pm
Wrestling
Owatonna at East Ridge
Medford/NRHEG at Lake Crystal-Welcome Memorial
Triton at Pine Island
Dance
Owatonna at Big Nine competition, Faribault, 12 pm
Enter your number to get our free mobile app
Southeast Minnesota Airbnb Mansion Is Like A Time Machine To 150 Years Ago
This Red Wing Airbnb is like traveling back to the victorian age. Built in 1876 in historic downtown Red Wing, this Victorian Mansion will take you back to the 1870s with decor and furnishings to match. This incredible vacation rental is definitely one of the most unique in the state.
Check out everything it has to offer below:
Most Visited State Parks In Minnesota: Is Your Favorite in the List?
Minnesota has 75 beautiful state parks. The parks have an average of 9,700,000 visitors each year. Interestingly enough, nearly 19% of park visitors come from other states and countries, according to the
Minnesota Department of Natural Resources.
Now, my favorite State Park is Jay Cooke in Carlton, MN, but it did not break into the top 5.