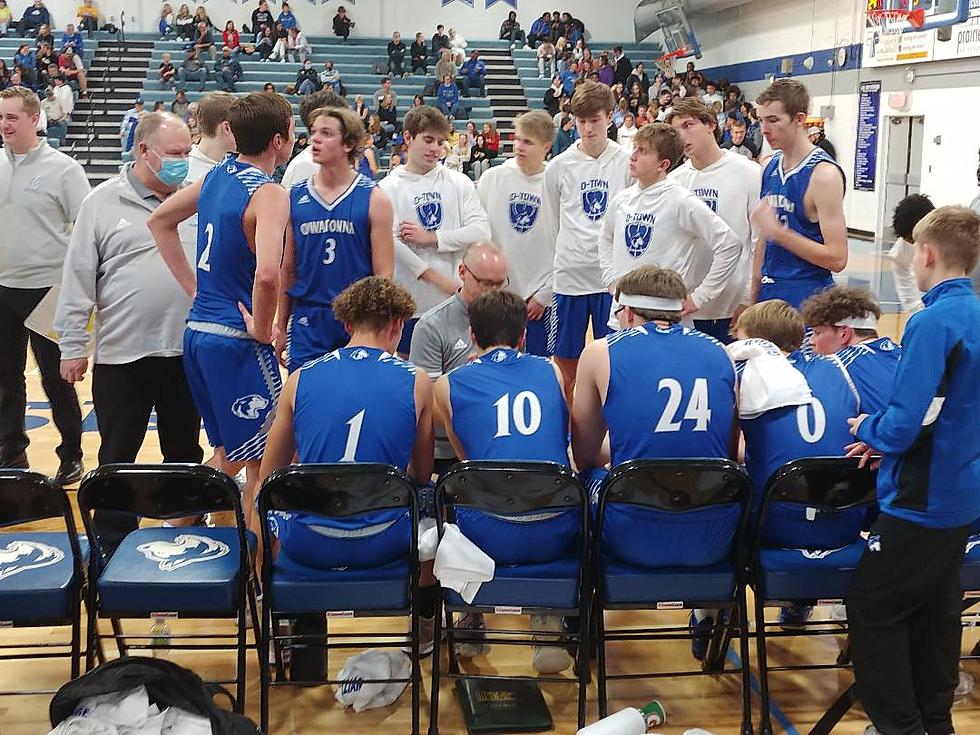 Owatonna Boys Basketball Vaults into Top Ten in Latest Poll
Roy Koenig/TSM
With a strong start on the season against a daunting strength-of-schedule, the Owatonna High School boys basketball team has shot their way up the charts to a No. 7 ranking in the January 5, 2022 Class 4A poll from the Minnesota Basketball News. The Huskies (5-1) were No. 14 in the previous ratings.
Owatonna has wins over No. 9, 4A Osseo (62-54), No. 9, 3A Winona (74-61) and No. 10, 3A Austin (62-52). Their only loss came against No. 10, 4A Robbinsdale Armstrong (63-61). The Huskies face No. 18, Class 4A Park of Cottage Grove Saturday, January 8 at 2 pm at Kasson-Mantorville High School in the Breakdown Classic. That game, along with Friday night's home match up with Rochester Mayo can be heard on AM 1390 KRFO, 94.7FM and the free KRFO app.
Owatonna coach Josh Williams is looking forward to playing a good Twin Cities team on Saturday, while staying wary of Mayo on Friday, "Mayo's a good team. They're very skilled, very long. Five guys that start can score it."
"Saturday is going to be another really good Metro team with Park, top ten team coming into this year. They're missing their big kid who's signed with the Gophers. We're wondering if he's going to play or not. He may all of a sudden show up Saturday. We'll see. They're a very good club."
Lakeville North (No. 4 with a 7-1 record) is the only other Section 1-4A team ranked currently. The Panthers return to the section this season. Owatonna beat Lakeville South to win the section title last season.
Enter your number to get our free mobile app
5 Best Places to Get a Mouthwatering Burger in Owatonna According to Yelp
Burgers are always a great choice when you're going out to eat. Here are the best places in Owatonna, Minnesota to get a burger (
according to Yelp reviews
) for the next time you're craving one.