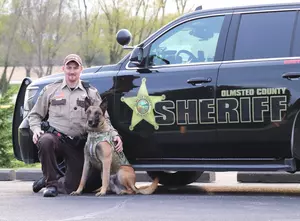 Olmsted County Sheriff's Office K9 Axel Receives Body Armor Donation
Credit: Olmsted County Sheriff's Office via Facebook
Axel is a part of the Olmsted County Sheriff's Office K9 Unit and he recently received a donation of body armor from a nonprofit organization called Vested Interest in K9s, Inc. This body armor will provide Axel protection from bullets and stabs. His vest is also embroidered with "In memory of K9 Haas, Duluth Police Department, MN".
Vested Interest is a non-profit organization based out of East Taunton, MA and they've been donating protective equipment to dogs a part of US law enforcement around the country for the past 11 years, they started in 2009.
Since 2009, according to a Facebook post from the Olmsted County Sheriff's Office, Vested Interest has provided "3,867 U.S. made, custom fitted, NIJ certified protective vests in 50 states, through private and corporate donations, at a value of $6.9 million dollars." The vests also come with a five-year warranty.
One protective vest donated by Vested Interest costs $960. These vests are valued at $1,744 – $2,283. In order for a law enforcement K9 to be eligible for a donation, they either need to be a recent K9 graduate or have an expired vest.
You can find out more information about Vested Interest in K9s on their website. That's also where you can donate if you're interested, or you can mail a donation to P.O. Box 9 East Taunton, MA 02718.
Enter your number to get our free mobile app
Hang out with Carly Ross on Kat Kountry 105 weekdays 6 - 10 AM,
The Mighty 920 KDHL weekdays 9 AM - Noon,
and 106.9 KROC weekdays 9 AM - Noon!
Check out these 50 fascinating facts about dogs: