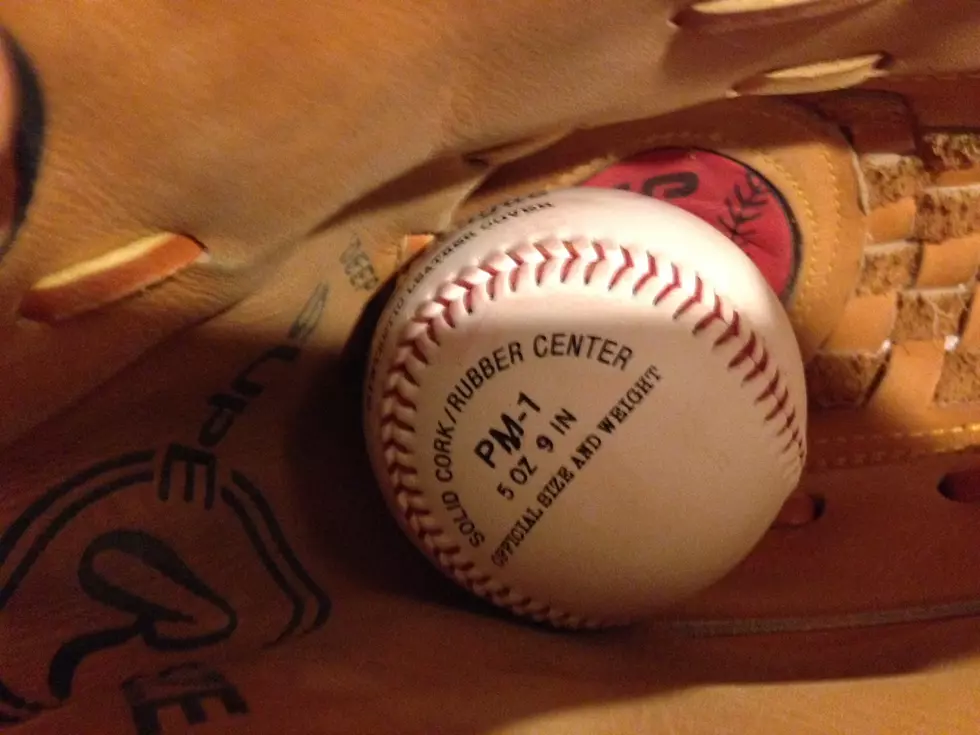 Northfield Plays Eastview in Legion Sub-State 6 Final
Baseball in Glove. Photo by Gordy Kosfeld
The Northfield River Rats are a win away from the Minnesota American Legion Division I State Baseball Tournament.  The River Rats defeated Eagan 7-2 Saturday to advance to today's title game with Eastview.
The Lightning defeated Northfield earlier in the tournament 10-0 so both teams have a loss and the winner of today's game is the Sub-State 6 champion.  The game starts 1:30 this afternoon in Hastings.
In Saturday's victory over Eagan, Northfield pounded 11 hits while two pitchers held Eagan to 2 hits.
Right handed pitcher Ethan Lanthier pitched the first five innings to earn the win.  Lanthier threw 99 pitches, 59 strikes with 6 strikeouts, 4 walks, two hits allowed, no runs.
Peter Hillmann gave up no hits in two innings of relief with 1 walk, no hits, 2 unearned runs.  He threw 33 pitches, 16 strikes.
Northfield survived 5 errors in the win.
The River Rats scored 4 runs in the first inning, added 2 in the 5th and 1 in the 6th inning.  Eagan scored their two runs in the bottom of the 6th inning.
Tate Journell was the leadoff batter, reaching base all 4 times with a hit and three walks.  He stole a base.
Blake Melgren had 2 hits, Lanthier 2 hits, a double, 2 RBI.  Holden Peterson added a pair of hits.
Nolan Stepka had a hit, 2 RBI.
Northfield is 13-4.
There are 15 Sub-State Tournaments in Division I.
Faribault is in the 2nd District or Sub-State.  They lost to Worthington in their first game 4-3 before defeating Fairmont 6-4 and lost to Mankato National 9-2 to end their season.
Mankato American defeated Mankato National 7-2 to punch their ticket to state.
Sub-State 1 Champion is Austin following a 5-1 win over the Rochester Redhawks.
Hopkins won Sub-State 4 with a 4-0 win over Wayzata.
Eden Prarie plays Shakopee in Chaska for the Sub-State 3 title.
Rosemount faces Burnsville in Sub-State 5 title game at 1:30 p.m. today at Alimagnet Park in Burnsville.  Sub-State 7 goes to Fridley Gold.
Tri-City Red has won Sub-State 8.  Ham Lake Sub-State 9.  Grand Rapids wins Sub-State 10.
Osseo plays Maple Grove in Sub-State 11 title game today.  Foley is Sub-State 12 champion.  Washburn won Sub-State 13.  It looks like Moorhead is Sub-State 14 title holder.
Buffalo Sub-State 15.
The Minnesota American Legion Division I  95th Annual State Baseball Tournament is in St. Cloud July 29, 2001 through August 1, 2021.
Below is amazing information.
LOOK: 30 fascinating facts about sleep in the animal kingdom
This could be the cutest thing you've ever seen.
KEEP LOOKING: See What 50 of America's Most 'Pupular' Dog Breeds Look Like as Puppies