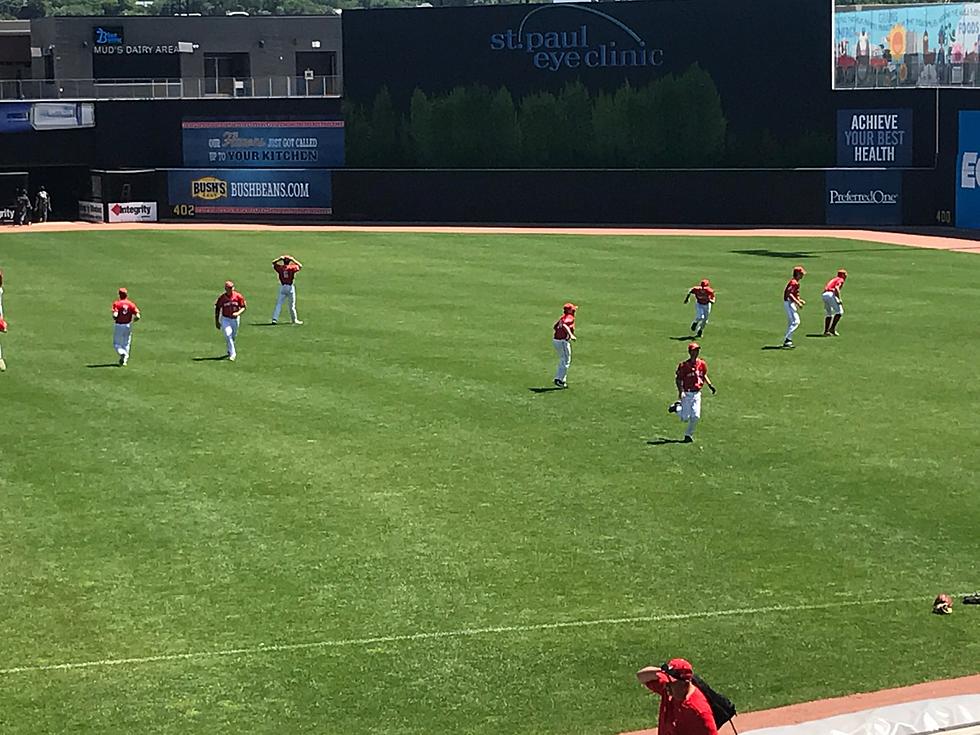 Northfield Baseball Wins, Faribault Ends Season
Lakeville North Before Game in 2017 at CHS FIeld in St. Paul- photo by Gordy Kosfeld
The Faribault Falcons ended their season Thursday with a 4-2 loss in Red Wing while the Northfield Raiders are still alive in the Section 1AAA baseball tournament.
The Raiders defeated Stewartville 3-2 in a thriller in Tigers Country.
The game was tied at 2 going into the final inning when Tyler Hughes delivered a clutch 0-2 count RBI single for the game winner.
NolanThompson earned the victory for Northfield going six innings, scattering 5 hits, allowing 2 runs, 1 earned with 2 walks and 3 strikeouts.  Thompson threw 85 pitches, 56 strikes.
Joey Malecha nailed down the win in the 7th with 1 walk, 3 strikeouts.  He threw 19 pitches, 12 strikes.
Malecha delivered two hits in the game along with Adam Wiese.
Spencer Mellgren delivered a timely double for Northfield to score two runs.  He also scored the winning run in the 7th.
Northfield (6-16) advanced to Elimination Bracket Final against Red Wing (14-8) 1:30 p.m. Saturday at Marcusen Park in Austin.
The winner of that game will play the loser of the Championship Bracket contest between Byron (19-2) and Winona (12-10) which is scheduled for 11:00 a.m. Saturday.
The Byron/Winona winner needs one win to advance to State.
The Northfield/Red Wing victor will play again Saturday at 4:00 p.m. in Austin.
The Faribault Falcons ended their season with a 7-16 record.
In other Thursday high school playoff baseball.
Section 2AA Sibley East over New Richland-Hartland-Ellendale-Geneva 11-5
Minnesota Valley Lutheran gets by Blue Eart Area 4-0.
New Ulm 6  Belle Plaine 5
Maple River 14  LeSueur-Henderson 13.
Sibley East (15-5) faces New Ulm (13-9) 11:00 a.m. Saturday in Gaylord in Championship Bracket.  Winner waits until Thursday and is one win from State.
1:30 p.m. Saturday NRHEG (11-4) plays against Maple River (13-7)  1:30 p.m.
4:00 p.m. Minnesota Valley Lutheran (10-11) tangles with Belle Plaine (12-10)
Winners of those games square off at 5:00 p.m. Tuesday in Gaylord.
Loser of Championship Bracket game plays survivor of Saturday Elimination Bracket contest at 7:30 p.m. Tuesday in Gaylord.