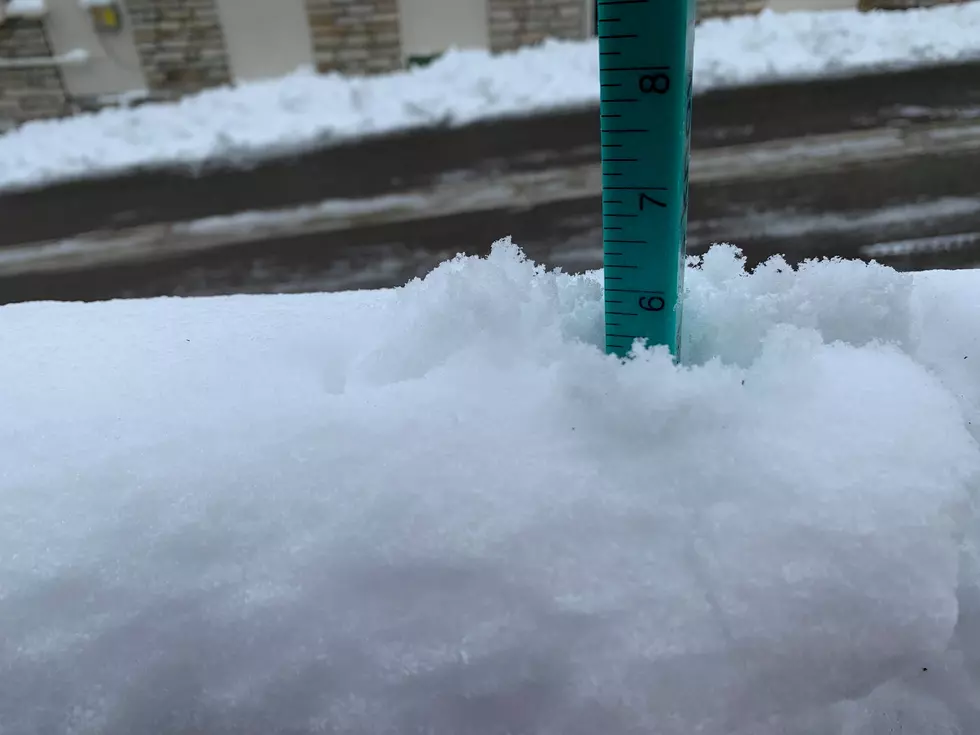 New Prague Has Most Snow in Southern Minnesota SnowStorm
Official National Weather Service Measuring Stick. Photo by Gordy Kosfeld
The National Weather Service reports of snowfall totals from the storm that struck Southern Minnesota Tuesday night into Wednesday morning show New Prague with 11 inches of the heavy, wet white stuff.
Rockville, just south of St. Cloud reported 10 inches of snow while St. Cloud officially reported 6.5 inches.  The two communities are 12 miles apart.  This is all on the National Weather Service website and includes a map with the snowfall totals.
Faribault's reading on the website came from a mile northwest of the city and was 8 inches.  Jerry Groskreutz and I did measurements and both were at 6 inches in downtown Faribault.  Northfield reported 6.3", Nerstrand 6", Owatonna 5.9", Cannon Falls 6", Kasson 7.3", Montgomery 7 inches.
Here are some other Southern Minnesota snowfall totals:
Wabasha 5"
Austin  6"
Rochester 6"
Albert Lea 8"
Stewartville 6.8"
Willmar 7"
Marshall 4"
Savage 9.5"
Prior Lake 9"
Rosemount 6"
Lakeville 7.8"
Burnsville 8"
Bloomington 8"
Seems like a dusting compared to snowfall totals in Colorado and Wyoming:
Glen Haven, Colorado 35.5 inches
Pine Cliffe, Colorado 30.3 inches
Jamestown, Colorado 27.9 inches
Battle Lake, Wyoming 28 inches
Perry Park, Colorado 20 inches
Denver, Colorado  18.5 inches
A "bomb cyclone" weather phenomenon topped trees, knocked out power and dumped snow on California and Oregon.
The Minnesota State Patrol reported more than 300 crashes occurred during the storm.
Between 9:45 p.m. Tuesday and 7:30 a.m. Wednesday 180 crashes were reported to the State Patrol.  Nine of those crashes involved injuries.
Additionally, 279 vehicles spun out or went off the road and 15 incidents of jacknifed semis were reported.
From 7:30 a.m. to 11:30 a.m. Wednesday another 126 crashes were reported.  Of those nine involved injuries but none were serious or fatal.  During those hours 155 vehicles spun out or went off the road and seven semis jacknifed.
Enter your number to get our mobile branded app