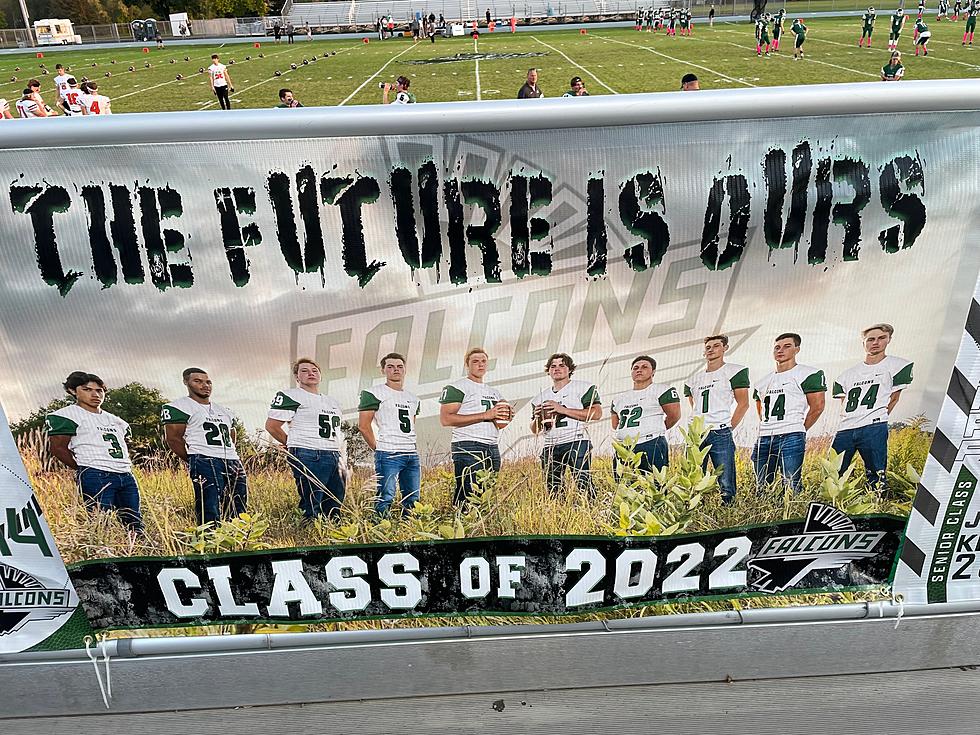 MSHSL Section Football Brackets Released
Faribault Falcons Football Seniors Poster. Photo by Gordy Kosfeld
The Faribault Falcons are the #3 seed in Section 2AAAA while the Bethlehem Academy Cardinals were awarded #3 seed in Section 1A.  That more than likely means the Cardinals will be searching for a field to hold their game with Hayfield.
Earlier this season BA was supposed to host a game with Hayfield but it was moved to Monday and Hayfield was the site for the contest.
Section 2AAAA is loaded with quality teams.  There are no teams with a losing record in the section.
Faribault finished the regular season with a 5-3 record.  Their losses were all against state ranked teams and they were competitive in each one.
#1 seed Hutchinson (7-1), #2 Willmar (6-2), #4 Jordan (5-3), #5 St. Peter (5-5)  #6 Marshall (4-4).
The top two teams in the six team section receive byes.  Faribault will host Marshall Tuesday night at Bruce Smith Field beginning 7:00 p.m. on POWER 96 Radio, 95.9 FM, POWER 96 app.
The winner of that game goes to Willmar on Saturday with a 3:00 p.m. kickoff scheduled which would mean we can't broadcast the game due to MIAC college football commitments on POWER 96 and KDHL Radio.
Section 1A top seed Rushford-Peterson hosts Wabasha-Kellogg Tuesday.
The featured KDHL Radio game will be Kenyon-Wanamingo at Randolph.  This is a #4 and #5 seed game.  The bracket has the winner playing at the high seed Saturday night.
On the other side of the bracket #2 Fillmore Central has #7 Kingsland go to their field while BA is scheduled to be the home team against Hayfield.
Section 1AA #1 seed is Chatfield.  The Gophers host Winona Cotter Tuesday night.
#4 Triton will have St. Charles march into Wally Hitt Field in Dodge Center.
#3 Goodhue will see Dover-Eyota come to their field while #3 Caledonia entertains Lewiston-Altura.
Section 1AAA top seed Cannon Falls earned a first round bye with their school record 74 point game against the top ranked Lake City Tigers Wednesday night.
#2 Lake City will play #7 LaCrescent.  #3 Plainview-Elgin-Millville tangles with #6 Zumbrota-Mazeppa.
Saturday night, October 30, 2021 Cannon Falls will host the winner of the #4 Rochester Lourdes and #5 Pine Island game.
Undefeated Stewartville is the top seed in Section 1AAAA while Kasson-Mantorville received the #2 seed.  Those teams rest while the remaining four teams play Tuesday night.
#3 Winona has Albert Lea travel to Paul Giel Field while #4 Byron will entertain Red Wing.
Section 1AAAAA top two seeds Rochester Mayo and Owatonna have Tuesday night off while the other four teams in the Section play.
Top seed Mayo will play either Rochester Century or John Marshall Saturday night.  Century hosts JM Tuesday.
#3 Northfield will be home against #6 Austin.  The winner goes to Owatonna Saturday night.
Section 2A top seed Mayer Lutheran plays in Mayer Tuesday against #8 Alden-Conger/Glenville-Emmons.
The winner will play the victor in the #4 United South Central vs. #5 New Ulm Cathedral game.
On the other side of the bracket #2 Gibbon-Fairffax-Winthrop hosts Janesville-Waldorf-Pemberton while #3 Lester Prairie has Cleveland/Immanuel Lutheran come to their field.
Section 2AA top seed Blooming Prairie meets Medford Tuesday night.  The winner plays the team that prevails in the #4  St. Clair/Loyola against NRHEG game.
The other side of the bracket #2 seed Maple River plays #7 LeSueur-Henderson while #3 Blue Earth Area faces Waterville-Elysian-Morristown.
Do you agree with these selections?
TACKLE THESE: Check Out the Best Uniforms In Each NFL Team's History
This is awesome!
CHECK IT OUT: 100 sports records and the stories behind them