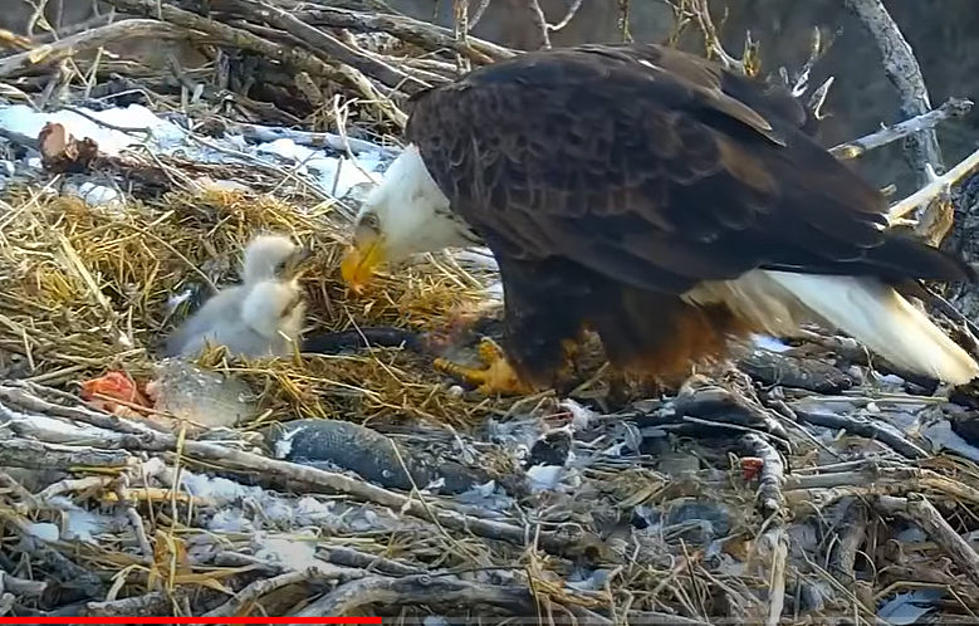 Minnesota's Eaglets Are "Putting On The Pounds"
MN DNR EagleCam
St Paul (KROC AM News) - They're only about a week old but the two eaglets in Minnesota's most famous bald eagle nest are keeping their parents busy with their non-stop demand for food.
The eggs were laid Feb 12 and 16 in the nest that is watched by thousands of Minnesotans and others through the Minnesota DNR's EagleCam.
(CLICKS PICTURES TO ENLARGE)
The male parent has been bringing fish and other food to the nest on a daily basis while the female feeds them and keeps them warm.
Check out the big chunk of food the eaglet is trying to swallow. The mother tried feeding it to both eaglets but it was too large and kept falling out of their beaks.  She finally ate it.
The male parent just delivered a new meal, a half-devoured fish. 
The eaglets will grow rapidly over the next several weeks and if they survive, will likely fledge in about three months.
Here is detailed info on eaglets from JourneyNorth.com
LOOK: Here Are 30 Foods That Are Poisonous to Dogs
To prepare yourself for a potential incident, always keep your vet's phone number handy, along with an after-hours clinic you can call in an emergency. The ASPCA Animal Poison Control Center also has a hotline you can call at (888) 426-4435 for advice.
Even with all of these resources, however, the best cure for food poisoning is preventing it in the first place. To give you an idea of what human foods can be dangerous, Stacker has put together a slideshow of 30 common foods to avoid. Take a look to see if there are any that surprise you.