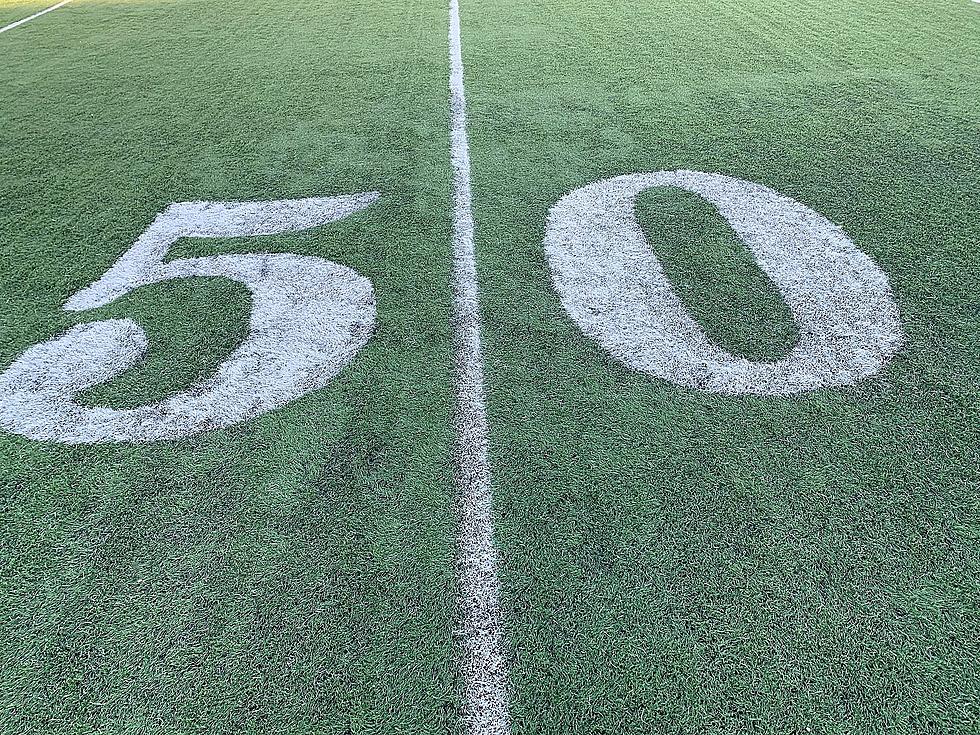 Minnesota High School Football Rankings Week 3
Football Field 50 Yard Line. File Photo by Gordy Kosfeld
The latest Minnesota Associated Press High School Football rankings have familiar teams at the top in the seven classes.
The biggest schools has Eden Prairie at the top with four South Suburban Conference schools in the top 8. Prior Lake #3, Lakeville South #5, Rosemount #6 and Shakopee #8.
Mankato West is the top Class 5A school.  Rochester Mayo is tied for 6th.
Hutchinson is #1 in Class 4A with Stewartville at #3.  Kasson-Mantorville received votes, so did Byron and Winona in the same district with the Faribault Falcons.
Cannon Falls is on top in Class 3A.  Plainview-Elgin-Millville is #7, Waseca #10, Rochester Lourdes and Belle Plaine received votes.
Class 2A Chatfield is numero uno, Caledonia #3.  Others Receiving Votes include St. Clair/Loyola, Blue Earth Area, Norwood Young America and Maple River.
Class 1A has Minneota at the top, Mayer Lutheran tied with BOLD at #2.  Fillmore Central is #6. Bethlehem Academy and Randolph received votes.
Nine-Man #1 is Norcross, Lanesboro is #2, Spring Grove #6.  Grand Meadow, Mabel-Canton received votes.
The complete rankings are below.
Nine-Man
1. Norcross
2. Lanesboro
3. Fertile-Beltrami
4. Mountain Iron-Buhl
5. Hills-Beaver Creek
6. Spring Grove
7. Verndale
8. Renville County West
9. Hancock
10.Kittson County Central
Other Receiving Votes:  Osakis Nevis, Grand Meadow, Cherry, Mabel-Canton, Red Rock Central, Norman County East/Ulen-Hitterdal.
Class 1A
1. Minneota
2. BOLD tie with Mayer Lutheran
4. Lester Prairie
5. New York Mills
6. Fillmore Central
7. Mahnomen-Waubun
8. Kerkhoven-Murdock-Sunburg
9. Deer River
10.Ottertail Central
Others Receiving Votes: Lakeview, Martin County West, Pine River-Backus, Bethlehem Academy, Red Lake County Central, Murray County Central, Randolph, Tracy-Milroy-Balaton, Chisholm.
Class 2A
1. Chatfield
2. Minneapolis North
3. Caledonia
4. Barnesville
5. Jackson County Central
6. Pipestone Area
7. Eden Valley-Watkins
8. Royalton
9. Kimball Area
10.Concordia Academy
Others Receiving Votes:  Osakis, St. Clair/Loyola, Blue Earth Area, Norwood Young America, West Central Area/Ashby, Maple River.
Class 3A
1. Cannon Falls
2. Esko
3. Pierz
4. Watertown-Mayer
5. Dilworth-Glyndon-Felton
6. Milaca
7. Plainview-Elgin-Millville
8. Aitkin
9. Dassel-Cokato
10.Waseca
Others Receiving Votes:  Providence Academy, Minneapolis Henry, Fairmont, Rochester Lourdes, Two Harbors, Zimmerman, New London-Spicer, Belle Plaine.
Class 4A
1.Hutchinson
2. Rocori
3. Stewartville
4. Simley
5. Holy Angels
6. Princeton
7. Mound Westonka
8. Marshall
9. Grand Rapids
10.Richfield
Others Receiving Votes: Kasson-Mantorville, North Branch, Becker, Detroit Lakes, Byron, Winona, Fridley.
Class 5A
1. Mankato West
2. St. Thomas Academy
3. Elk River
4. Mahtomedi
5. Chanhassen
6. Robbinsdale Armstrong tie with Rochester Mayo
8. Spring Lake Park
9. Sauk Rapids-Rice
10.St. Paul Harding/Humboldt
Others Receiving Votes:  Chaska, St. Francis, Andover, Waconia.
Class 6A
1. Eden Prairie
2. Maple Grove
3. Prior Lake
4. Stillwater
5. Lakeville South
6. Rosemount
7. Woodbury
8. Shakopee
9. Forest Lake
10.Minnetonka
The Minnesota Associated Press states the rankings are basked on votes of media members from across the state of Minnesota.
The featured game on KDHL this Friday night, 920 AM, 97.9 FM, FREE KDHL app is Kenyon-Wanamingo at Hayfield.
Faribault at Red Wing will be broadcast on POWER 96 Radio, 95.9 FM, FREE POWER 96 app.
Bethlehem Academy is at home against Fillmore Central Saturday with a 1:00 p.m. kickoff.
Saturday afternoon on POWER 96 Radio Carleton is at Hamline beginning 12:45 p.m.
On KDHL the St. Olaf Oles are at MACalester with coverage starting 6:40 p.m.
Remember to help us out by reporting scores and telling all your fellow sports enthusiasts to go here for all of them.  Football, Volleyball, Soccer, Girls Swimming, Girls Tennis, Cross Country.  We want them all.
My school lunches were pretty good in high school . How about yours?
See How School Cafeteria Meals Have Changed Over the Past 100 Years
Using government and news reports,
Stacker
has traced the history of cafeteria meals from their inception to the present day, with data from news and government reports. Read on to see how various legal acts, food trends, and budget cuts have changed what kids are getting on their trays.