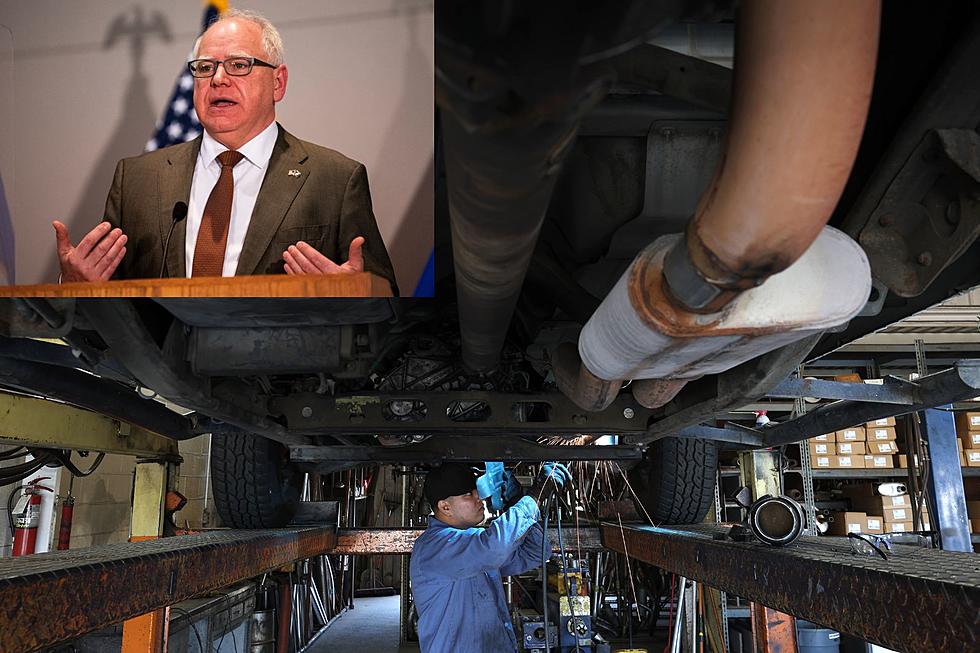 Minnesota Cracks Down On Catalytic Converter Theft With New Law Requiring ID Numbers For Scrap Sale
Getty Images composite
Minnesota is about to get tough on would-be catalytic converter thieves.  A new law that starts later this year will make it tougher for criminals to profit off of the converters they steal off of cars and trucks.
Minnesota Governor Tim Walz signed the legislation piece into law on March 16. It will go into effect later this summer, starting August 1.
Here's how it works.
The new Minnesota law takes a two-prong approach to the catalytic converter theft problem. First, it narrows down what sort of businesses are able to accept and purchase used catalytic converters. Under the new terms, only "registered scrap metal dealers [will be able] to purchase catalytic converters". Additionally, the penalties will increase for the "illegal possession or sale" of the car parts.
At the same time, those registered scrap metal dealers will face more stringent regulation. They'll be required to gather and maintain a database of the Vehicle Information Number (VIN) of the cars that the convertes originally came off of. The law also stipulates that any catalytic converter offered for sale needs to have a label on it, identifying that VIN as well.
In order to maintain compliance and to make sure that the new law doesn't add any additional unneeded expenses to business owners, legislators have tried to make the process easy:
"It would be a crime in Minnesota to possess a catalytic converter that does not have a vehicle number, though the law aims to make labeling as easy as possible: writing the number with a permanent marker would suffice."
The new identification tracking system is similar in nature to databases that many pawn shops are required to keep on their customers.
As he signed the new law into effect, Minnesota Governor Tim Walz commented on what lawmakers hope to accomplish:
"Too many Minnesotans have stories about the danger and financial consequences of having their catalytic converter stolen. This legislation will help protect Minnesotans' property and bring peace of mind. Those who commit these brazen crimes should know that there will be accountability."
Timing for the new law couldn't be better. Minnesota "ranks third in the nation for catalytic converter thefts, behind California and Texas". And those numbers have rapidly risen in the last few years - from "just 40 reports...in 2018" statewide to "around 4,000 reports" in Minneapolis-St. Paul alone in 2021.
Not only is the crime an inconvenience for the vehicle owner, it's also costly. The average cost to replace a stolen catalytic converter is approximately $2,600.
10 Words & Phrases You Will Only Hear In Minnesota And Wisconsin
13 Photos Every Minnesotan Has Taken At Some Point
CHECK IT OUT: See the 100 most popular brands in America