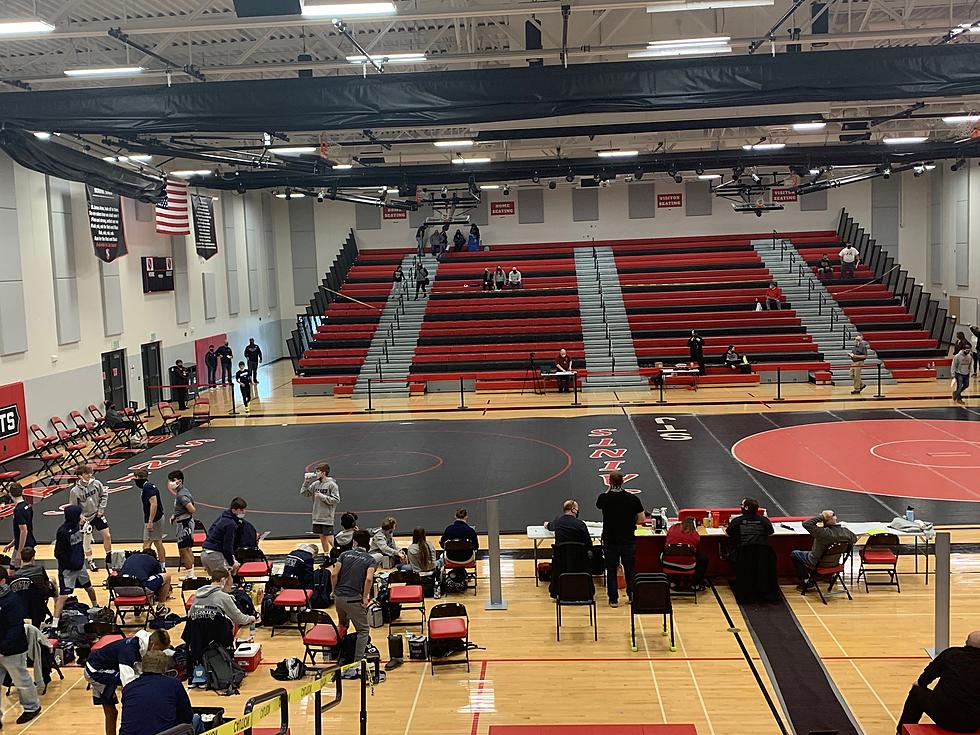 Medford Sends Three Wrestlers to State Finals
St. James Team Super Section. Photo by Gordy Kosfeld
The Medford Tigers are sending three individuals to the State Finals next weekend with hopes of being a state champion in their weight class.  The MSHSL State Wrestling Tournament is revamped this year due to COVID.
Super Sections were conducted across the state this weekend.  Section 2A and Section 3A individuals competed in Windom.  Eighth gradeer Tommy Elwood of Medford placed first at 106 pounds.  Senior Josiah Hedensten was second at 170 pounds and senior Brennan Hoffman captured first at 220 pounds. There was no wrestling for 5th place so that's why a couple wrestlers in each weight class are listed as 6th place finishers.
Here are other Medford results:
Derek Bartosch, 132 pounds, 6th place
Garron Hoffman, 152 pounds, 3rd place
Gavin Hermes, 285 pounds, 6th place
Kenyon-Wanamingo has one individual going to the finals next weekend.  Senior Carter Quam placed second at Super Sections at 195 pounds.
Here are the other Kenyon-Wanamingo results:
106 pounds, Tate Miller, 6th place
113 pounds, Gavin Johnson, 6th place
152 pounds, Bray Olson, 4th place
160 pounds, Tyler Craig, 6th place
220 pounds, Logan Meyers, 4th place
285 pounds, Armani Tucker, 3rd place
Here are the top two wrestlers in each weight class who advance to the Finals next weekend:
106 pounds,  1st, Tommy Elwood, 8th,  Medford,  2nd, Nolan Ambrose, Fr. JCC
113 pounds, 1st, Hudson Burnett, Fr., Pipestone Area, 2nd, Kie Anderson, Jr. JCC
120 pounds, 1st, Eric Carrasco, Sr. Minneota, 2nd, Lane Fink, So. Canby
126 pounds, 1st, Logan Butzon, So. JCC, 2nd Boden Simon, Jr. Maple River
132 pounds, 1st, Ayden Horner, Jr, Tracy, 2nd, Thomas Freking, So. JCC
138 pounds, 1st, Kade Sammons, Sr. Windom, 2nd, Tucker Wells, Sr. LCWM
145 pounds, 1st, Zack Fier, So. Minneota, 2nd, Joe Anderson, Sr. Springfield
152 pounds, 1st, Payton Handevidt, Jr. JCC, 2nd, Jonah Gruenes, Jr. Minneota
160 pounds, 1st, Max Ehrich, Sr. BEA, 2nd Matthew Haley, So. JCC
170 pounds, 1st, Caden Johnson, Jr. Tracy, Josiah Hedensten, Sr. Medford
182 pounds, 1st, Tyler Archer, Jr. Westfield, 2nd, Nick Frank, Sr. BEA
195 pounds, 1st, Caleb Vancura,  So. JCC, 2nd, Carter Quam, Sr, K-W
220 pounds, 1st, Brennon Hoffman, Sr. Medford, 2nd, Jackson Esping, Jr. Minneota
285 pounds, 1st, Luke Mertens, Sr. BEA, 2nd, Shayne Noyes, Sr. Canby
From Waterville-Elysian-Morristown/Janesville-Waldorf-Pemberton Carson Petry was 6th at 106 pounds.
From United South Central Bryce Sonnek placed third at 120 pounds.  Ethan Elvebak was third at 126.  Micah Hamson, third at 145 pounds.  Konner Harpestad was 6th at 152 pounds.
Minnesota isn't the only place impacted by COVID,
KEEP READING: See how sports around the world have been impacted by the coronavirus