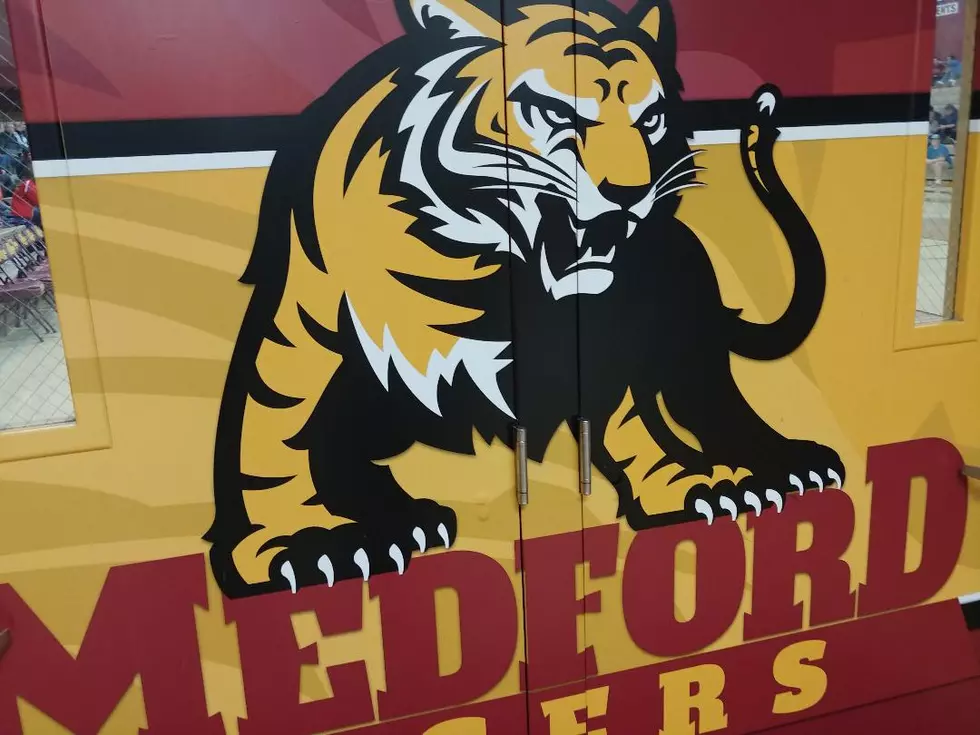 Medford Ends with Win, But Wanted More
Roy Koenig/Townsquare Media
The Medford football team ended its season with a 28-14 win over St. Clair/Mankato Loyola in the heretofore unheard of third place game in Section 2AA. Tigers coach Jerome Johannes opened his comments on the AM 1390 KRFO High School Coaches Show Saturday morning by saying, "We felt we deserved a shot at the section championship game, but it was just the way the season went, especially at the end."
Enter your number to get our free mobile app
Medford had opened the playoffs as the No. 3 seed and beat NRHEG 21-0 on Tuesday, November 17. The Tigers were scheduled to go to second seed Maple River on Saturday, November 21 for the semifinals. The governor's announcement of the "pause" on sports forced the section to change their format from standard semifinals to a championship and a third place game. Blue Earth Area beat the Eagles 39-12 for the section title. The original schedule had the section title game set for Saturday, November 28.
On the positive side, Medford landed another home game by being the host for the third place match-up with the Spartans, who Medford beat on the road to open the 2019 playoffs. The Tigers were second runners-up last year.
Johannes said, "Our guys were happy to just get a game. And it made things even nicer with a home playoff game...Our seniors getting one more game at home (Friday) night was kind of special to them as well."
The Tigers led 28-0 behind four touchdowns from Jack Paulson before St. Clair/Loyola got on the board. Paulson had returned to the lineup in Tuesday's win after missing a couple of games due to injury.
Johannes believes the Spartans quarterback "might have been the best quarterback that we have seen all season...We wanted to make sure we could take away at least one element away from him. He's got great legs and a good arm. And so last night we wanted to take away his running ability. And that's exactly what we did. We kept him to negative yards rushing, but he did have a good night throwing."
Johannes said his defense did a nice job of "bend don't break" while holding St. Clair/Loyola to a single offensive touchdown. The other score came on a kick return. "I give credit to our defense. I felt the entire night they played tough."
Offensively, the Tigers relayed on the men in trenches again, according to Johannes, "We did an outstanding job blocking. Our offensive line was great all year long. We had two runners that were over 150 yards rushing, Josiah Hedensten had 153 yards and Jack Paulson had 176 yards. Jack Paulson had four touchdowns in the game."
With Medford's win, they closed the season at 6-2. Their only losses came to Section 1A champ Blooming Prairie (5-0) and Section 1AA finalist Triton (5-2).
Minnesota Drive-Thru Light Displays You Need to Check Out in 2020