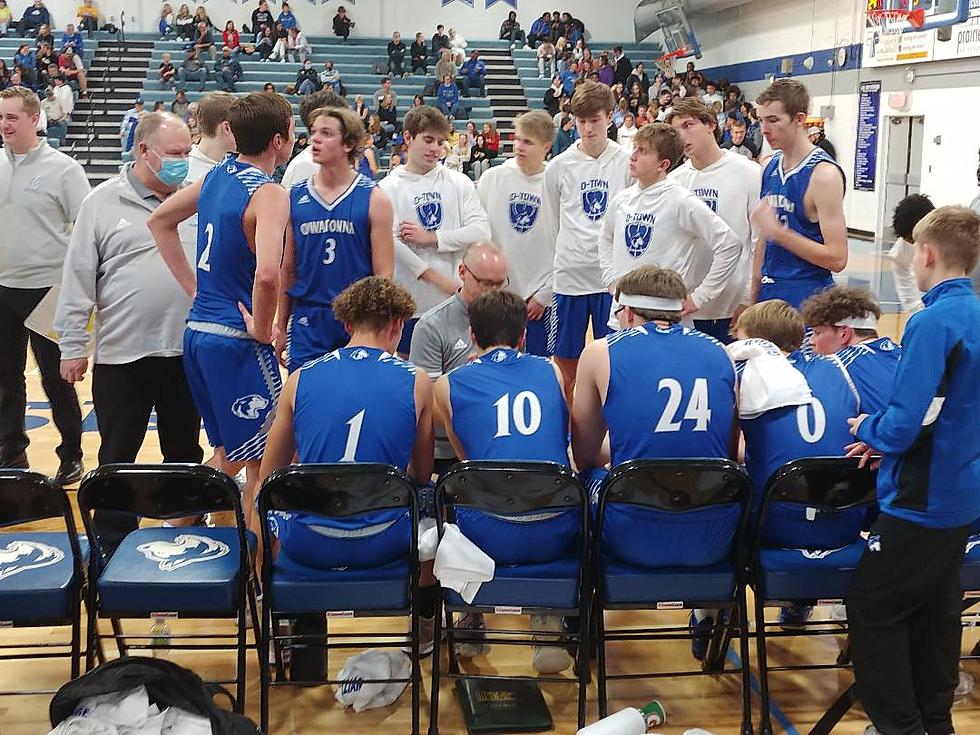 MBBN Post Holidays Boys Rankings
Owatonna Boys Basketball Team Ranked #7 by MN. Basketball News. Photo by Roy Koenig
Minnesota Basketball News came out with their after holiday tournaments and showcases rankings that saw some movement.
Five Big Nine Conference boys teams were ranked.  Three teams from the South Suburban Conference.  Three teams from the Hiawatha Valley League.  Three teams from the Gopher Conference.
The top rated team in each class are, 4A undefeated Park Center, Class 3A Totino-Grace, Class 2A Minneapolis North, Class 1A undefeated Sleepy Eye St. Mary's.
Complete listings are included below.
Class 1A
1. Sleepy Eye St. Mary's
2. Cass Lake Bena
3. Martin County West
4. Rusford-Peterson
5. Hayfield
6. New York MIlls
7. Cherry
8. Fertile-Beltrami
9. Ashby
10. North Woods
11. Spring Grove
12. Sacred Heart
13. Springfield
14. Central MN Christian
15. Henning
16. Lakeview
17. Belgrade-Brooten-Elrosa
18. Mankato Loyola
19. Mountain Lake-Comfrey
20. Kenyon-Wanamingo
Class 2A
1. Minneapolis North
2. Caledonia
3. Morris Area/Chokio-Alberta
4. Minnehaha Academy
5. Blake
6. Rockford
7. Perham
8. Sauk Centre
9. Albany
10.Esko
11.Minneapolis Edison
12.Lake City
13.Lake Crystal-Wellcome Memorial
14.St. Clair
15.Maple River
16.Annandale
17.Pipestone
18.LaCrescent-Hokah
19.Thief River Falls
20.Lewiston-Altura
Class 3A
1.Totino-Grace
2. DeLaSalle
3. South St. Paul
4. Princeton
5. Alexandria
6. Columbia Heights
7. Mankato West
8. Benilde-St. Margaret's
9. Winona
10.Austin
11.Mankato East
12.Simley
13.Two Rivers
14.Becker
15.Hutchinson
16.North Branch
17.Byron
18.Stewartville
19.HIbbing
20.Marshall
Class 4A
1. Park Center
2. Shakopee
3. Wayzata
4. Lakeville North
5. East Ridge
6. Hopkins
7. Owatonna
8. Osseo
9. Minnetonka
10.Robbinsdale Armstrong
11.Eastview
12.Buffalo
13.Spring Lake Park
14.Mounds View
15.Cretin-Derham Hall
16.Tartan
17.Eden Prairie
18.Park
19.Minneapolis South
20.Sartell-St. Stephen
This is interesting.
MORE TO EXPLORE: Top 10 Best 'Unofficial' Minnesota State Symbols
How is your Minnesota knowledge?
CHECK THIS OUT: 13 Crazy Facts You Might Not Know About Minnesota