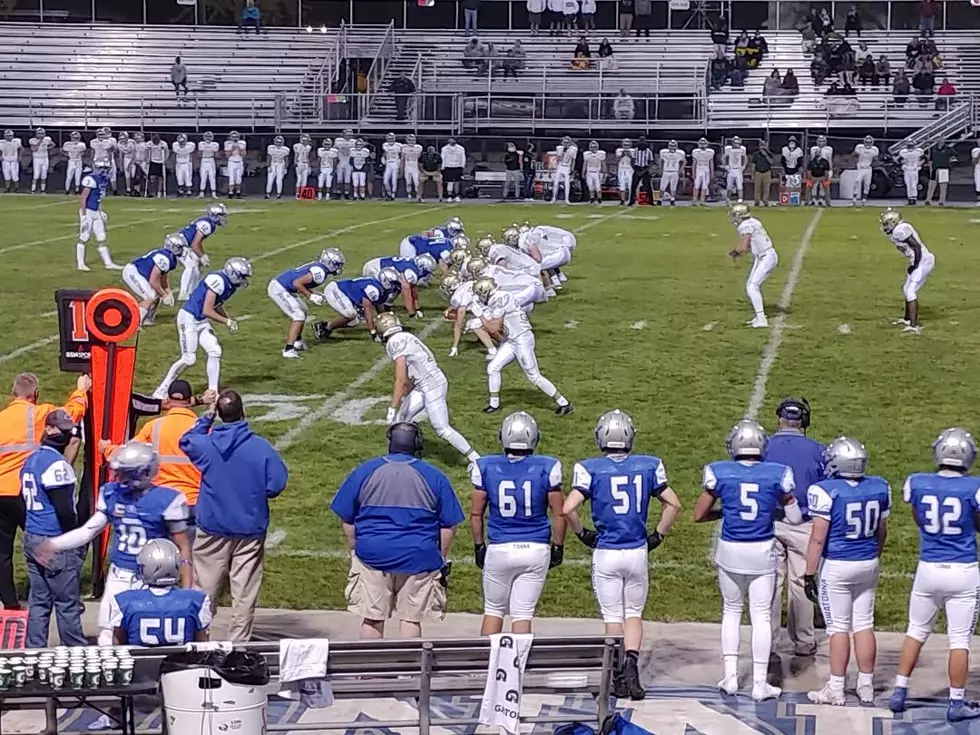 Like Magic, Owatonna Finds Team to Play
Roy Koenig/TSM
After losing their week four opponent due to COVID concerns with New Prague, the Owatonna High School football team will travel to Monticello for a 4 pm kick off on Friday, October 30. The Magic were originally scheduled to play St. Cloud Apollo this week. It is believed to be the first-ever meeting between OHS and Monticello. The game will be heard on AM 1390 KRFO, the free app, and at krforadio.com. Pre game will start at 3:30 pm.
Enter your number to get our free mobile app
Monticello is 2-1 this season with wins over Sauk Rapids-Rice (34-14) and Cambridge-Isanti (43-16). Those teams are both 0-3. The Magic lost just 14-0 to top-five ranked Rogers in week three.
Monticello is a Class 5-A team, just like Owatonna, and plays in the same section as Elk River, a regular combatant of the Huskies during their state tournament runs. The Magic were 4-6 in 2019. They made state tournament appearances in 1976 and 1988.
The Magic are averaging about 195 yards rushing and 120 yards passing per game according to the football hub on the Star Tribune website. Monticello returns their top two running backs from 2019. They totaled about 1,400 yards last season. Sam Valor is averaging 125 yards per game this season.
Calvin Schmitz has averaged about 55 yards rushing per game this season. While listed as a fullback on the roster, he has thrown the ball 12 times, completing eight passes for 115 yards, one touchdown, and one interception. Their regular signal caller is junior Anthony Staryszak who is 13-for-19 for 188 yards and two touchdowns.
Monticello returns three of their top five tacklers from 2019.
Owatonna (3-0) has not allowed any points since midway through the fourth quarter of the season opener against Mayo. That Spartan score gave Mayo the lead. OHS has outscored their opponents 96-0 since then.
The football hub stats show Owatonna averaging 237 yards rushing and 175 yards passing. The Huskies are giving up just 15 yards per game on the ground and about 100 yards through the air.
Brayden Truelson is 36-for-55 passing, for 491 yards, four touchdowns, and one interception. Payton Beyer has 15 catches for 267 yards and four touchdowns. Connor Budach has seven catches for 86 yards. Tanner Hall has six receptions. His big impact is carrying the ball. Hall has 55 carries for 334 yards and four touchdowns.
Grant Achterkirch leads Owatonna with 26 total tackles. Zach Stansky has 17, Matt Seykora has 14, Cole Earles has 12, and Budach has 11.
Beyer has averaged 42 yards on seven punts. Lane Versteeg is 15-for-15 on point-after tries.
The announcement of New Prague's cancelation came Saturday evening. The Trojans will also miss their week 5 game against Rochester Mayo. Albert Lea had to cancel their game with Winona this past weekend. The Winhawks quickly added a game with Red Wing. For this week, Kasson-Mantorville, who was supposed to go to Albert Lea, will play Albany at Hopkins High School.
YOU BETCHA: The Most Minnesota Halloween Costumes
DING DONG: Southern MN Home Looks Like It's Straight Out of a Magazine
KEEP READING: 10 Safest Neighborhoods in the Faribault/Owatonna Area