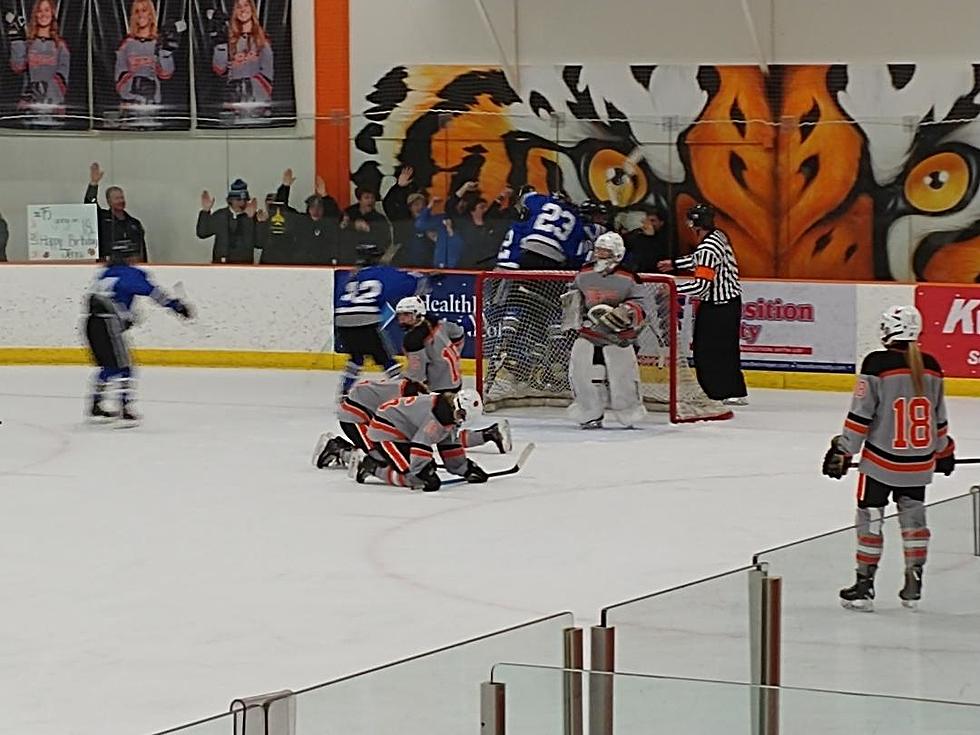 Jubilant Celebration as Huskies win Playoff Opener in Overtime [Video]
Roy Koenig/TSM
The Owatonna High School girls hockey team won a hard-fought 3-2 overtime game to open the Section 1AA playoffs at Farmington Wednesday night. That set off a jubilant celebration that started behind the net after Olivia Herzog's winning tally and continued at center ice for the sixth-seed Huskies.
Tigers coach Jon Holmes said before the game that Owatonna would have a "chip on their shoulder" after getting seeded as far down as they did despite a Big Nine Conference championship season. OHS coach Tony Cloud said this week that there was extra motivation to prove people wrong.
The game was back-and-forth all night long. After a scoreless first period, it appeared the game might go into second intermission 0-0 as well. However, Farmington's top goal scorer Sam Moehle fired a shot from the right half wall that hit the pipe and snuck past the Huskies' Ava Wolfe for a 1-0 Tiger lead at 15:07 of the second. Wolfe had 34 saves on the night. Farmington outshot OHS 36-27.
Owatonna's leading goal scorer answered back early in the third. Ezra Oien finished a rush with a sharp shot from between the top of the circles to even the game at 1-1 less than two minutes into the third. Molly Achterkirch assisted.
Farmington retook the lead at 10:36 on a shot from the blue line that was tipped in. Less than 90 seconds later Owatonna won a battle on the boards in the Tigers' zone. Oien shot and Acterkirch was there for the rebound to tie the game at 2-2 at 11:59. Macy Stanton got an assist as well.
OHS controlled overtime, outshooting Farmington 3-0. Herzog went top shelf after a scramble for the winner. Stanton assisted and the celebration was on.
Cloud said staying out of the penalty box was important after giving up three power play goals in a 4-3 loss December 28 at Farmington. The Huskies had just two penalties. The Huskies had an extended 5-on-3 power play in the first period but were denied by the Tigers.
The victory was the first over Farmington for Owatonna since the 2009-10 season.
OHS advances to the semifinals at Northfield Saturday, February 12 at 7 pm with coverage on AM 1390 KRFO and 94.7 FM. Owatonna tied and beat the Raiders during the season. The winner plays for the Section 1AA title Thursday, February 17 at 7:30 pm at the Four Seasons Centre in Owatonna. Lakeville South and Lakeville North meet in the other semifinal Saturday. Farmington was the defending section champ.
Section 1AA girls hockey scoreboard
Wednesday, February 9
No. 6 Owatonna 3, No. 3 Farmington 2, overtime
No. 2 Northfield 10, No. 7 Rochester Mayo 0
No. 1 Lakeville South 11, No. 8 Century/JM 0
No. 4 Lakeville North 6, No. 5 Dodge County 3
Semifinals, Saturday, February 12
No. 6 Owatonna (16-8-2) at No. 2 Northfield (17-5-3), 7 pm KRFO AM 1390
No. 4 Lakeville North (12-13-1) at No. 1 Lakeville South (24-2)
Final, Thursday, February 17
Four Seasons Centre, Owatonna, 7:30 pm
Enter your number to get our free mobile app
Top 10 Pizza Places in Rochester in 2022
If you are looking to sink your teeth into an amazing slice of cheesy goodness, check out these top picks for pizza in Rochester, Minnesota!
KEEP READING: Check out these totally awesome '80s toys