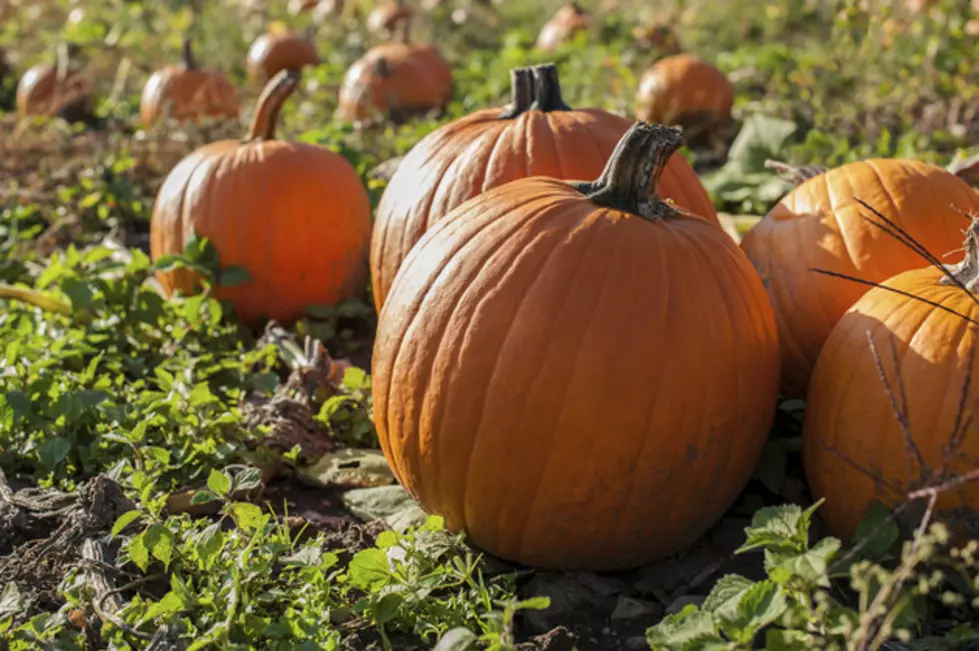 Explore Minnesota Pumpkin Patches, Corn Mazes and Apple Orchards
AllenSphoto/ThinkStock
Pumpkin patches, corn mazes and apple orchards are super popular in Minnesota this time of year.  Jake Juliot from Explore Minnesota joined me on WJON to highlight some great spots to enjoy these things in Minnesota.
Pumpkin Patches
Minnesota farmers grow some of the best pumpkins in the country, from awe-inspiring giant pumpkins to artisanal heirlooms, gourds and everything in between. Whether you prefer pumpkin pies, corn mazes or hay rides, here's one thing we can all agree on: Your family will love exploring these nine unique Minnesota pumpkin patches.
Billing itself as "the most family-friendly free pumpkin patch in the Twin Cities," Barten Pumpkins in New Prague talks a big game. Wagons are available at no cost, making it easy to haul pumpkins or tired kids across the grounds. Wander among the vast field of pumpkins, photograph a few picturesque fall moments and enjoy a leisurely afternoon on the farm
Just south of the Lake Wobegon Trail — a 62-mile paved bike path between St. Joseph and Osakis — you'd better believe the pumpkins at Collegeville Orchards are above average. Bike there from St. Joseph for a short, 7-mile ride split between the Lake Wobegon Trail and a few rustic, country roads (the aptly named Old Collegeville and Fruit Farm roads). Pick from a wide variety of pumpkins: from mini to pie to all sizes of carving pumpkins. Kids will love the wagon rides, petting zoo (with goats, sheep and alpacas!) and pumpkin painting.
Since opening in 2003, Dehn's Pumpkins in Dayton has attracted families who adhere to the belief that you can't have too much of a good thing. Although Dehn's is a true family farm, it still manages to feature practically every fall activity you can imagine, from tried-and-true staples like pick-your-own-pumpkins, hay rides and a 5-acre corn maze to more off-the-beaten-patch activities like a gourd slinger, giant slide and Saturday wine tastings.
Corn Mazes
To explore the Minnesota's largest corn maze, head to Brooklyn Park for the Twin Cities Harvest Fest and Maze. Wandering through the 20-acre corn maze is just the start of your adventure, though. You and your kids will also love the pig, duck and goat races, giant slide, pony rides, kiddy train and bungee-powered pumpkin slinger.
Sever's Corn Maze in Shakopee features everything from corn pits to pig races, camel rides, magic shows, an exotic animal petting zoo and, of course, a truly spectacular corn maze. Sever's changes up its corn maze theme and design every year, with past designs including a T-Rex, firetruck, locomotive and the wild west.
Just outside of St. Cloud, A and G Produce entices visitors with Halloween-themed fun for the whole family. Younger visitors can't get enough of the cow train, bounce house, miniature pony rides and 13-acre corn maze, while older kids (and kids at heart) love shooting the corn cannon and using the pumpkin sling shot. And for a truly unique experience, stick around after the sun goes down for a zombie-themed paintball game.
About 20 minutes away is the Foley-based Stoney Brook Farms, which can now claim to have the World's Largest Corn Maze after doing metaphorical laps around a former record setter in Northern California (Cool Patch Pumpkins). How large, you ask? About 110 acres and 32 miles of winding paths that were plowed in the shape of such horror icons as Freddie Krueger, Michael Meyers, Jason Voorhees and Pennywise. Or in the case of this year's maze, a couple fearsome dinosaurs.
Apple Picking
With dozens of charming orchards spread throughout Minnesota, the North Star State is an apple lover's paradise. And thanks to our extensive bike trail network, it's easy to plan a pedal-powered orchard adventure. Whether you bring a small bag of apples home in your pannier or load up the trailer with a whole season's worth of pie supplies, you'll love biking to Minnesota's many trailside apple orchards.
In Southern Minnesota, North of Rochester along the Douglas State Trail, Northwoods Orchard is the perfect destination for families. In addition to its pick-your-own apple orchard and pumpkin patch, kids will love getting lost in the corn mazes. Park the family vehicle at the Douglas trailhead for a trailer-friendly, 6-mile ride to the orchard, or depart from downtown Rochester for a longer, 10-mile jaunt.
Nestled among the soaring bluffs and valleys of southeast Minnesota, Blossom Hill Orchard & Farm in Preston is perfectly situated between three nearby Root River Trail Towns: Harmony, Fountain and Lanesboro. And thanks to a timely fork in the trail, it's about a 12-mile ride from all three!
Just south of the 62-mile-long Lake Wobegon Trail, you'd better believe the apples at Collegeville Orchards are above average. After a brisk stroll through the orchard, round out your perfect fall day by painting pumpkins, visiting the orchard's free, outdoor petting zoo (with goats, sheep and alpacas!) and taking a wagon ride (limited to family groups of six or larger this year).
If you'd like to listen to my conversation with Jake Juliot it is available below.
Come Visit Freeport, MN With Us in Pictures