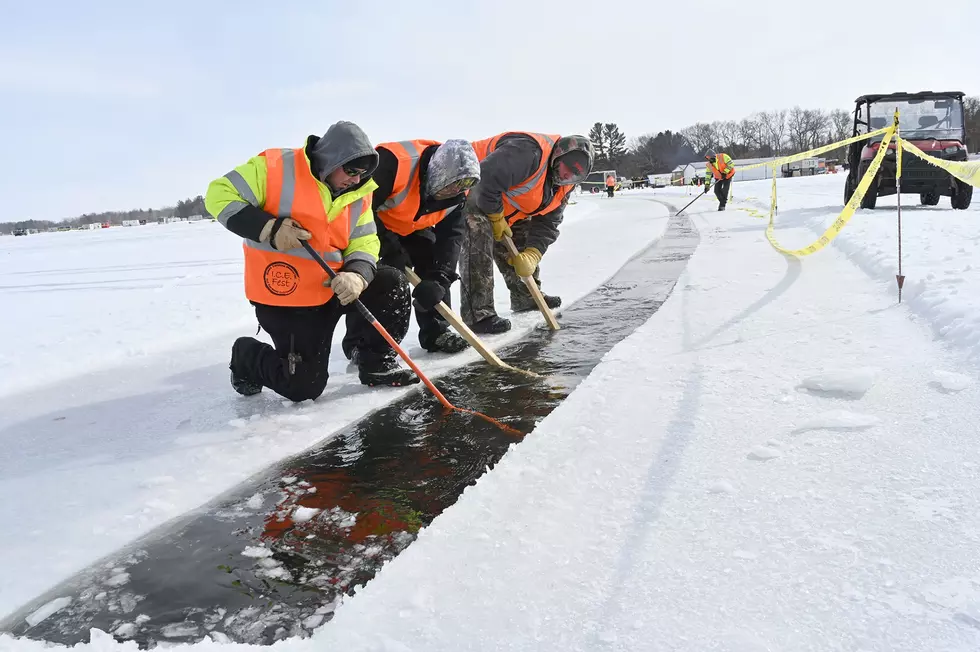 I.C.E. Fest Organizers Attempting Carousel Within A Carousel
Photo courtesy of MN I.C.E. Fest
LITTLE FALLS (WJON News) -- You can take a ride on a giant ice carousel this weekend.
The 6th annual Sunny Zwilling Memorial Ice Carousel Extravaganza - or I.C.E. Fest - is this Saturday and Sunday on Green Prairie Fish Lake north of Little Falls.
Pay It Forward Foundation President Chuck Zwilling says they still hold the Guinness World Record for the largest ice carousel at 1,325 feet in diameter. So, this year they have a new twist this year.
What we're going to do is the World's Largest Ice Carousel Inside A Carousel, so we're going to do two carousels.  The bigger one will be 820 feet and inside of that will be a 366-footer.
Zwilling just traveled to Finland last week to help them try and break Little Falls' record, but because the carousel only moved about a meter it didn't happen. He says there are only three groups in the world actively making ice carousels in Little Falls, Maine, and Finland.
Pay It Forward Foundation President Becca Ruegemer says they have 18 different events over the two days.
We've got things like Curling, Dog Sled Rides, Human Foosball, Human Bowling, Spear Fishing, Airplane Rides, Santa with Sleigh Rides, Underwater Drone, Igloo building, Giant blocks and tabletop games, merry-go-round, a Spin It To Win It game, and Elsa's "Frozen Forest"
They will also have a warming tent with free food and beverages on-site.
There are about 80 different Little Falls area sponsors for the events as well as an opportunity for attendees to donate cash.
The money raised goes to the Flyer Pride Pack and Kare Kloset, two Little Falls' based nonprofits. Last year the I.C.E. Fest raised over $24,000 for charities.
They marked off the area where the carousel will be very early in the ice season so fishermen know they might not want to put their fish houses there, but they said last year there were five fish houses that went along for the ride on the carousel.
---
READ RELATED ARTICLES
Come Visit Rice, Minnesota With Us